Zelensky intends to visit Lula in Brazil, says Ukraine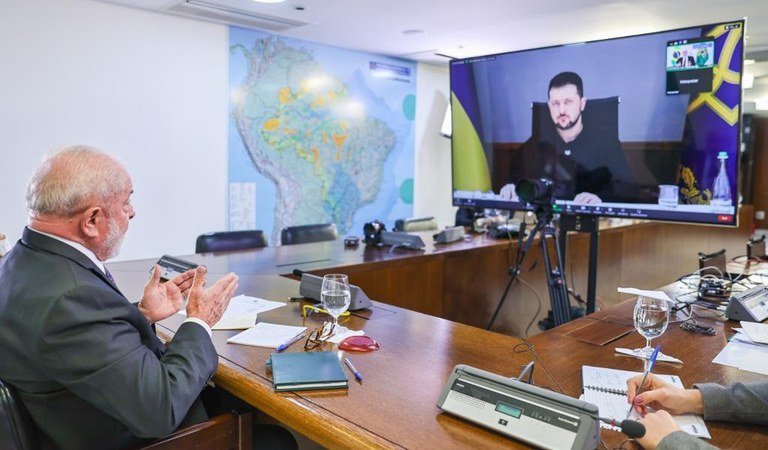 The office of the president of Ukraine informed the special adviser to the presidency, Celso Amorim, through a telephone conversation, this Tuesday (13), that Volodymyr Zelensky wants to visit Brazil. The information was provided by columnist Jamil Chade, from UOL.
The gesture would happen as a way of bringing Kiev closer to Latin American countries and, at the same time, convincing President Luiz Inácio da Silva (PT) to go to the Ukrainian capital, in an act of reciprocity.
The message was conveyed by Andrii Iermak, the Ukrainian president's chief of staff. In March, in the first contact via video conference between Lula and Zelensky, the Ukrainian invited the Brazilian to visit Kiev. So far, however, Lula has not responded to the request and signaled that the trip would take place at the right time. The Brazilian was also invited by Vladimir Putin to visit Russia, but he also declined the invitation.
The relationship between Brazil and Ukraine has been strained since the disagreement during the G7 summit, which prevented Lula and Zelensky from meeting. The Brazilian government claims that it offered three different times for the meeting and that, at a certain point, the Ukrainians simply did not show up.
Within the Lula government, one of the interpretations is that Zelensky tried to weaken Lula's position as an eventual facilitator in the conflict. Another wing prefers not to turn the situation into a crisis, even if the Ukrainian government has mocked Lula's proposals.
Join our WhatsApp group, click on this link
Enter our Telegram channel, click on this link
Source: https://www.diariodocentrodomundo.com.br/zelensky-pretende-visitar-lula-no-brasil-diz-ucrania/