Train collision kills at least 288 people, injures 850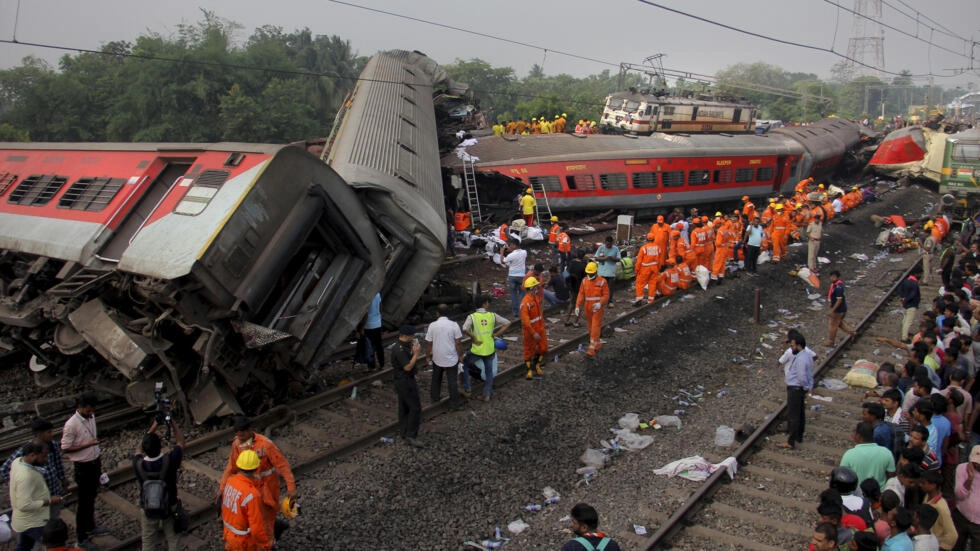 With dawn on Saturday, rescue workers were better able to see the extent of the carnage. Footage from the crash site showed wrecked and open train compartments with bloodstained holes near Balasore in eastern Odisha state.
Sudhanshu Sarangi, director general of Odisha Fire Services, said the death toll was 288. "Rescue work is still ongoing," he told AFP from the crash site, adding that there were "many serious injuries." .
One survivor told local television reporters that he was asleep when the crash happened and woke up trapped among a dozen passengers. He managed to crawl off the train, with injuries to his neck and arm.
According to Amitabh Sharma, director of Indian Railways, two passenger trains were "actively involved in the accident". A third train, a freight train, was parked at the scene of the tragedy, he told AFP, without giving further details. "The number of casualties on the ground or injured is very difficult to assess at the moment," Sharma said, as many passengers are likely to remain trapped in the rubble.
Rail accidents are common in India, which has witnessed several such tragedies in the past – but the magnitude of this one caused quite a stir. In view of the high number of people affected, the wounded were being transported both in ambulances and buses to any hospital that had available space.
"We have prepared all major public and private hospitals from the crash site to the state capital to care for the injured," said SK Panda, spokesperson for the Odisha state authorities. He added that "75 ambulances" had been sent to the scene to transport the injured passengers.
Indian Prime Minister Narendra Modi said he was "dismayed" by the accident. "In this hour of grief, my thoughts are with the families who have lost loved ones. May the injured recover quickly," Modi said on Twitter.
The premier also said he had spoken with the Minister of Railways, Ashwini Vaishnaw, to "assess the situation". Vaishnaw assured that he was heading to the crash site and that rescue teams, including the National Disaster Response Force and the Air Force, had been mobilized.
"We will employ all necessary hands for the rescue operation," tweeted the minister.
frequent accidents
Despite this incident, rail safety had significantly improved in the country in recent years due to massive investments in the sector and technological upgrades. The country's deadliest railway accident occurred on June 6, 1981, in the eastern state of Bihar, when seven carriages of a train fell from a bridge into a river, resulting in between 800 and 1,000 deaths.
More recently, on November 20, 2016, a train carrying 2,000 passengers derailed in the northern state of Uttar Pradesh while most passengers were asleep, causing 146 deaths and 180 injuries.
In this century, India has had 13 railway accidents with more than 50 victims, three of them resulting from attacks.
Source: https://www.diariodocentrodomundo.com.br/india-colisao-de-trens-mata-ao-menos-288-pessoas-e-deixa-850-feridas/