They demand a reduction in the working day and the desabetización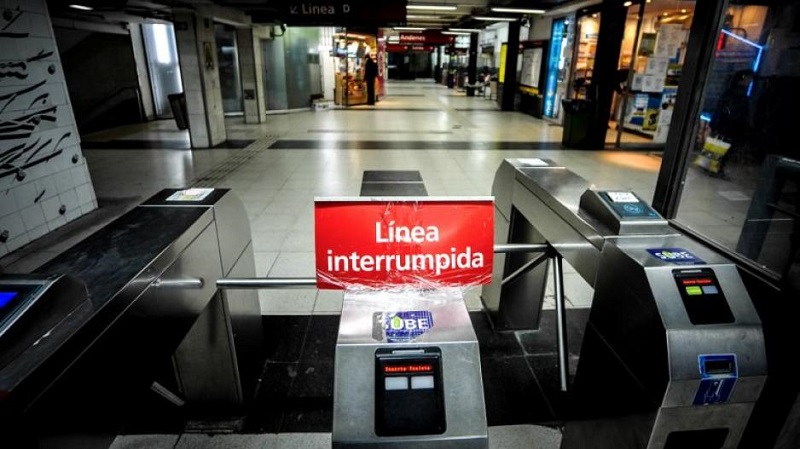 This Monday between 5:30 a.m. and 7:30 a.m., the subway workers paralyzed lines A and H in demand of the reduction of the working day with 2 francs a week and a deforestation plan to eliminate carcinogenic material from the formations of the subway, among other demands that have been carried out on a rotating basis by the different lines.
Last Friday lines D, E and Premetro stopped and on Tuesday it was lines C and B, where Claudio Dellecarbonara, a minority member of the AGTSyP Secretariat, denounced the failure of the hearing that the metro delegates had with the concessionaire Emova and SBASE .
The metro delegates denounce "In a work environment with dozens of unhealthy and harmful factors for health, we continue to demand a reduction in the weekly working day to obtain 2 francs." And as Claudio Dellecarbonara stated, "this measure would also facilitate the creation of dozens of genuine jobs, so necessary in a reality of the country with increasingly high unemployment and precariousness."
Let's remember that asbestos is a mineral prohibited by law in our country since the beginning of the century because it is highly carcinogenic. From the AGTSyP they have presented a collective amparo for years demanding the immediate removal of asbestos and all the contaminated elements of the subway network, including the trains of lines B, E and C that contain it, which has been granted by the Buenos Aires justice and ratified a few days ago after the concessionaire company will appeal the ruling in 2020.
The company's refusal to comply with the court rulings claimed the lives of 3 workers who died of asbestosis and more than 80 affected by the carcinogenic mineral. While the rigorous examinations have not yet been carried out on all the subway workers. This reality affects, and also puts at risk, the millions of users who use underground transport every day and the neighbors of the network.
Source: www.laizquierdadiario.com