Size 8 women get more sex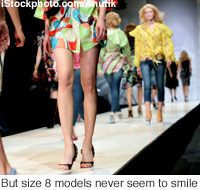 Women who wear a size 8 dress have sex more than anyone else, a study has found.
60 percent of ladies who measure a petite size eight – like X-Factor winner Leona Lewis and – say they have had sex in the past week.
The poll, commissioned by LighterLife.com, quizzed 3,000 women about their dress size and how often they had sex, finding that 50 percent of size 12 women had also bedded someone within the past seven days.
But for size 26 women this was dropped to just 33 percent … and some of the men didn't have any say in the matter.
It was also found that one in ten obese people had not had sex in over a YEAR – because they are so worried about being seen naked.
Sex and relationships expert Tracey Cox said: "Slimmer people do tend to feel more sexually confident.
"It also stands to reason that the more you like your body, the happier you are to show it off to your partner. Slimmer people also tend to be healthier and fitter which makes them more active and enthusiastic in bed."
Mandy Cassidy psychotherapist and consultant for LighterLife, said: "As Britons slim for 2009, we delved between the sheets, to find the more spicy benefits of losing weight."