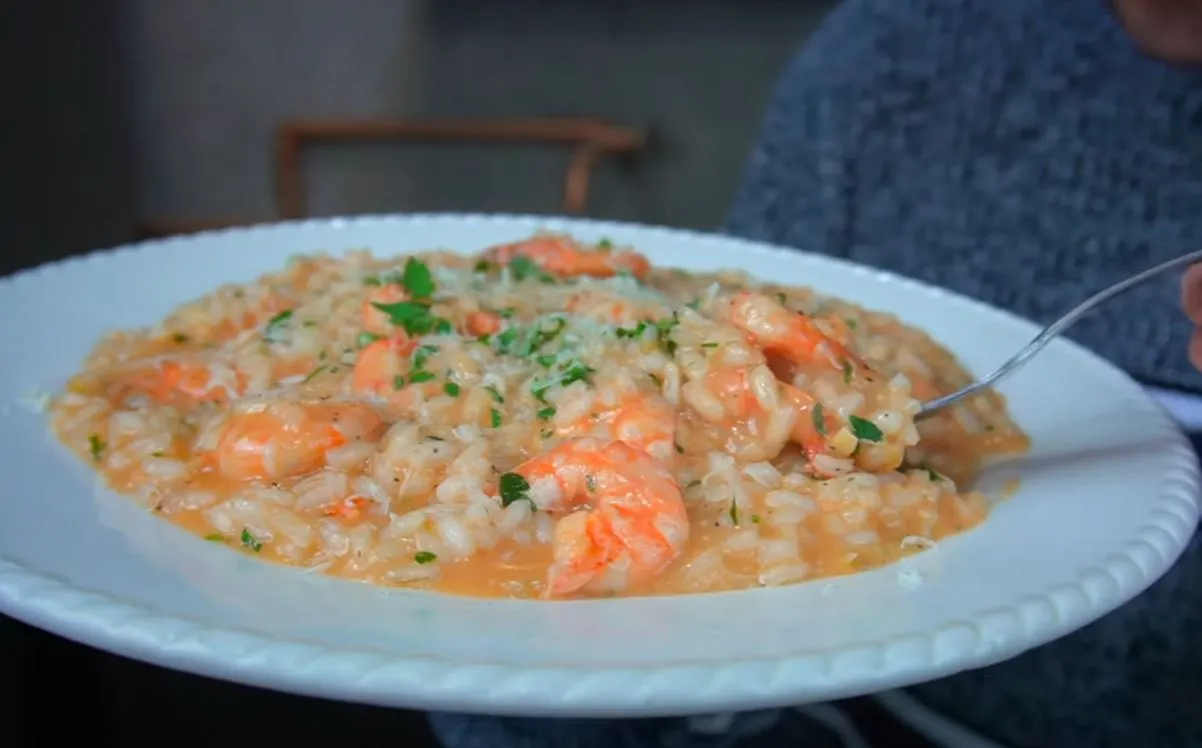 Learn how to make a delicious shrimp risotto for lunch and dinner with this simple and easy-to-reproduce recipe!
Shrimp risotto
For your shrimp risotto to be delicious, see the necessary ingredients and follow the step-by-step preparation method.
Ingredients
Broth

2 carrots

1 leek

2 onions

Parsley stalks

2L of water

Risotto

1/5 kg of shrimp

1/2 lemon

3 tablespoons of butter

1 leek

2 cups of arborio rice

1 cup dry white wine

1/2 cup of tomato sauce

200g parmesan cheese

Salt, black pepper and parsley to taste
Directions
Broth
In a pan, add 2 chopped carrots;
Add 2 leeks (only the top part of it, reserve the bottom part for the risotto);
Add 1 chopped onion;
Add parsley stalks;
Add 2L of water;
Leave on low heat for approximately 1 hour;
Separate the broth from the ingredients with a sieve;
Risotto
In a pan, add 1 strand of olive oil;
Season 1/5 Kg of shrimp with salt, black pepper and half a lemon;
Mix and add to the hot pan and let it fry;
Transfer shrimp to another container;
In the pan you fried the shrimp in, add 2 tablespoons of butter;
Add 1 onion;
Add bottoms of 2 leeks;
Let it fry;
Add 2 cups arborio rice;
Mix and let it fry a little;
Add 1 cup dry white wine;
Stir until dry;
Add 3 ladles of broth;
Mix until dry;
Add 2 ladles of broth;
Mix;
Add more broth and keep mixing until it reaches the desired point;
Add 1/2 cup tomato sauce;
Add fried shrimp;
Add 200g Parmesan cheese;
Hit the salt and pepper;
Mix;
Let it dry a little longer;
Add parsley;
Turn off the fire;
Add 1 tablespoon butter;
Mix;
Your shrimp risotto is ready!
Recipe Video