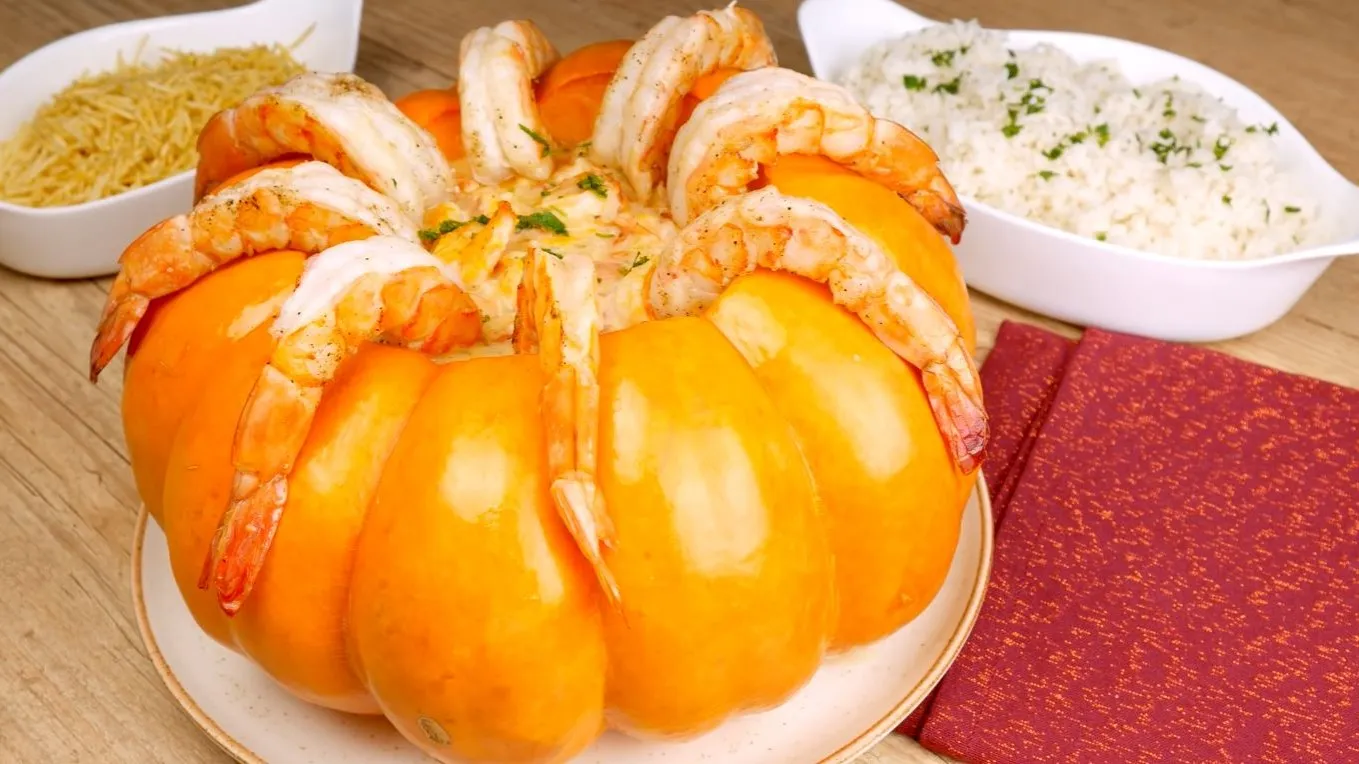 Make a delicious shrimp in strawberry in a simple, easy and fast way. This recipe will look amazing and will surprise everyone!
Shrimp in the pumpkin
For your shrimp in squash to be perfect, use the ingredients from the list below and follow the step-by-step instructions for preparation.
Ingredients
Pumpkin

Pumpkin squash 1 unit (+or-4kg)

Creamy cottage cheese 150g

Oil for brushing

Shrimp

Clean Shrimp 1.2 kg

Chopped onion 2 pcs

6 cloves minced garlic

Chopped seedless tomato 5 pcs

Lemon 1/2 unit

Creamy cottage cheese 400g

Coconut milk 1 bottle (200 mL)

Olive oil 3 tablespoons (39 mL)

Salt to taste

Black pepper to taste

Parsley to taste
Directions
Pumpkin
Wash and dry 1 pumpkin;
Cut the middle of the squash;
Remove the core and seeds and reserve them;
Cover and wrap with aluminum foil;
Put it in a shape;
Bake at 200 degrees for 1 hour and 20 minutes;
Remove the internal liquid;
Add cream cheese 150g and spread;
Brush oil on the outside;
Shrimp
In a bowl, add the prawns;
Add salt, black pepper, half the crushed garlic cloves and the juice of half a lemon;
Mix well;
Let it taste for 10 minutes;
In a large skillet over the heat, add half the olive oil;
Add the prawns;
Let them brown a little and remove them;
Add remaining oil from skillet;
Add the rest of the crushed garlic;
Once golden, add the chopped onion;
Let it be transparent;
Add chopped tomatoes;
Mix;
When he withers, add the coconut milk;
Add the cream cheese;
Add the pumpkin core;
Add salt and black pepper;
Mix and let cook a little;
Turn off the fire and add the prawns;
Add chopped parsley;
Mix;
Add stuffing to pumpkin;
Place the pumpkin in a mold and bake at 200 degrees for 20 minutes;
You can decorate with fried shrimp;
Your shrimp in strawberry is ready!
Recipe Video