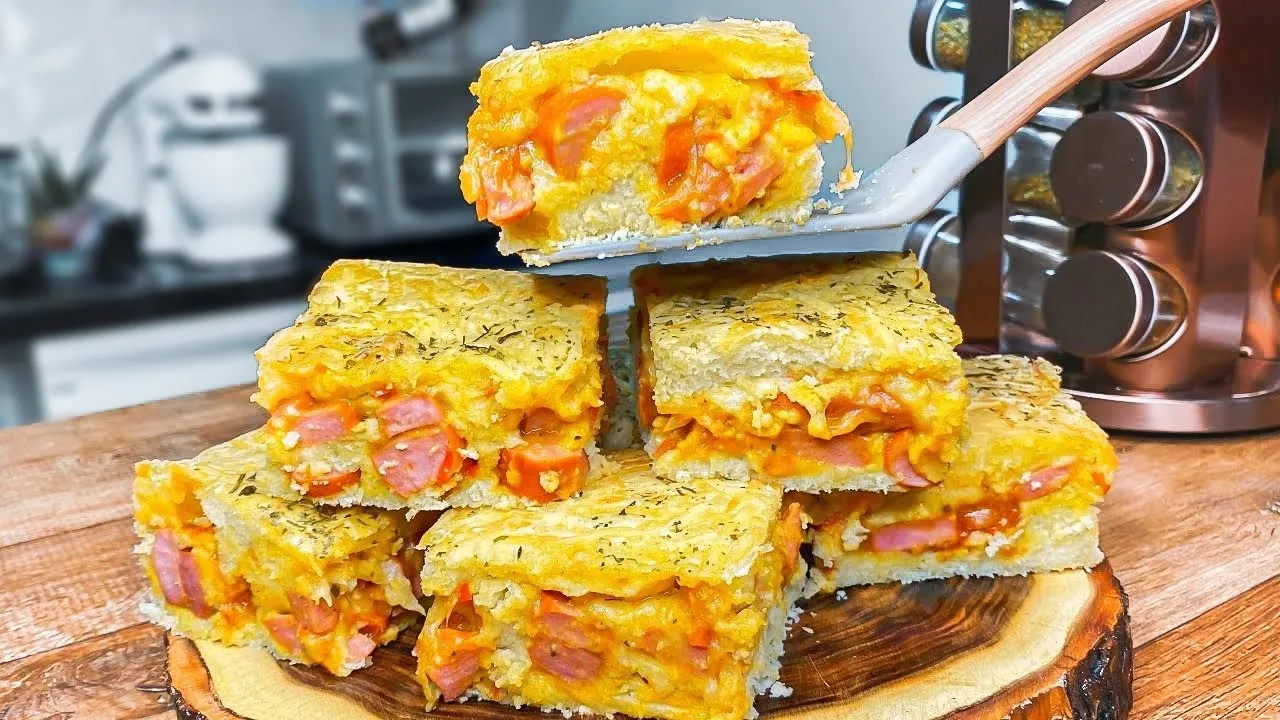 Learn how to make a very tasty lunch for your weekend or party, it's the oven hot dog! See the simple and easy recipe!
Oven Hot-dog
For your oven hot dog to have a fluffy dough, use the ingredients listed below and follow the step-by-step preparation method.
Ingredients
Filling

3 tablespoons of olive oil

1/2 sliced ​​pepperoni

1/2 chopped onion

3 minced garlic cloves

1/4 chopped bell pepper

2 chopped tomatoes

Black pepper to taste

Oregano to taste

Salt to taste

1/2 can canned green corn

12 chopped sausages

1 sachet of tomato sauce

Green smell to taste

Dough

3 eggs

1 box of cream (200 grams box)

3/4 of tea cup of oil

2 tea cups of milk

Salt to taste

3 cups unbleached traditional wheat flour

1 tablespoon yeast for cakes

Assembly

200 grams of mozzarella

30 grams of grated parmesan

Oregano to taste
Directions
Filling
In a pan on the fire, add 3 spoons of oil;
Add 1/2 pepperoni;
Give a slight braised;
Add 1/2 onion;
Add 3 minced garlic;
Sauté;
Add 1/4 bell pepper;
Add 2 chopped tomatoes;
Add kingdom pepper to taste;
Add oregano to taste;
Add salt to taste;
Mix and sauté a little;
Add 1/2 can corn;
Add 12 sliced ​​sausages;
Add 1 tomato sauce;
Cook for 3 minutes;
Add green smell to taste;
Mix;
Dough
In a blender, add 3 eggs;
Add 1 box of cream milk;
Add 3/4 cup of oil tea;
Add 2 cups of milk tea;
Add salt to taste;
Beat a little;
Transfer to a bowl;
Add 3 cups all-purpose flour through a sieve;
Mix;
Add 1 tablespoon yeast;
Mix;
Assembly
In a greased and floured form, add half the dough;
Add the stuffing;
Add 200g of mozzarella cheese;
Add the rest of the dough;
Add 30g of grated Parmesan cheese;
Add oregano to taste;
Take to preheated oven at 180 degrees for approximately 40 minutes;
Your Oven Hot Dog is ready!
Recipe Video