No to the Reform. Another day of mobilizations throughout the province of Jujuy despite the transport strike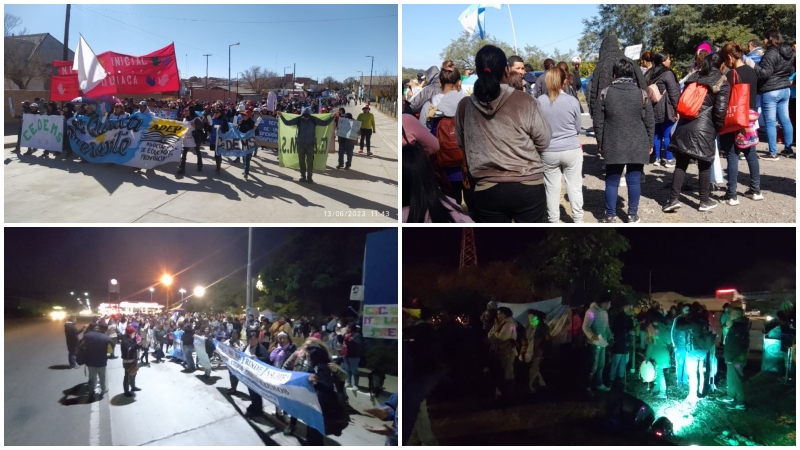 Despite the transport strike, the teachers carried out another day of strikes and mobilizations throughout the province of Jujuy. Initial, primary, secondary and tertiary, public and private schools participated. In some towns and cities, they gathered on the side of the different routes, demanding salary increases and against the Morales Reform.
La Izquierda Diario approached some parts of the province, for example ledesma that gathered on the side of Route 34, hugged the gallant school and joined the mobilization Oscar Orias hospital guard, Painted Friar, palpala on Route 66, the teachers of Humahuaca They also concentrated on the side of the road, Saint Peter, open pampas on Route 9, the quiaca, In Puna y they marched from Purmamarca and Maimará to Tilcaraamong other places.
open pampas
ledesma
The Oscar Orias Hospital Guard joined the mobilization and hugged the Galán school.
At the end of the day, they came to support the struggle of the teachers, rural workers of the UATRE Ledesma. One of them took the floor and said that they had just held an assembly with the compañeras from the packaging sector, because "just as the government does things that harm the workers, so does the Ledesma company." They greeted the health workers who were present at the mobilization. They said that the rural workers will go on strike tomorrow because they are in conflict with the company"we are going to fight for our rights too" and ended up singing: "Unity of the workers, whoever doesn't like it, gets screwed, gets screwed".
Humahuaca
In Puna
palpala
Parakeet
the quiaca
Saint Peter
Source: www.laizquierdadiario.com