national day of struggle in support of teachers in Jujuy, Salta and throughout the country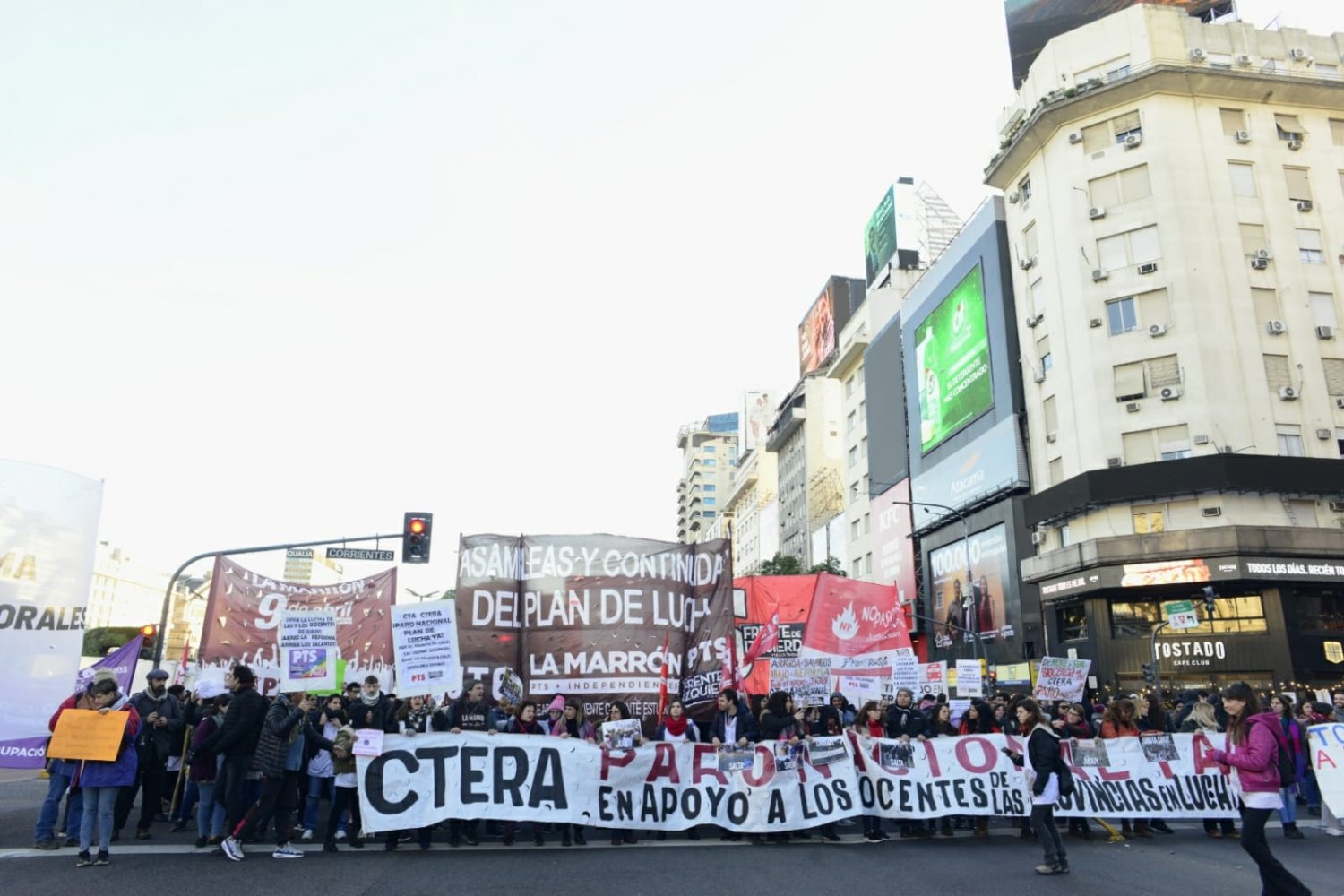 In the Buenos aires city, within the framework of a national day of struggle, with strikes and mobilizations in more than 8 provinces, this Thursday morning a street blockade took place in the vicinity of the Obelisk. Teachers from the 9 de Abril National Association and the PTS in the Left Front unit held a Court in support of the teachers' struggle in Jujuy and Salta and of the more than 8 provinces in conflict.
Along with leading teachers such as Nathalia González Seligra, Natalia Hernández and Federico Puy, Raúl Godoy, Laura Bogado from Cicop, FOETRA workers, subway workers, students, among others, were also present.
In this regard, Nathalia Gonzalez Seligra, a teacher at the Suteba La Matanza, remarked "we are mobilizing in solidarity with all the ongoing struggles, especially with that of the teachers from Jujuy who have been confronting the government of Gerardo Morales, fighting for wages and against the reactionary reform that wants to ban the right to protest, is threatening teachers with discounts and intimidates and publicly attacks combative teacher unions like Cedems. But the struggle in Jujuy is very strong, the families are mobilizing together with the teachers and the marches are getting bigger and bigger".
Federico Puy, CABA teacher and Ademys Press Secretary, expressed for his part that "we are demanding a strike and a national fight plan from CTERA, there are many provinces in conflict such as Santa Cruz, Chubut, Tierra del Fuego, Rosario, Salta , Jujuy, Misiones, Province of Buenos Aires and us in the City of Buenos Aires. In Salta, Governor Saenz repressed the teachers four times and is also trying to impose an anti-protest law. What unites the struggles throughout the country is that we are fighting for salary increases, for working conditions, for teaching and learning, for school infrastructure, for improving school nutrition, and for student health."
[HILO] With a cut in Obelisco, the national day of struggle began in support of teachers in Jujuy, Salta and throughout the country pic.twitter.com/ftuYbYNxq6

– The Daily Left (@izquierdadiario) June 15, 2023
Laura Bogado, a worker at Hospital Posadas and a member of the CiCop Provincial Board of Directors, also present at the court in support of the teachers at the Obelisk pic.twitter.com/JWdxqUgavt

– The Daily Left (@izquierdadiario) June 15, 2023
As Federico Puy and María Díaz Reck wrote in La Izquierda Diario prior to the event, "the adjustment to education and the salary of teachers is common currency throughout the country. Conflicts in dozens of provinces are struggles against the adjustment of different governors and the national government, starting with Chubut of the ineffable Mariano Arcioni and Salta de Saenz, who answer to the super minister of economy Sergio Massa and presidential candidate of the Frente de Todos, going through Santa Cruz de Alicia Kirchner or the province of Santa Fe by Omar Perotti".
Source: www.laizquierdadiario.com