Israeli offensive. Ship carrying weapons to Israel blocked in US port of Oakland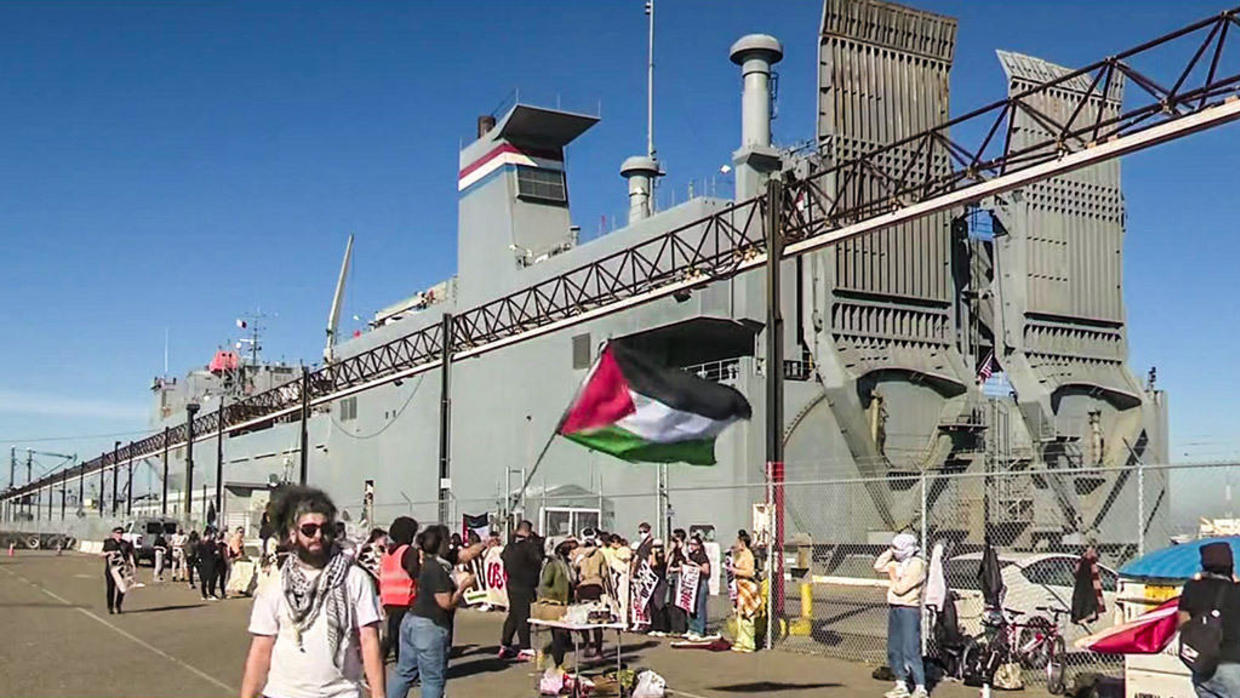 Actions in solidarity with the Palestinian people continue to take place in different countries. Perhaps the most notable this Friday occurred in one of the most important ports in the United States, in the city of Oakland, California.
Protesters block a ship with weapons to prevent it from leaving the port of Oakland towards Israel.#Israel #Oakland #USA #Gaza #FloodOfAqsa pic.twitter.com/HDotycJfXG

— Al Mayadeen Spanish (@almayadeen_es) November 3, 2023
A large military ship was ready to set sail with Israel as its final destination and carrying weapons and other military supplies to collaborate with the massacre being carried out by the Israeli Army in the Gaza Strip that has already claimed the lives of more than 9,000 Palestinians. among them 3,500 children, and some 20,000 injured, hundreds of them in critical condition.
But a protest was held demanding "No to American military aid to Israel" and an immediate "Ceasefire." For hours, protesters blocked the entrance to the berth where the ship was parked. But they did not limit themselves to that, they crossed the wire fences and climbed onto the ship with an improvised ladder.
It was a peaceful but determined protest, to not allow aid to be provided to the ethnic cleansing carried out by the Zionist state.
The home videos that circulated on social networks showed the actions since dawn, around 6:30 when the first blockade occurred at the entrance where the military ship was located. According to the port authorities themselves, the protesters did not interfere in any other port operations.
A US military ship is at the port of #Oaklandon its ways to #Tacoma to pick up weapons to bring to Israel. Ceasefire Now!! #DefundGenocide #DefundWar FREE PALESTINE! pic.twitter.com/N2o4iY5T9a

— Critical Resistance (@C_Resistance) November 3, 2023
Despite the presence of the police and the Coast Guard, the protesters managed to delay the departure of the ship for several hours until it finally set sail around 3:00 p.m. In addition, several media outlets managed to broadcast the protest, making visible the complaint against Joe Biden's government that collaborates with the murderous offensive of Benjamin Netanyahu and his Zionist government.
BREAKING MINUTE | A ship carrying weapons to #Israel has been redocked in the port of #Oakland after pressure from protesters.#GazaGenocide#FreePalestineNow#IsraeliNewNazism#Gaza_Genocide#CeasefireForGazaNOW#Shifa_hospital pic.twitter.com/zmdtePuRyt

— Free Palestine (@55fph) November 3, 2023
In the United States, a strategic ally of Israel, there have been several protests in solidarity with Palestine in different cities. Among the most notable, the one that took place in New York on October 29 with thousands of people, including hundreds of anti-Zionist Jews, in a historic action of civil disobedience that was repressed by the police with dozens of arrests.
Examples of active solidarity with Palestine are replicated in other parts of the world. This was the case of the transport unions in Belgium who denounced "a genocide is taking place in Palestine" and asked the union's workers "not to make any flights transporting military equipment to Palestine/Israel."
Source: www.laizquierdadiario.com