Stop the genocide. Outstanding participation of the PTS in the mobilization in repudiation of the massacre in Gaza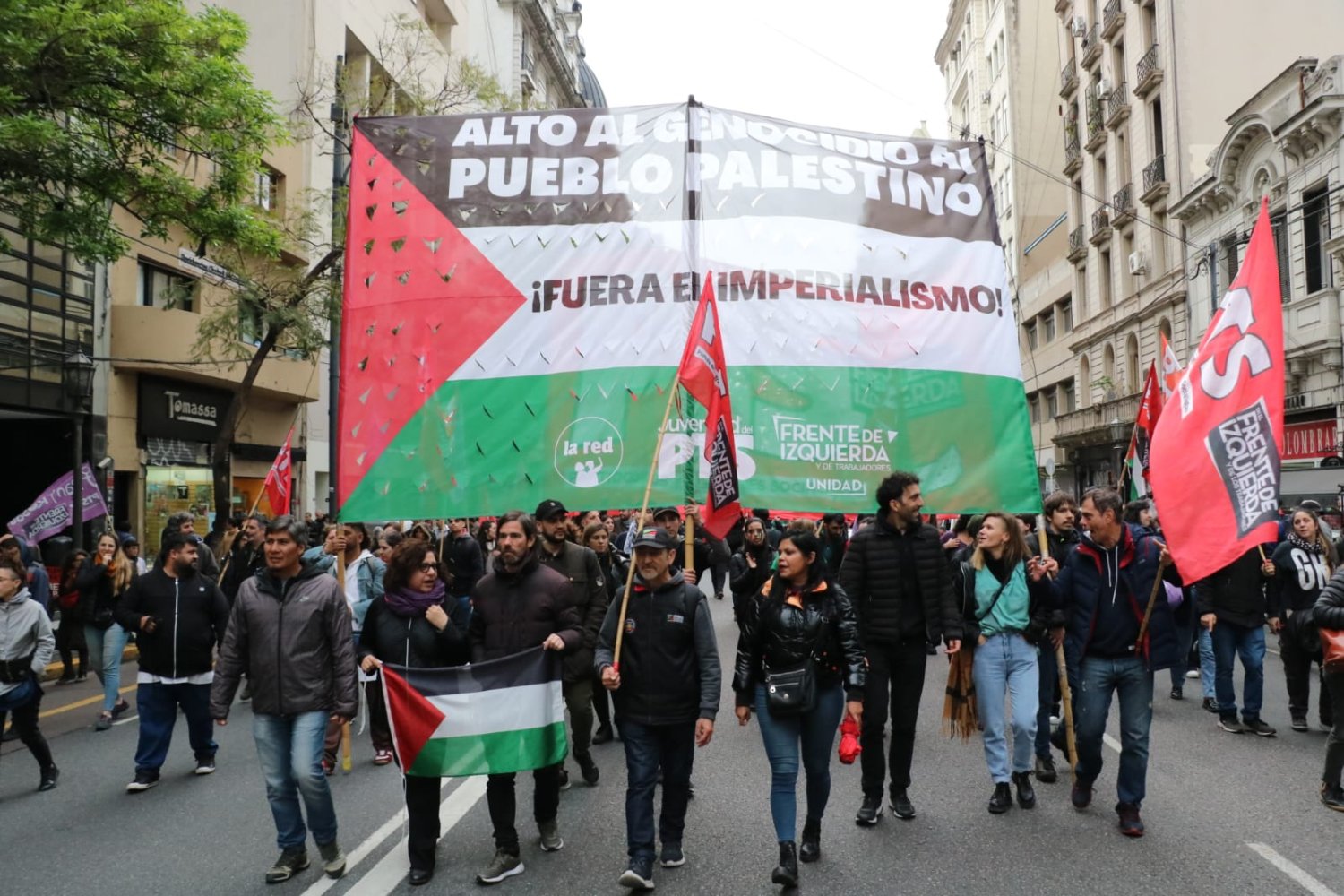 An important concentration and mobilization took over the streets in the Congress area shouting: Stop the genocide of the Palestinian people! Convened by various human rights, social, union and political organizations, it brought together a broad spectrum that denounced the thousands of murders that are being committed daily in Gaza.
The PTS was a prominent part of the mobilization, with its 4 deputies at the head: Myriam Bregman, Nicolás del Caño, Alejandro Vilca and Christian Castillo, in addition to the participation of CABA-elected legislator Andrea D'Atri, the former national deputy candidate by CABA Patricio del Corro and former Parlasur candidate and pottery workers leader, Raúl Godoy, among others.
The column of the PTS Left Front Unity in the march through Palestine pic.twitter.com/Z6v3p7HBhL

— La Izquierda Diario (@izquierdadiario) November 3, 2023
"We stand with the Palestinian people and repudiate the criminal attack by the Zionist state of Israel. Stop the bombing of civilian targets! Stop murdering children!" Vilca wrote online X (ex Twitter) along with some of the photos of the mobilization.
We stand with the Palestinian people and repudiate the criminal attack by the Zionist state of Israel.
Stop bombing civilian targets!
Stop murdering children! pic.twitter.com/49RKBxtD8f

— Alejandro Vilca (@vilcalejandro) November 3, 2023
For his part, Patricio del Corro pointed out: "We are mobilizing together with the Arab community in CABA, social and political organizations, in repudiation of the massacre that the State of Israel is carrying out on the territory it is occupying in Palestine, particularly in the Gaza Strip". And he added: "They have bombed hospitals, shelters, where there are approximately three thousand dead children. We are calling for these bombings to stop and in defense and support of all the Palestinian people."
Patricio Del Corro (PTS FITU) pic.twitter.com/HhIG1amxzd

— La Izquierda Diario (@izquierdadiario) November 3, 2023
Christian "Chipi" Castillo, elected representative of the PTS FITU for the Province of Buenos Aires pic.twitter.com/N2EcrsMOsD

— La Izquierda Diario (@izquierdadiario) November 3, 2023
Alejandro Vilca, national deputy for Jujuy of the PTS FITU pic.twitter.com/IgJMwMy3pJ

— La Izquierda Diario (@izquierdadiario) November 3, 2023
Source: www.laizquierdadiario.com