while holding protest tent, residents receive compulsory discounts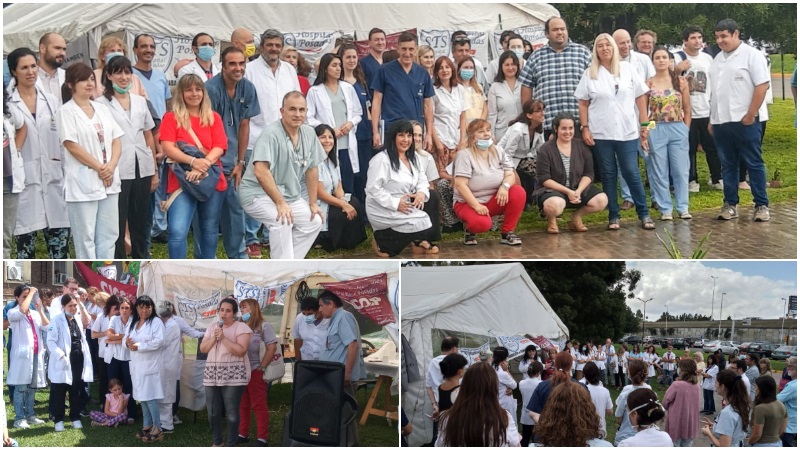 After the 48-hour strike voted in the assembly, the Posadas workers set up a tent to make the conflict even more visible and make the hospital managers listen to their claims that continue to go unheeded despite the commitments made. At that time, the hospital board responded with compulsory discounts for residents, which averaged around $15,000. Given this fact, the only thing they achieved is to increase the indignation of the workers.
we interviewed Laura Bogado, member of the leadership of the Cicop, for the minority, of the Brown Group: "During the positive camping day, where workers, workers, social organizations and some patients met, we were informed of a new attack against the fellow residents regarding their salary. Authorities, and the leadership of ATE and UPCN agreed to discount a retroactive 0.5% of one year, from the sadly famous "solidarity contribution" for non-unionized workers as a whole, which falls directly into the coffers of these 2 unions, increasing their power to cost of precarious workers."
In addition, he said: "That is why it was one of the topics that arose in the assembly. As well as the complaint that the authorities asked the workers to lift all the measures just to "give" a negotiating table that should have already been finalized weeks ago, a rather cynical response to our fight since the workers respect the mandatory conciliation but They never gave us any answer."
He also highlighted: "In several portals it was revealed that Massa indicated to ministers and his allies, the union bureaucrats, that there can be no salary increases for state workers above 60%. Very much in line with Larreta who has just proposed a measly 60% to Caba residents in very comfortable quotas, as denounced by Alejandrina Barry, a Buenos Aires legislator for the PTS in the Left Front.
I talked to the health residents of Caba and they closed a parity behind their backs again. 7 increase quotas with a total that does not reach 60%. If last year's 96% inflation is maintained, they would lose 30 points. They will debate in assembly how to respond.

— Alejandrina Barry (@Barry__Ale) February 3, 2023
Lastly, he asked us: "For this reason, from the Marrón we intervened in the assembly with that content saying that we think that the battle that is coming is very important because we health workers show a great predisposition to fight the attacks against our conditions and the of our patients and that we have the challenge of unifying the struggles from below, which the bureaucracy is in charge of dividing, sowing expectations in a government whose main priority is paying the IMF, even if that means attacking health, education and housing. We workers must be aware of this, that it is not just a fight over the workplace, but to see who is going to pay for the crisis. We workers have to defeat this attack. That is why it seems very progressive to us that a meeting of all the health sectors has been voted for, who want to fight it, recovering the unity that we had on 17N or at the highway cutoff. For that we need to set the date and time and start working on it. When we organize ourselves we are stronger, it is worth remembering the great national meeting that we held in Posadas in 2018 in the face of the Macrista layoffs, together with all the sectors in struggle, let us recover our tradition."
Source: www.laizquierdadiario.com