Wagner group head withdraws from Moscow "to avoid bloodbath"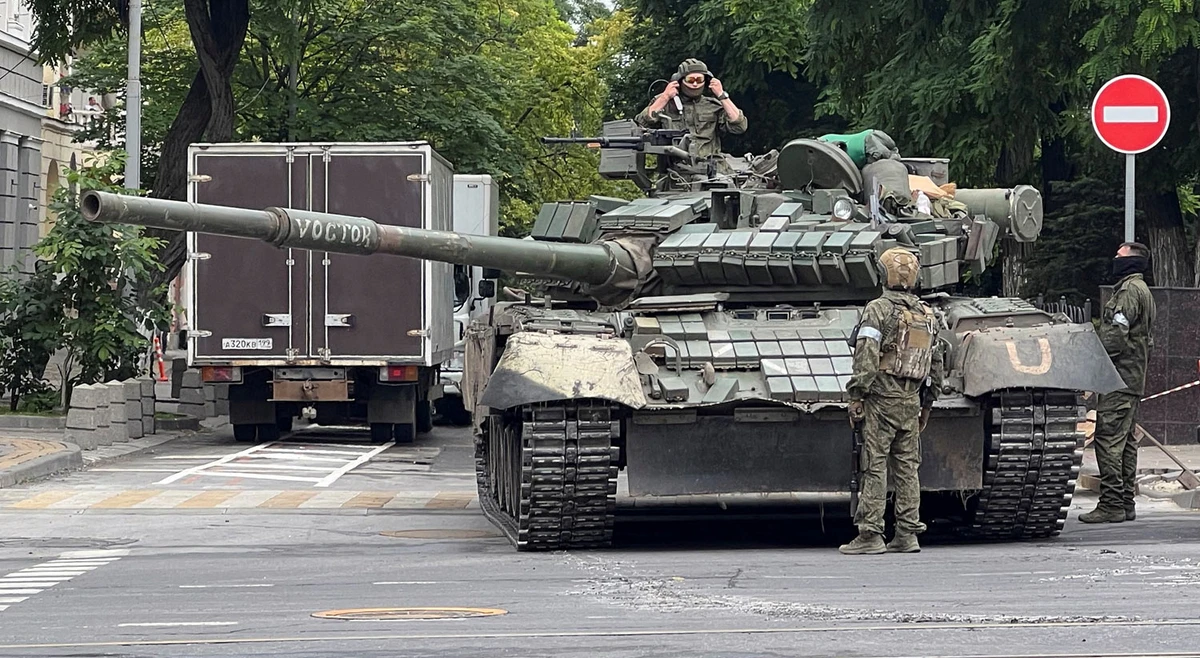 The head of the Wagner group, Prigozhin, says his troops are pulling back from advancing on Moscow "to avoid a bloodbath". Belarusian President Alexander Lukashenko held talks with Prigozhin, during which he agreed to stop his troops and "de-escalate the situation", Rossiya 24 news channel reported.
"Prigozhin accepted Lukashenko's proposal to curb the movement of the Wagner group on Russian territory and in new measures to reduce tension," said Rossiya 24, quoting Lukashenko's press service.
The Russian authorities have allegedly been digging up the roads leading to Moscow in an attempt to stop the advance on the city by the Wagner Group. #Russia #RussiaIsCollapsing #RussianCivilWar #Wagner #WagnerCoup #WagnerGroup pic.twitter.com/RqdeFh1mlA

— Paul Golding (@GoldingBF) June 24, 2023
It also said it was proving to be "possible to find an acceptable de-escalation variant [a situação] with security guarantees for Wagner's soldiers". The conversation would have been agreed with Putin.
Russia's attempt to block the advance of Prigozhin's mercenaries towards Moscow using loaded trucks to barricade roads is not working. Here we see a section of a highway in Voronezh that was easily cleared by Prigozhin's armored column. pic.twitter.com/q05OKFgoQv

— Today in the Military World (@hoje_no) June 24, 2023
Check out the latest events in Brazilian time:
11:01: Latvia announces it is stepping up security at its borders
"Latvia is closely monitoring developments in Russia (…). Border security has been tightened," Latvian President-elect Edgars Rinkevics announced on Twitter, adding that the issuance of visas and the entry of Russians had been suspended.
10:53: Fighters from the Wagner Group arrive in the Lipetsk region
The governor of the Lipetsk region, about 400 km south of Moscow, says in Telegram that elements of the paramilitary group "are moving" in the region, confirming their advance towards the Russian capital. "The authorities (…) are taking all necessary measures to guarantee the safety of the population. The situation is under control," said Igor Artamonov.
9:47 am: Kremlin says it has Turkish President Erdogan's support
In a press release, the Russian presidency claims that Vladimir Putin received the "full support" of his Turkish counterpart Recep Tayyip Erdogan during a telephone conversation about the armed rebellion of the Wagner group.
9:45 am: Ramzan Kadyrov announces he is sending his men to "hot spots"
"Fighters from the Ministry of Defense and the Chechen National Guard have already gone to the tension zones. We will do everything to preserve Russia's unity and protect its statehood," declared Chechen President Ramzan Kadyrov on Telegram, whose men were very active in Russia's offensive in Ukraine.
9:36 am: G7 heads of diplomacy meet
The head of European diplomacy, Josep Borrell, says the G7 foreign ministers held a "talk". Details of the content of those conversations were not released. Washington simply indicated that the United States would remain in "close coordination" with its allies after this initial exchange, while also specifying that this rebellion had not changed its support for Ukraine.
9:20 am: Rebellion in Russia an "opportunity", says Ukraine
By invading Ukraine, Russia has started a process that will lead to its own destruction, according to Ukraine's Deputy Defense Minister Ganna Maliar on Telegram: "What does this mean for us? A window of opportunity", she adds, assuring that Ukraine continues to work towards "victory".
9:05 am: Group leader Wagner claims to have taken over military headquarters in Rostov "without a shot being fired"
"Why is the country supporting us? Because we are marching for justice," said the Wagner leader, accused of "treason" by Vladimir Putin, in an audio message on Telegram. "We entered Rostov and, without firing a single shot, took the headquarters building," added Evgeny Prigozhin.
8:54 am: Putin is in the Kremlin, guarantor spokesperson
"The president is working in the Kremlin," assured Dmitri Peskov, quoted by the Russian state news agency Ria Novosti, who questioned him about rumors on social media claiming that he had left Moscow because of the Wagner group rebellion.
8:15 am: Residents of the Lipetsk region are asked to stay in their homes
"In order to ensure order and security of citizens in the Lipetsk region, the (regional) operational headquarters is asking residents not to leave their homes unless necessary and to refrain from traveling in private vehicles." , says the Telegram account of the authorities of the region, located 420 km south of Moscow. This appeal coincides with the publication on Twitter of videos showing a column of vehicles, some with tanks, driving up the M4 federal road near the town of Horse-Kolodezsky in the Lipetsk region.
7:18 am: For Volodymyr Zelensky, Russia's weakness is "obvious"
In his first reaction to the events in Russia, the Ukrainian president considers that the Wagner group mutiny illustrates the "total" weakness of Russia, plunged in "evil and chaos". Anyone who "chooses the path of evil is self-destructing," says Volodymyr Zelensky, mocking Vladimir Putin's attitude of "sending hundreds of thousands of people to war, only to barricade himself in the Moscow region and protect himself from those he even armed".
7:07 am: Patriarch Kirill calls for "unity"
"Any attempt to sow discord in the country is the greatest of crimes and cannot be justified," says the head of the Orthodox Church in Russia and an ally of President Vladimir Putin. "I urge those who have taken up arms to use them against their brothers to reconsider" their choice, he adds, saying he "supports Vladimir Putin's efforts to prevent unrest" in Russia.
7:03 am: The European Union "is closely monitoring the situation", and British Prime Minister calls on all parties to be "responsible"
On Twitter, European Council President Charles Michel said he was "closely monitoring the situation in Russia" and was "in contact with European leaders and G7 partners" after the Wagner group rebelled. "This is clearly an internal Russian problem. Our support for Ukraine and Volodymyr Zelensky is unwavering," he declared.
Join our WhatsApp group, clicking on this link
Join our Telegram channel, click this link
Source: https://www.diariodocentrodomundo.com.br/chefe-do-grupo-wagner-desiste-de-moscou-para-evitar-banho-de-sangue/