thousands of young people line up for hours to get a job in a supermarket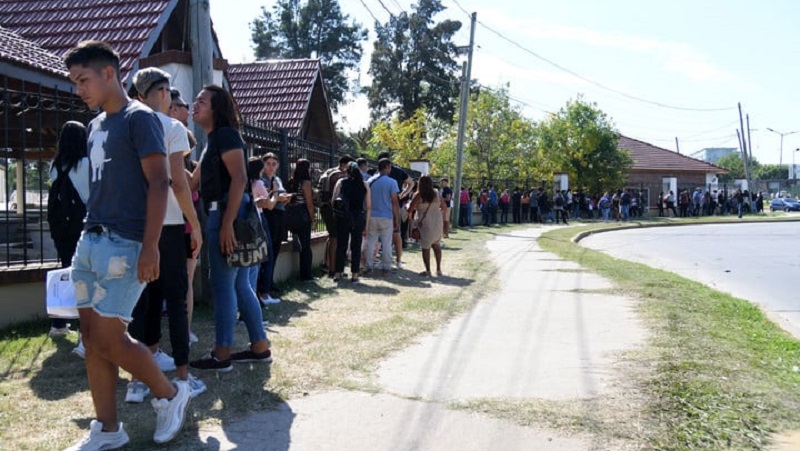 Hours and hours of queue in the sun. Young people who practically have to camp. The goal is to get a job at a branch of the Coto supermarket that would be created in the more than select nordelta. The supermarket chain belonging to millionaire Alfredo Coto seeks to open a new branch in that private neighborhood, where around 600 jobs would be needed.
The events take place in the Buenos Aires district of Benavídez, in the northern part of the Buenos Aires suburbs. There are thousands of young people who form more than three blocks in line to try to guarantee an interview and to have the possibility of a job. Images work almost like a rebuttal to the words of Alberto Fernandezwho a few weeks ago had said that people now only queued up to eat at a restaurant.
Boys and girls camp and line up for hours because some job positions have been opened for a supermarket in Benavidez. It makes me angry because many of them are our students and as teachers we know what it cost them to finish school dreaming of a better future. pic.twitter.com/Fu1KHyXwvU

— Brenda Reymundo (@brendareymund) February 24, 2023
At the same time, they talk about real country, the one that is socially divided, with millions of people increasingly hit by the consequences of inflation and the precariousness of life. In fact, the data provided by the Permanent Household Survey (EPH) released this week indicate that they are more than 3 million workers who are looking for another job.
The data also says a lot about the called "quality" of jobs. That is to say, the precariousness of working conditions in addition to the salary amounts that, evidently, they lose at every moment in the face of growing inflation.
Faced with this social scenario, a proposal that they have been proposing from the PTS-Left Front. In particular, they have been the national deputies Nicolás del Caño and Myriam Bregman who have spread the most about the proposal to reduce the working day to 6 hours, 5 days a week, with a salary that, at least, covers the family basket. Applying this measure in 12,000 large companies 1,000,000 jobs could be achieved with rights.
Source: www.laizquierdadiario.com