The Massa-Scioli gesture. A hug from Menem for unity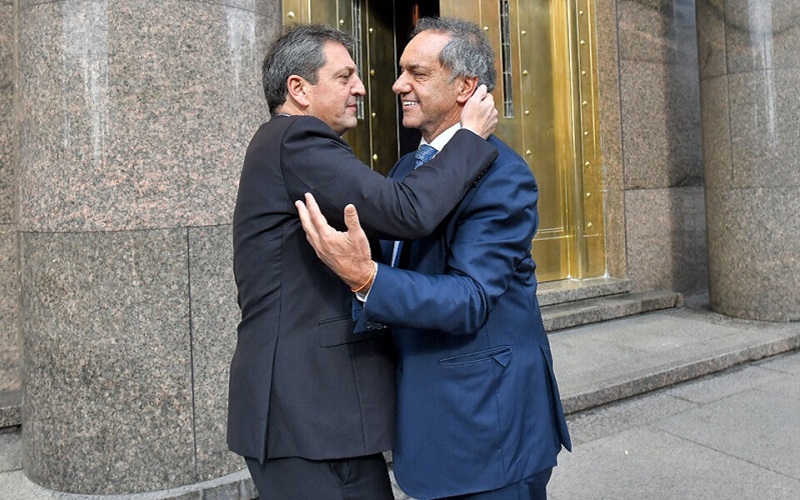 While preparing to make a new million-dollar payment to the IMF, possibly this Friday, the Minister of Economy and candidate for president of Unión por la Patria, Sergio Massa, is fully focused on the electoral campaign.
After a list closure plagued by tensions and rumors that left "wounded" in Peronism, a damage control policy is currently underway to try to focus on the campaign.
In this sense, on Wednesday it was Vice President Cristina Kirchner who had received Daniel Scioli in her office, one of the losers of the Unión por la Patria group, involved in rumors and disputes over the supposed place on the lists that Santiago Cafiero would have swiped him. "We talk a lot, sincerely and with the usual respect," Cristina Kirchner said from her Twitter account.
Just in my office in the Senate with Daniel Scioli, Argentine ambassador to Brazil.

We have known each other for a long time… To be more precise, since 1997, when we were both National Deputies.

We talk a lot, honestly and with the usual respect. I… pic.twitter.com/a5AgfdACIA

— Cristina Kirchner (@CFKArgentina) June 28, 2023
In the same direction, today it was the turn of Sergio Massa, who received Scioli in an unusual way and for the photo at the door of the Palacio de Hacienda, before entering to hold a meeting.
Both of them, Massa and Scioli, although they are at odds within Peronism, have much in common: not only a Menemista past, but also having been blessed by Cristina Kirchner as presidential candidates, one in 2015 and the other currently. .
They also share these two features with Alberto Fernández and, as a whole, draw a line of continuity, which is Cristina Kirchner's systematic choice for candidates who, when they win, apply adjustment plans and give continuity to neoliberal policies, never reversed.
An electoral campaign, many gestures that set the course for which Peronism chooses, once again.
🇦🇷🇧🇷 I met with the ambassador @DanielScioli to strengthen bilateral diplomatic relations that, for more than 200 years, have united Argentina and Brazil economically and culturally.
Thank you Daniel for committing yourself and working for unity.

We made progress in strengthening the… pic.twitter.com/Mog9nRA9jY

— Sergio Massa (@SergioMassa) June 29, 2023
Source: www.laizquierdadiario.com