Tattooist charged over 14 inch penis on pal's back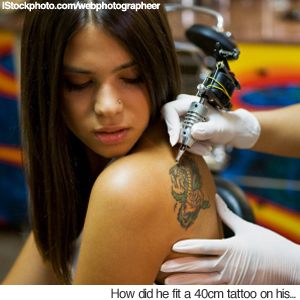 A tattooist in Australia has been charged with assault after allegedly inking a 40cm penis on the back of a 'friend' who he'd had an argument with.
Queensland Police say the 25-year-old victim had been visiting the tattooist at home when he was talked into getting a tat.
He asked for a yin and yang symbol with some dragons, but instead ended up with a 40cm penis on his back, it wasn't until it was finished he realised what had happened.
Cops say the man claimed he was also punched and thrown out of the house adding that he'd been in an argument with the 21-year-old tattooist prior to being inked.
Yes that's right, he agreed to let the man he'd just been arguing with, tattoo him. Oops.
The tattooist is due to appear in court next month charged with two counts of assault occasioning bodily harm and one charge relating to the Public Safety Act.
The tattoo apparently also included a slogan suggesting the victim was homosexual and will cost £1,000 to remove.