Stop the genocide. Red Cross demands that Israel stop attacking hospitals and doctors in Gaza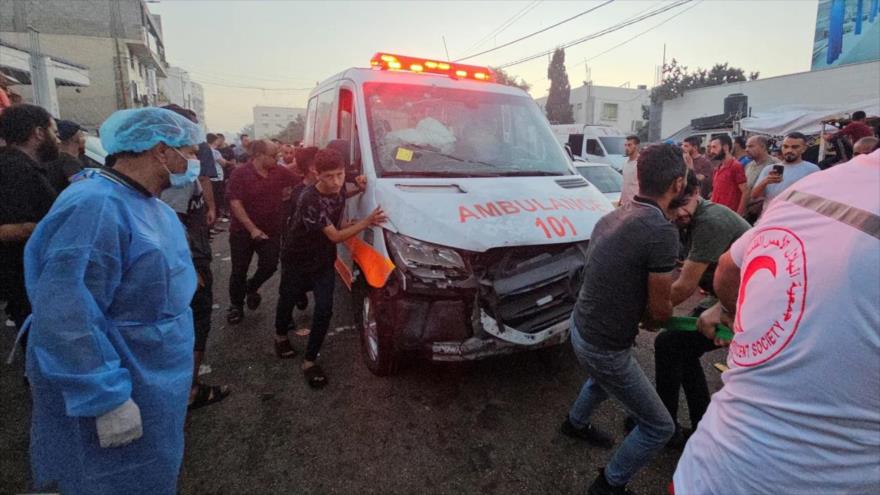 The International Committee of the Red Cross (ICRC) affirmed today that the health system in the Gaza Strip reached a "point of no return" and demanded an end to attacks on hospitals in the Palestinian territory, amid attacks by the Israeli military forces that have now been without interruptions for 24 days.
The Red Cross is an organization with wide international recognition. Since its foundation in 1863, its objective is to provide assistance to victims of conflicts and armed confrontations. It is based in Geneva (Switzerland).
"Overwhelmed, undersupplied and increasingly unsafe, Gaza's health system has reached a point of no return that endangers the lives of thousands of injured, sick and displaced people," the head of the subdelegation said in a statement. of the ICRC in Gaza, William Schomburg.
For this reason, the ICRC launched an urgent call for respect and protection of medical facilities, patients and medical staff in Gaza.
"The destruction that is affecting hospitals in Gaza is becoming unsustainable and has to stop," Schomburg said.
Since the beginning of the war, the UN and the World Health Organization (WHO) have denounced bombings and artillery attacks against ambulances and hospitals.
Al Shifa, the largest hospital in Gaza, "now hosts thousands of displaced families who have lost their homes" in addition to being overflowing with patients, the ICRC said, according to the AFP news agency. In the last few hours it was learned that Israeli tanks are surrounding Gaza hospitals and bombing Al-Shifa. Social media was flooded with heartbreaking scenes from the hospital where more than 50,000 people are sheltering.
Children's hospitals did not escape the violence, especially Nasser and Rantisi, the latter having to cease their activities.
"Our partner, the Palestinian Red Crescent (PRCS), has been working tirelessly to keep Al Quds Hospital operating, while desperately running out of resources amid growing hostilities," the ICRC said.
Furthermore, the organization warned that "any military operation around hospitals must consider the presence of civilians, who are protected by International Humanitarian Law" and recalled that "attacks against medical facilities and personnel represent a severe setback for the already yes weakened Gazan health system.
"The ICRC urgently calls for the immediate protection of all civilians, including humanitarian workers and medical personnel. This protection is not only a legal obligation, but a moral imperative to preserve human life in these terrible times," the statement concluded.
Israel completely blockaded the Gaza Strip and launched a bombing campaign, followed by a military ground operation, which has already left more than 11,000 dead, including nearly 4,500 children.
La Izquierda Newspaper and Agencies
Source: www.laizquierdadiario.com