Stop the genocide. Palestinian women's organizations call to mobilize around the world this weekend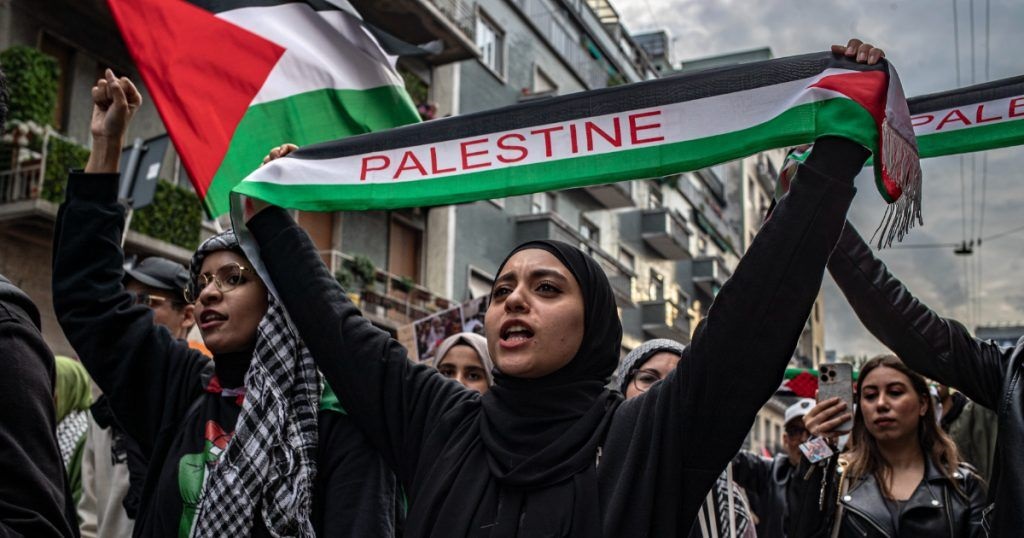 Mass demonstrations are expected around the world this weekend. In countries such as the United States, the United Kingdom, France, Spain and Germany, they have been growing to exceed hundreds of thousands of protesters in large cities. In the Arab world, the mobilizations are massive and demand an immediate ceasefire. In Latin America they began to make themselves felt last week with actions in Mexico, Chile and Venezuela. In Argentina, a new mobilization is being prepared this Saturday called by the Palestine Solidarity Committee. The official statement will be known in the next few hours.
We publish below the call of Palestinian women's organizations.
---
Women's movements have historically been fundamental in struggles against oppression, discrimination, colonialism and militarism. In the same spirit, and in response to the genocide that Israel is carrying out in Gaza, we, the women's unions and grassroots movements representing Palestinian women within historic Palestine and in exile, call on women and women's organizations around the world to Let them raise their voices and stand up, especially on the global day of action of November 11 and 12to support our fight to end this genocide.
Our immediate demand is a ceasefire, lifting of the siege and unimpeded entry of humanitarian aid into Gaza. However, for this to happen, we need significant pressure to end all military and security ties and customary agreements with Israel. We ask that street actions be organized where possible, that declarations of solidarity be initiated and that strategic and creative campaigns be carried out to cut all ties of state, corporate and institutional complicity with Israel, as was done against apartheid South Africa!
If not now when?
Since October 7, Israeli apartheid has murdered more than 9,500 Palestinians in Gaza, including more than 2,500 women and nearly 4,000 boys and girls.. Israel is carrying out what UN experts, 880 international academics, including genocide experts, a former senior UN official and a growing number of states have described as an unfolding genocide against the 2.3 million Palestinians of the Gaza Strip busy and besieged.
In recent weeks, Israel has indiscriminately bombed entire civilian neighborhoods, hospitals, schools, churches and mosques; has carried out ethnic cleansing of 1.5 million people; and has cut off the supply of water, food, fuel and medicine, turning Gaza, which has been an open-air prison for more than 16 years, into what a former UN official calls "the largest open-air extermination camp in the world".
If not now when?
In the same period, Israeli military occupation forces and fascist armed settlers have intensified their pogroms; forced displacements; intentional homicides; random kidnappings and torture of Palestinian workers, farmers and youth; arrests and extreme repression in the occupied West Bank, including East Jerusalem.
Contextualizing the current genocide unfolding in the Israeli regime of 75 years of settler colonialism and apartheid, Senior UN official Craig Mokhiber wrote before resigning: "The European, ethno-nationalist, settler colonial project in Palestine has entered its final phase, towards the accelerated destruction of the last remnants of indigenous Palestinian life in Palestine."
Meanwhile, the anti-Palestinian Western colonial ruling class, in tandem with its deeply racist and dehumanizing media, continues to arm, finance and shield Israel from accountability, thereby enabling its ongoing genocide. Several states in the global South continue to buy weapons, spy programs and military training from Israel, thus fueling its genocidal coffers.
Palestinian women have been fighting for decades against the intersection of national, social and economic oppressions, denouncing the patriarchal core inherent in Israel's regime of oppression.
We urge you to intensify BDS pressure campaigns against Israeli apartheid and simultaneously pressure your governments to:
– Implement an immediate ceasefire and ensure unhindered supply of life-saving aid to Gaza
– Reject any forced population transfer
– Guarantee UN protection to Palestinians trapped under the Israeli siege in Gaza
– Impose a broad military and security embargo on Israel, as well as other sanctions to end its own complicity.
– Demand that the ICC investigate war crimes and crimes against humanity, including the crime of genocide and apartheid, perpetrated by Israel.
This moment is the litmus test not only for international law and the global human rights framework, but also for humanity and the very meaning of justice and freedom.
If not now when?
Word:
General Union of Palestinian Women "GUPW
Palestinian Federation of Women's Action Committees
Union of Palestinian Women's Committees "UPWC"
Mothers – school society
Women's collection for justice and equality "ERADA"
Women's Fighting Block
Al-Najdeh Social Association for the Development of Palestinian Women
Women's campaign to boycott Israeli products
Roles for Social Change Association "ADWAR"
Palestinian Initiative for the Promotion of Global Dialogue and Democracy MIFTAH
Asociación de Acciones Femeninas
Al-Najdeh Social Association for the Development of Palestinian Women, Gaza















Source: www.laizquierdadiario.com