Spain will organize the 2030 World Cup together with Portugal and Morocco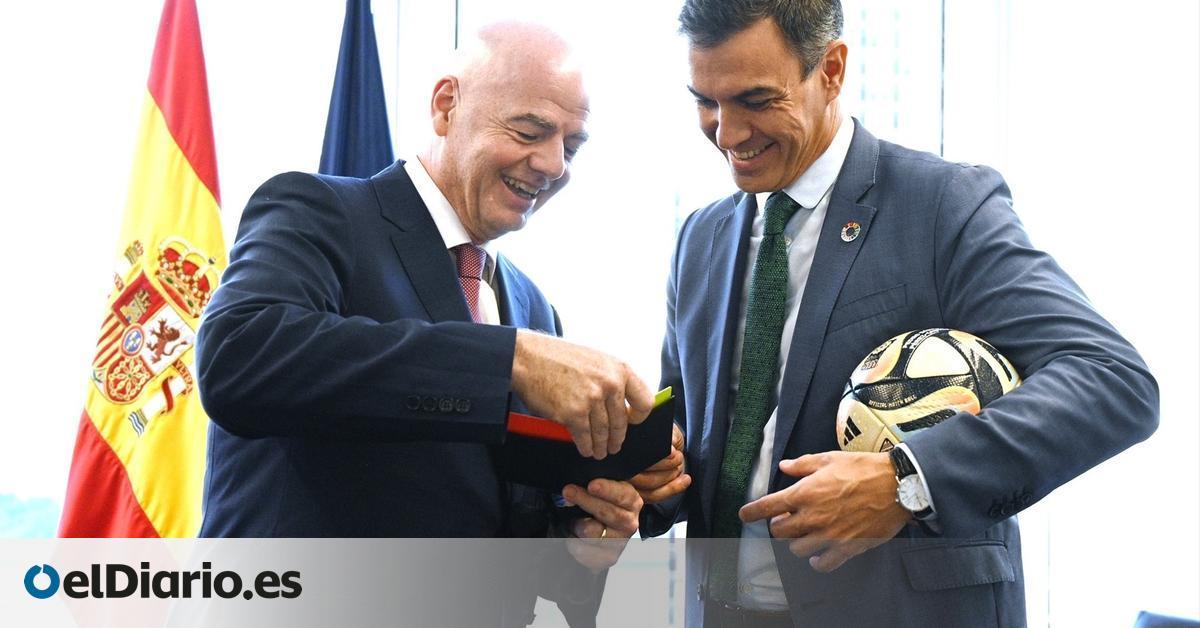 This Wednesday, FIFA awarded the organization of the 2030 World Cup to the candidacy made up of Spain, Portugal and Morocco. The opening matches of the tournament, however, will be held in Uruguay, Argentina and Paraguay. Spain will once again organize a soccer World Cup 48 years after the one held in 1982.
The announcement of the decision of the FIFA Council was made by the organization's general secretary, Gianni Infantino. Now, an extraordinary Congress will ratify that decision. This Congress is scheduled to be held in December 2024.
On August 26, in the midst of controversy over the 'Rubiales case', the president of the Higher Sports Council, Víctor Francos, stated that he would do everything possible so that the scandal did not affect the Ibero-Moroccan candidacy.
"I am going to contact FIFA to make an important reflection so that this fact does not affect Spain's candidacy to organize the 2030 World Cup," Francos said then.
This Tuesday, the acting President of the Government, Pedro Sánchez, celebrated the decision with a message in X. in which he assured that Spain will demonstrate "the strength of our country's football as world champions, and we will defend the values ​​of equality, solidarity and healthy competition that must accompany sport."
The leader of the Popular Party, Alberto Núñez Feijóo, has also celebrated the "great news", as stated in X, and has described it as "a challenge as an organization and a privilege at the sporting level".
The Moroccan king, Mohamed VI, has celebrated FIFA's decision to accept the candidacy along with Spain and Portugal, which "recognizes the prominent place of Morocco in the concert of great nations."
Spain will finally lead the organization of this competition and will be the country with the most venues, a total of ten, compared to three in Portugal and four or five in Morocco. The presence of Argentina, Uruguay and Paraguay, where three matches of the competition will be held, aims to commemorate the centenary of the World Cup, whose first edition was held in 1930 in Uruguay.
"The first of these matches will be held in the stadium where it all began, in the legendary Centenario Stadium in Montevideo, to commemorate this centenary edition of the World Cup," FIFA said in a statement.
10 billion at stake
The Spanish Government estimates that the competition will bring the country income of more than 10,000 million euros. These are forecasts that were made public in a Royal Decree approved in the final stretch of 2022. In it, the Executive granted a subsidy of 7.5 million to the RFEF so that it could begin to launch the machinery to ensure that Spain became one of the venues for the 2030 World Cup.
The Government describes the 2030 World Cup as "an element that, in addition to enhancing the image of Spain at an international level, connects citizens from different parts of Spanish territory, and all of this through sports values ​​such as equity, dedication and teamwork."
The joint candidacy of Spain, Portugal and Morocco competed with that made up of Uruguay, Argentina, Chile and Paraguay, which will finally host the inaugural meetings. FIFA has stated that the candidacy of Morocco, Portugal and Spain represents "two continents united not only in the celebration of football but in providing a unique social and cultural cohesion, with a great message of peace, tolerance and inclusion."
Source: www.eldiario.es