Sánchez shows his support for Zelenski's plan while Xi claims China's "contributions" to peace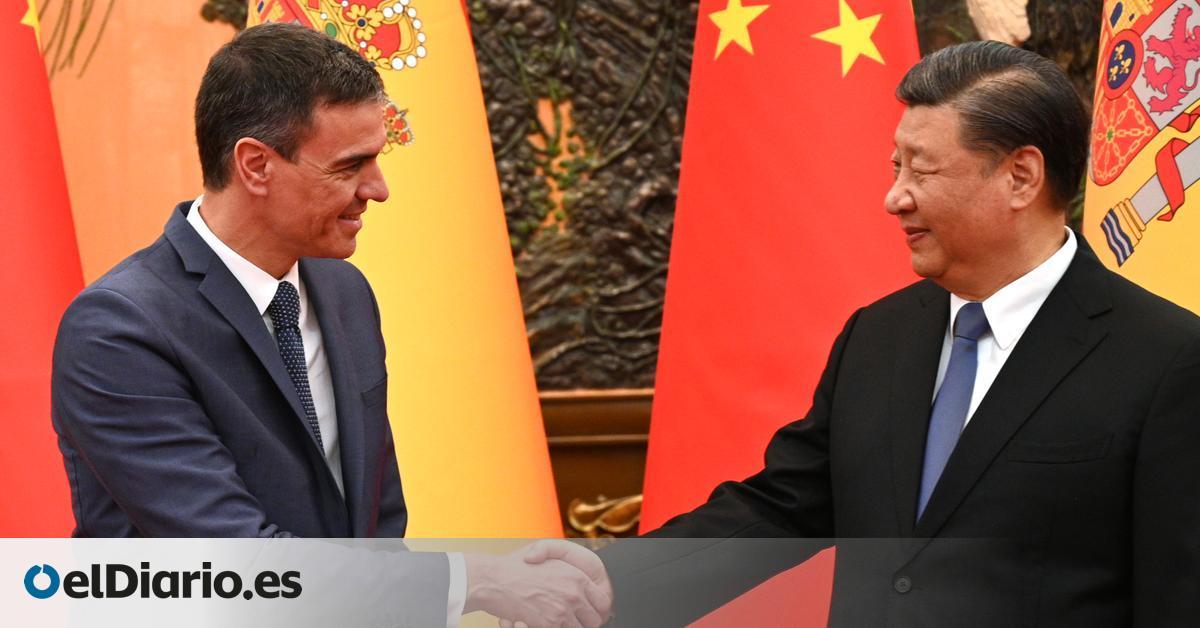 Chinese President Xi Jinping was just in Moscow discussing the Ukraine war with Vladimir Putin. And Pedro Sánchez is the first European leader he has received this Friday after that trip. "President Xi", Sánchez told him at the beginning of a meeting of just over half an hour in the People's Palace, in Tiananmen Square (Beijing): "I am very interested in knowing his vision of the current geostrategic context global. Also China's position on a war that is affecting Ukraine, especially after his visit to Moscow.
Sánchez, who has explained that he has asked Xi to speak with the Ukrainian president, Volodímir Zelenski, did not want to explain later in the press conference if he has had an answer to his questions to Xi: "The important thing is that the position of Spain, Spain's arguments, and why we are supporting Ukraine. The EU is a project of peace, of respect, and what cannot be done is violate a nation like Ukraine. There is a deliberate threat to the EU, and to an order based on rules".
Xi, who was the first to speak in front of the cameras before the start of the meeting, said: "In recent years, he has led the Spanish people to successfully fight against COVID-19 and has also had a lot of success due to the effects of international turbulence. Spain has been one of the best in terms of economic growth in the EU. Together with Spain, we are going to share the opportunities together and face the challenges to further promote bilateral development; meet challenges, promote development and make contributions to world peace and development".
"You know what our position is", Sánchez continued before Xi: "We must continue to bet on peace: that peace must be just, lasting, in accordance with the United Nations Charter, and that respects the principles of international order: sovereignty and the territorial integrity of the attacked country, as claimed by President Zelenski in his formula for peace, which Spain supports".
China is in the diplomatic deployment phase. In mid-January the zero covid policy declined, the borders were opened and an economic machine at half throttle was reactivated due to the pandemic, which requires regional and international trade flows. Hand in hand with this economic reopening, China, already a world superpower and a global actor in an uncertain world system, crossed by the Russian invasion of Ukraine and with various geopolitical and geoeconomic axes that intersect: Asia, with the United States sponsoring the Aukus and pampering to Taiwan; the Global South, which distances itself from the West; and Europe, which is looking for its place between the two hegemonies.
And in that diplomatic display of a superpower coming out of quarantine, Chinese President Xi has been with Putin to discuss his 12-point plan for peace in Ukraine. A Putin with whom Xi signed an unlimited friendship treaty a little over a year ago, shortly before the Russian invasion of Ukraine.
"This is a time when tensions are building up in different corners of the planet", said Sánchez: "In Europe we are once again experiencing the horrors of a war that we believe is illegal and unfair and therefore it is a time for dialogue and the defense of a rules-based multilateral order. For this objective, we must keep communication channels open, build our trust through positive agendas and collaboration on issues that concern us all. Nothing replaces direct contacts between the authorities and leaders of the countries. It is very important that despite the differences we look for spaces for dialogue and also for concertation".
The first European leader that has been seen with Xi is Sánchez. Later, others will come to Beijing, such as the French president, Emmanuel Macron, and the president of the European Commission, Ursula von der Leyen, who this Thursday stated in Brussels: "It is vitally important that we guarantee diplomatic stability and lines of communication open with China I believe that it is not feasible – nor is it in Europe's interest – to disassociate itself from China. Our relationships are not black or white, and neither can our response. That's why we need to focus on risk reduction, not disassociation. And this is partly the reason why I will soon visit Beijing together with President Macron. Managing this relationship and maintaining an open and frank exchange with our Chinese counterparts is a key part of what I would call risk reduction through diplomacy in our relations with China. We will never be shy about raising the deeply troubling issues that I have already raised. But I think we need to leave room for a discussion about a more ambitious partnership and about how we can make the competition fairer and more disciplined. And more generally, we need to reflect on how we can work productively together in the global system in the future, and what challenges."
Neither white nor black, says the head of the Community Executive, who is committed to reducing risks with a China that wants to see its weight recognized in the world. "Spain is a great country in the European Union and plays an important role in regional and international affairs. You are an important politician who has been promoting Sino-European relations and cooperation for a long time", said the Chinese Prime Minister, Li Qiang, upon receiving Pedro Sánchez at the People's Palace, in the middle of Tiananmen Square, in Beijing. The conversation between Li and Sánchez has focused on bilateral issues, while the war in Ukraine will be discussed in the meeting with Chinese President Xi Jinping. "Geopolitical issues have had no place in the meeting," government sources have explained after the meeting with Li.
"We share some of our views," Li acknowledged: "It is true that the world economic situation is not optimistic, it is uncertain and unstable. China, for its part, will always be committed to promoting win-win cooperation. At the same time, the most important thing for China is to promote the common prosperity of the world with our own development."
Sánchez, for his part, highlighted "the relaunch of relations in areas of special interest to China and Spain, both in the economic and commercial spheres, among others", and mentioned "the relationship between China and the European Union".
"From Spain, what we want is to increase this collaboration with China and to be able to move towards a more balanced commercial relationship", said Sánchez: "There are enormous opportunities, also for investment, in sectors such as, for example, the manufacture of electric vehicles ".
Source: www.eldiario.es