Repudiation. The Morales Police repressed again in Humahuaca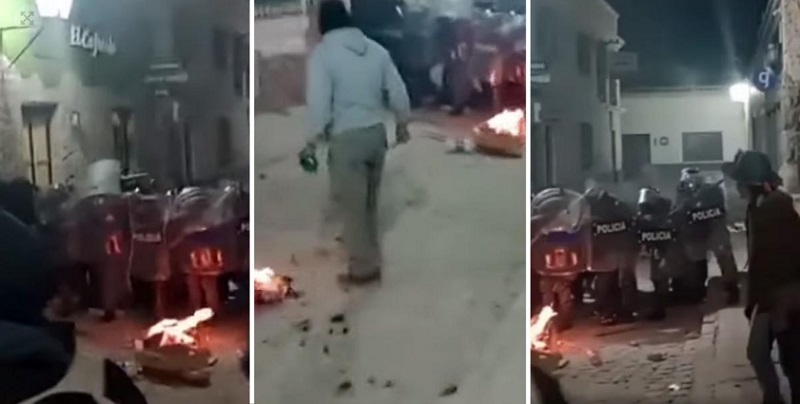 Since yesterday a group of protesters were demanding the rejection of the Reform of the constitution to the councilors. Due to popular pressure, once the rejection vote was carried out, the police began the repression in the early hours of this Saturday.
Families complain that There are between three and six wounded with bullets in the neck, chest and eyes, who were treated at the local hospital. The number of detainees could not yet be confirmed. According to the information that this medium was able to access, there is a young man injured in the eye, from whom a rubber bullet was extracted, and who is in danger of losing it.
It is worth remembering that in the repression unleashed in Purmamarca last Saturday, June 17, a young man barely 17 years old lost an eye as a result of having suffered bullet wounds to the face by the Morales police.
From the former conventional PTS-Left Front, They repudiated the repression and demanded that the unions call a strike and mobilization to stop the repressive escalation of the Morales government. They also added that "this has to be a first step to call a provincial strike until the Reform falls. For that we demand aprovincial assembly to unite all sectors in struggle to achieve itas required by the recently constituted space, the Assembly against the Reform of the people, of workers, Communities and students."
I deeply repudiate the repression perpetrated by the Gerardo Morales police against residents of the city of Humahuaca, for the mere fact of demanding that the Deliberative Council issue a decision rejecting the Reform of the Constitution.
(Go on) pic.twitter.com/UEULzcKsAo

– Alejandro Vilca (@vilcalejandro) July 1, 2023
VERY SERIOUS. The Morales government, which cynically talks about peace, last night repressed an entire town standing in Humahuaca, where the PJ governs.
The reason? The demand to the Deliberative Council so that it is issued against the anti-rights reform that has popular rejection. pic.twitter.com/YKzENdwYQm

— Natalia Morales (@NatuchaMorales) July 1, 2023
Once again, Morales repressed in Jujuy. Now in the town of Humahuaca protesters who reject the Reform of the UCR and the PJ. Enough! The unions must call the strike! pic.twitter.com/DSk609sD33

— Gaston Remy (@RemyGaston1) July 1, 2023
Source: www.laizquierdadiario.com