Repressive threat. The coup government of Peru orders the Army to release the roads taken by the protesters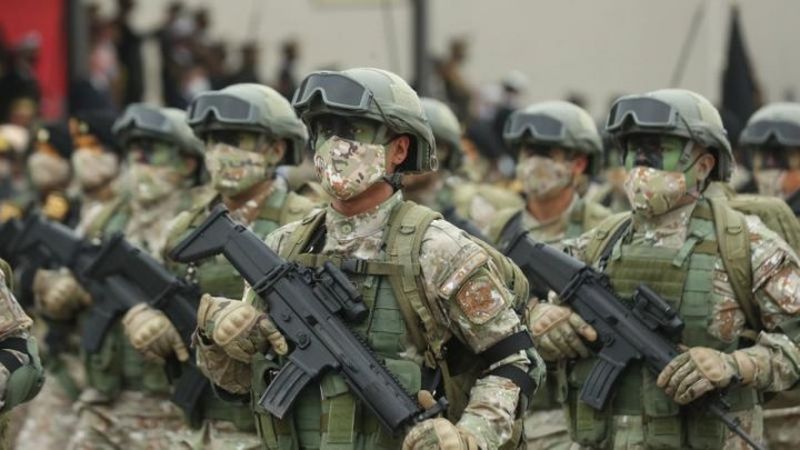 Given the increase in mobilizations in Lima and in various regions of the interior, which has led to 30% of national roads being taken and various regions of the country being paralyzed, the government of the coup leader Dina Boluarte appeals to toughen the repression through the hand of the military, who were authorized by the interior and defense ministries to unblock the routes taken and repress the demonstrators.
From the business community of transportation, agricultural exporters, mining and other sectors, they have been demanding that the government "impose the rule of law" through the increase in military police repression that up to now has cost 60 deaths and more than a thousand wounded. In this sense, Boluarte authorizes the participation of the military for the "liberation" of the routes taken, so that the goods and supplies reach the markets in a timely manner and the profits of the businessmen are not affected.
We also saw the participation of the military at the beginning of this week, when contingents of soldiers moved from the Tacna and Moquegua barracks to the Puno region to "protect public and private institutions" and try to intimidate the protesters of this highland region that is one of the epicenters of the ongoing popular uprising. It is worth mentioning that the military have been "providing support" to the Police to brutally repress the mobilizations, since the beginning of the conflict.
Let us remember that, since December 13, the regions of Apurímac, Arequipa and Ica have been in a state of emergency and since January 15 this measure has been applied in the regions of Puno, Cusco, Lima, in the Constitutional Province of Callao, in the province of Andahuaylas, in the department of Apurímac, in the provinces of Tambopata and Tahuamanu in the department of Madre de Dios, and in the district of Torata, province of Mariscal Nieto in the department of Moquegua.
Given the advance of the repudiation of Boluarte, they decreed a state of emergency in the regions of Amazonas, La Libertad and Tacna. These repressive measures have not stopped the uprising of the peasants, workers and popular sectors.
In this way, with a large part of the country in a state of emergency and at the hands of the Army, Boluarte seeks to remain in government, ignoring the massive calls demanding his immediate resignation and the implementation of a Constituent Assembly that will allow the disastrous regime to end. of 93 that only favors a handful of large national and foreign businessmen and the caste of politicians at their service.
Source: www.laizquierdadiario.com