Putin praises Xi Jinping for 'balanced' stance on Ukraine, says he has considered Chinese peace plan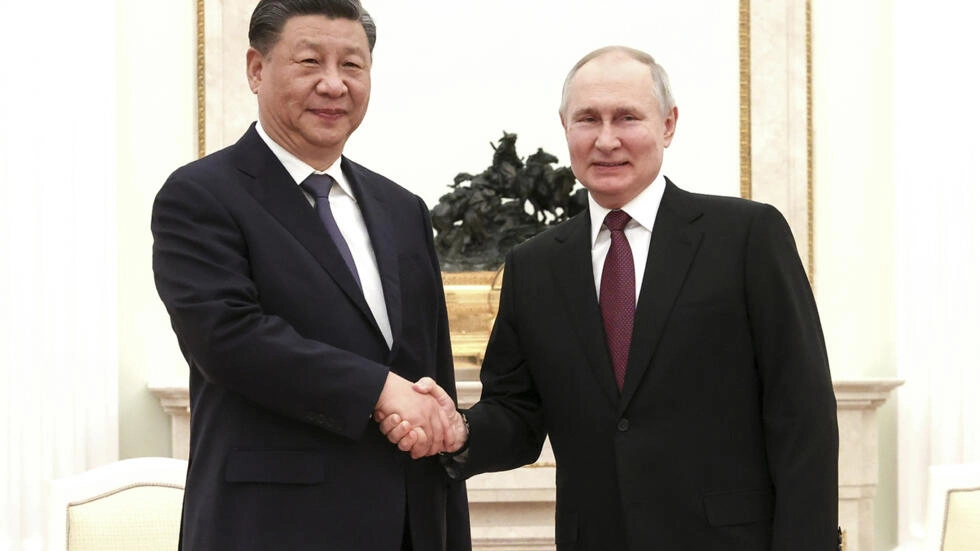 Russian President Vladimir Putin praised Beijing's position on the war in Ukraine on Monday (20) and did not spare Xi Jinping his praise. The Kremlin chief also said that he thought about the peace plan proposed by the ally. For an expert interviewed by RFIapproaching Russia, China shows both pragmatism and opportunism.
Putin and Chinese President Xi Jinping concluded an informal opening discussion at the Russian seat of government today. The meeting lasted four and a half hours, Russian news agencies reported.
The two heads of state should now have dinner together, after which they will have more official discussions on Tuesday (21) with the expected signing of agreements to deepen Russian-Chinese cooperation, mainly in the economic sphere.
As Xi's three-day state visit to Russia looks like a show of support for Putin, the United States and the European Union ratified their stance on Kiev by announcing new military aid.
"China's strategy is aimed at explicitly criticizing the United States while implicitly supporting Russia. China shows both pragmatism and opportunism at the same time," she told RFI Antoine Bondaz, researcher at the Foundation for Strategic Research and professor at Sciences Po in Paris.
"Pragmatism because it does not officially align itself with Moscow, simultaneously supporting its economy and the Russian disinformation effort, and supporting Russia on the diplomatic level. And opportunism because this is the chance for China to obtain concessions from Russia, which it had not obtained until today, such as some transfers of military technology", she says.
China as negotiator
China, which claims diplomatic clout commensurate with the weight of its economy, is posing as a mediator and last month released a document urging Moscow and Kiev in particular to invest in peace talks.
"We are always open to a negotiation process. We will undoubtedly discuss all these issues, including your initiatives, which we treat with respect," Putin said at the start of his meeting with Xi in the Kremlin. "I know that you have a fair and balanced position on the most pressing international issues," he added.
The Chinese president, for his part, praised the "close relations" between Beijing and Moscow, according to the official Russian translation of his comments.
In an article published before his visit, Xi Jinping had described his trip as a "journey of friendship, cooperation and peace".
For Putin, Xi's visit is all the more important as the Russian leader is increasingly isolated in the West and has since last week been the subject of an arrest warrant from the International Criminal Court (ICC).
Ammunition for Ukraine
China uses its role in the recent reconciliation between Saudi Arabia and Iran to present its proposals for a solution to the situation in Ukraine, but it has difficulty convincing Western countries.
The United States, which accuse Chinese officials of considering handing over arms to Russia, criticized Beijing's peace plan on Monday.
"The world must not be misled by any tactical decision by Russia, supported by China or any other country, to freeze the conflict on its own terms," ​​said US Foreign Secretary Anthony Blinken.
Kiev warily relates to the Chinese giant, and urged Xi on Monday to "use its influence in Moscow to end the war of aggression".
To indicate its support for Ukraine in the face of Beijing's support for Moscow, the European Union said it had released €2 billion to buy and deliver artillery ammunition to the Ukrainian army.
To bolster its position, Washington announced a new aid tranche of $350 million and assured Kiev of its support "as long as necessary".
In addition to Ukraine, the meeting between Xi and Putin intends to show the good understanding between Russia and China, at a time when the two countries are experiencing strong tensions with the West, even though Moscow seems more dependent on Beijing than the other way around.
In an article published by a Chinese daily, Putin said that Russian-Chinese relations "have reached the highest point in their history".
Isolation
Isolated in Europe and now under an ICC arrest warrant, Putin needs that closeness to Beijing more than ever.
Chinese diplomacy on Monday asked the ICC, whose headquarters are in The Hague, Netherlands, to avoid any "politicization" and to respect the immunity of heads of state. Moscow reacted by announcing a criminal investigation against several magistrates of this international court.
As a sign of defiance, Putin traveled this weekend to Mariopol, a Ukrainian city devastated by Russian bombing.
But in addition to the diplomatic support, Xi's visit also has economic significance for Russia, which has massively reoriented its economy towards Beijing in the face of Western sanctions linked to the conflict in Ukraine.
Moscow has significantly increased its oil and gas exports to Asian giants such as China to offset European embargoes. This makes it increasingly dependent on Beijing, according to Antoine Bonaz.
"There is a growing asymmetry between Russia and China and an extremely strong inversion of the balance of forces", he says. "On the Chinese side, the objective will be to maintain this asymmetry, ensuring that Russia, in Central Asia or elsewhere in the world, does not go against China's interests", evaluates the researcher. "What is clear is that Beijing's means of putting pressure on Moscow are unprecedented, with extremely close cooperation," he says.
But Chinese support, according to him, would not remove the effect of European sanctions on Russia. "What is clear is that China seeks to offset some of the impact of sanctions. On an economic level, Russia has found new markets and alternatives to Western companies," he says. The expert cites the automobile sector as an example, "where the Chinese industry has taken the place of the European one".
Join our WhatsApp group, clicking on this link
Join our Telegram channel, click this link
Source: https://www.diariodocentrodomundo.com.br/putin-elogia-xi-jinping-por-posicao-equilibrada-sobre-ucrania-e-diz-que-considerou-plano-de-paz-chines/