Massa and Macri's friends earn fortunes with the price tag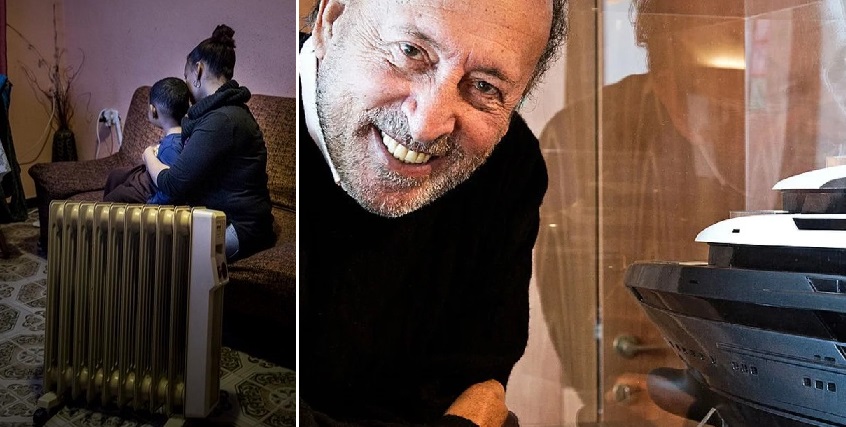 This week the electricity bills began to knock on the doors of thousands of homes. Literally. The weight of the numbers shook our faces (and pockets). We were used to high bills. The macrista rate survived Alberto's "we are going to live better" and then the IMF asked him for another. And Sergio complied. But what few of us expected is that winter would arrive with such an increase. Invoices that went from 5 to 45 thousand pesos. Without breaking anything.
While there are families sitting around the table to figure out how to pay, or anxiously calling claims lines that are never answered, there are other men who smile. Some are out for a walk in the European summer, others in the Patagonian snow or the Mendoza mountain range. They spare no expense. The air at 18°. It is that they are the owners of the light. And a large part of the money you pay for services.
With you, the friends of power who are making a bellyful of the new tariffs.
Edenor: yachts, Switzerland, golf courses in the mountains
José Luis Manzano spends a large part of the year in Switzerland, at his home in Geneva. He owns many companies, energy, agro-industrial, media. Several of them together with Daniel Vila, a Mendoza millionaire who, among other luxuries, has vineyards and golf courses in the most sought-after areas of Mendoza, between the mountains. Together they built one of the societies with the most rise to power. Children of Menemism, they had good relations with Kirchner and Macri, but Sergio Massa is their favorite. That is why they were in the assumption of him as super minister, in a very clear gesture.
Together with Mauricio Filiberti, a chemical entrepreneur and owner of one of the most luxurious yachts in the world, they bought their share of Edenor (51% of the share capital) from Pampa Energía. It was in December 2020 and for 100 million dollars. Or at least so they declared.
edenor It has more than 3 million customers, as its name says in the northern metropolitan area. During Macri's tariff, the 478 million dollars they earned between 2016 and 2019 were divided with Edesur. In 2022 they returned to declare significant profits, but they also continued to benefit from state subsidies, debt forgiveness and fines, among other benefits that more below we count.
Edesur: the Italian multinational that cuts off your power but your account is still on
72% of the shares of Edesur Today they are from the Italian electrical corporation Enel. The rest is in the hands of the holding firm Distrilec, owned by the Reca, Escasany, Caputo and Bemberg groups, of the so-called "national bourgeoisie".
With the distributor Edesur, it has 2.5 million customers, between the southern zone of the City of Buenos Aires and twelve districts of the province of Buenos Aires. But Enel's business and power cannot be measured by Edesur alone. It is a typical case of vertical integration of companies, which have interests in the entire chain. For example, three power generation plants (Enel Generación Costanera, Enel Generación El Chocón and Central Dock Sud); three energy transport companies (Compañía de Transmisión del Mercosur, Transportadora de Energía and YACYLEC), and one in the commercialization sector (Enel Trading Argentina, formerly Cemsa).
Nor can Enel's business and power be measured only at the local level. After its merger with EGP Americas, it became the largest private electricity company in Latin America, with more than 26 million customers.
As we said, Edesur shared 478 million dollars in profits with Edenor between 2016 and 2019. In 2022 it had profits of 18.5 million per day. But to multinationals, thanks to their "creative accounting", you have to look at their wallets, expanding the focus further. Between the maneuvers between his own companies and his continental business, in 2021 he reported profits of 4.1 billion dollars in Latin America. That is, measured in EBITDA terms, that is, before accounting for financial expenses (debts, amortization, etc.).
Everyone wins… pillaging our pockets
The electricity and energy business in Argentina goes far beyond Edesur and Edenor, it is clear. It is an oligopolistic market, concentrated in a few hands. 50% of the generation is distributed among 5 companies. Transportation too. For example Transener S.A. (Pampa Energía), has 85% of the high voltage network. The distributors, which bring electricity from these plants to homes and industries, belong to large local or multinational groups, as we saw with Edesur and Edenor.
Pampa Energy (by Marcelo Mindlin), the Grupo Sadesa (of the Miguens Bemberg, Caputo, and Escasany families) and the DESA Group (of Rogelio Pagano) are the other most powerful groups. Pagano, for example, owns Edesa, Eden, Edes, Edea and Edelap, which has hundreds of thousands of clients in La Plata, the interior of the Province of Buenos Aires and the Atlantic Coast. In addition to Enel, there are multinationals such as the Dutch BAF that controls provincial companies such as EJESA from Jujuy.
But the business model is the same. They exploit common goods and energy sources, receive State subsidies and other benefits, concentrate different points in the chain, make their workers precarious, and fleece hundreds of thousands of clients with terrible services.
That business model, which Menem finished imposing in the '90s, has remained almost intact. In reality, many things have been deepened. Bloomberg, the agency specialized in financial news, assures that "Looking to 2023, energy is positioned as the star sector for investments in Argentine companies". Among them, the "national and popular" YPF, Vista Energy, Pampa Energía and Transportadora de Gas del Sur stand out. All multiplied by 350% in value of their shares on the New York Stock Exchange.
the present state
As we said, all these businesses would be impossible without the guarantee of the State. Beginning, obviously, with the privatization of a public service that has captive 45 million "customers". Continuing with million-dollar subsidies so that companies always win: in 2022, 120 billion per month were calculated only for electric power companies. Forgiving debts like Sergio Massa did. On the first business day of 2023, he refinanced the debts that the 11 distributors contracted with Cammesa, the state wholesaler of energy. This implied a benefit, only for Edenor and Edesur, of $140,000 million pesos. They will be able to pay in 96 subsidized installments in pesos. Just like when you ask for a "payment agreement" in Edesur, right?
But the company also forgives fines for failure to comply with investment agreements, failures, blackouts or billing problems. Or reward them with the construction of the "Néstor Kirchner" gas pipeline, for which Pampa Energía and others pocketed 1.8 billion dollars.
Services cannot be a business
We are in the middle of winter, but climate change alternates "spring" days with the announcement of "polar waves", as we have seen in recent months. Be that as it may, the stoves, fans or air conditioners turn on. And then the billing machine for Vila, Manzano, the Bembergs and Midlin, the accounts of the Italian, Dutch or Chilean multinationals that are part of the business, turns on.
Within a month, hundreds of thousands of families will find themselves, like these days, with unpayable bills. They will be poorer than the previous month. Some will choose to go into debt, some to eat less, some to go into debt.
They cut off your power, they steal your salary, they make your life bitter.
This model of public services is the one defended by the traditional parties and their candidates. They don't have internals in that. Larreta and Bullrich, Massa and Grabois, Milei.
Myriam Bregman and Nicolás del Caño say that public services cannot be a business. That we cannot continue making millionaires at the expense of the pocket or the cold of the working people. The Left Front is the only force that has no commitment to these parasites. That is why on their platform they propose a way out of the high rates.
Cancellation of all fees.
Declare the energy system of public utility to cancel all concessions, without compensation, and reestablish the service.
Create a single, state-owned energy company, managed by workers, technicians, and user committees.
Plan a quality and cheap service for the working people (with works to extend and improve access); also for small merchants and small producers.

We must organize to fight against this looting and for this exit.
















Source: www.laizquierdadiario.com