Lula handed the Pope a letter from Assange's wife asking for an audience; visit took place today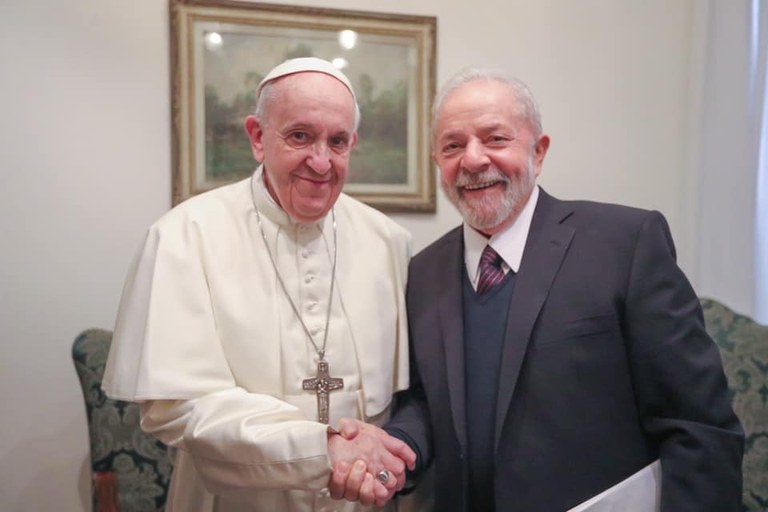 João Pedro Stédile, founder of the MST, and journalist Sara Vivacqua sent a letter from Stella Assange, wife of Julian Assange, to Lula, asking the president of Brazil to deliver it to Pope Francis.
Stella asked for an audience. Lula responded by saying that she insisted on taking the missive and talking about the case to Francisco, demanding a humane solution and an end to the political persecution of Assange.
Four days later, during Stella's interview with Sara for the DCM, her phone rang with the number of the Vatican. The meeting was scheduled for this Friday, the 30th.
The campaign had been trying to contact Argentine and Italian authorities for years. As Stella stated in her interview with Sara, "when Lula speaks, the whole world listens".
The meeting comes at the most crucial time, when Assange is days away from imminent extradition.
Read the letter in full:
His Holiness Pope Francis,
Allow me to offer my condolences on the passing of His Holiness, Pope Benedict XVI.
I would like to sincerely thank you for your concern for the situation of my husband, Julian Assange. Julian is about to serve four years of administrative detention at Belmarsh High Security Prison, fighting extradition to the United States, where he could face solitary confinement and a sentence of 175 years in prison for publishing true information about war crimes.
Your situation is serious and urgent. There is a real possibility that the courts will issue an extradition order to the United States soon, as the judicial process in the United Kingdom could come to an end in the coming weeks. His mental and physical health deteriorates daily and he suffered a mini-stroke in prison. Prison is no place for a person who has stood up for truth and justice. I fear for his life every day. This is not just my personal assessment, but British courts have recognized through expert evidence that there is a very high likelihood that Julian, if extradited, would end his life.
Our sons Gabriel (5) and Max (3) had to learn that the oppression, sadness and limitations of a high security prison are the only possible space for a father-son relationship. It's hard for any adult to understand the unfair situation Julian is subjected to, but they have to live it in their young hearts. But I can't say that your father can disappear overnight from their lives.
Your Holiness, given the urgency and gravity of Julian's situation, I would humbly request a private meeting with you so that I may personally discuss my husband's situation with you as soon as possible.
Sincerely and with deep respect,
Stella Assange
Source: https://www.diariodocentrodomundo.com.br/exclusivo-lula-entregou-ao-papa-carta-da-mulher-de-assange-pedindo-audiencia-visita-ocorreu-hoje/