Lithium looting. Sales de Jujuy profits increased by 194%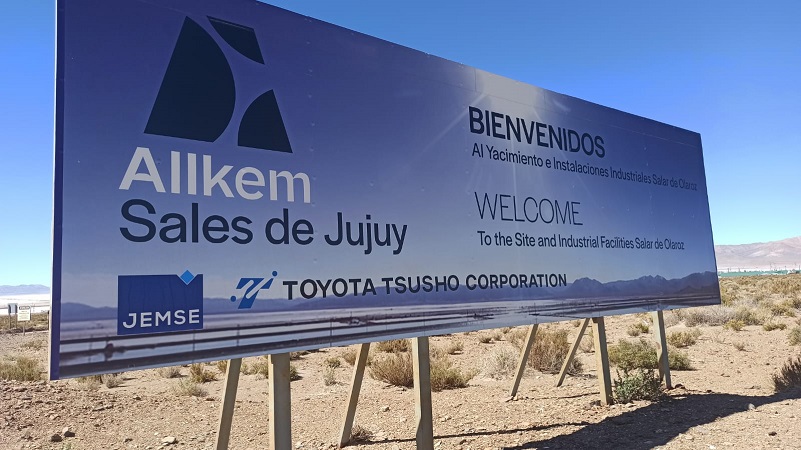 The Allkem group, majority shareholder of the Sales de Jujuy mining company, published the economic and financial report corresponding to the first quarter of the year.
The revenue of the period was US$144 million and increased 194% compared to the same quarter of 2022, when the benefits were US$ 74 million.
The ton of lithium was sold to US$ 52,738 and the cost was US$ 4,924, thus the gross profit margin is 91%.
Sales amounted to US$ 159 million and were 2,904 tons. Although they had a slight drop of 8% (yoy), an issue motivated by speculation in the electric car market in China where lower prices were expected and this affected sales. However, a normalization of the battery supply chain is expected, in a context where sales of electric cars in the Asian country registered growth of 25% (yoy) in the first quarter of the year.
Sales de Jujuy allocated US$ 22 million to the interest payment to shareholders of Allkem and Toyota (owner of 25 of the shares). A way that multinationals use to get dollars out of the country.
According to the second stage of the Olaroz plant which would imply expanding the lithium production capacity to 25,000 tons per year, they report that it is at a degree of progress of 98%.
Business continues to be fabulous. However, poverty and the lack of infrastructure in the towns of the lithium region make it what the residents define as "a poor Qatar"the so-called "spill" never comes with a glass that gets bigger and bigger.
the ante Bill drafted by the PTS-FIT that supports the nationalization of lithium and the creation of a single state company managed by workers and communities, is the only measure that can curb economic looting, implement extraction techniques with less environmental impact, at the same time, that allows planning the use of lithium. territory, the industrialization of the mineral and the use of the profit towards a public works plan that builds houses, pavement, hospitals and schools throughout the province.
Source: www.laizquierdadiario.com