Israel declares a state of war after a strong surprise attack by Hamas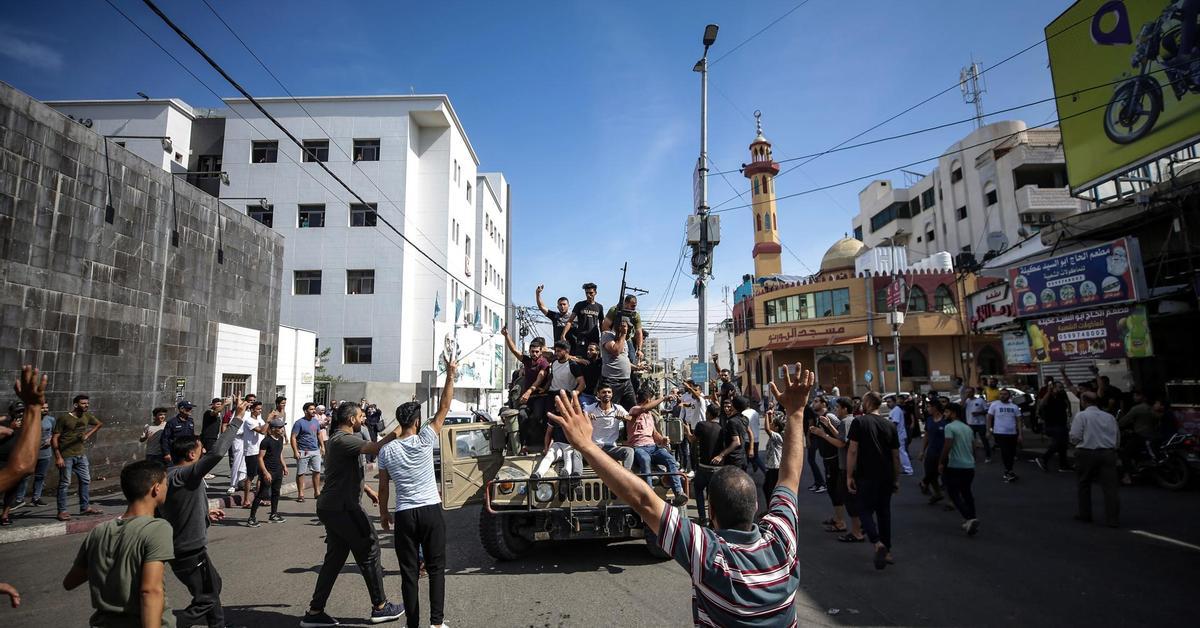 Some 70 people have died in Israel and almost 1,000 have been injured by the attack carried out by Hamas this Saturday, with the launch of rockets and the infiltration of dozens of armed militiamen in several towns in the country. Meanwhile, 198 Palestinians have died and more than 1,600 have suffered injuries in the Gaza Strip, following Israeli retaliatory bombings, according to the Palestinian Ministry of Health's tally.
The Israeli Army has declared a state of war after the strong attack "by land, sea and air" by Hamas, which includes the kidnapping of civilians in their own homes and the capture of soldiers, and which has taken Israeli Intelligence by surprise. , on the weekly day of rest in this country, when everything comes to a standstill except the emergency services.
"Iron Swords" of Israel
The coordinated and massive attack by Hamas is the first of its type and magnitude. Israel has responded with intense bombing of Gaza – which is under the control of Hamas but is subject to a strict Israeli blockade – and has launched what it has called Operation "Iron Swords".
"Citizens of Israel, we are at war," Prime Minister Benjamin Netanyahu declared after responding to the attack. "This is not an operation or an escalation, but a war." Netanyahu has called a high-level meeting with his executive in the next few hours to analyze the situation. The Israeli Army assures that at least seven towns in its territory are under Hamas control.
"The Israeli Army declares a state of war alert," a military spokesman said in a statement shortly after the Hamas attack. Later, Israeli Minister of National Security, Itamar Ben Gvir, declared a state of national emergency throughout the country.
For his part, Israeli President Isaac Herzog has lamented that "innocent civilians were massacred and injured, and many of them continue to be attacked." "Today we see the true face of Hamas, a terrorist Army whose only objective is the cold-blooded murder of innocent men, women and children," he denounced.
Israeli emergency services have confirmed the deaths of 70 people and have reported that they have treated hundreds of people this Saturday. They have assured that they continue to evacuate the injured to hospitals and that among them there are serious, moderate and minor injuries. Among the fatalities is a member of the medical team "seriously injured by terrorist shots aimed at the ambulance."
Likewise, emergency services have mobilized all their equipment and resources, including helicopters, mobile clinics and armored ambulances. The Israeli Ministry of Health has confirmed that more than 980 people are hospitalized.
Thousands of rockets
Hamas has claimed that its men have fired 7,000 rockets from the Gaza enclave and that it has kidnapped Israeli civilians and soldiers, as well as higher-ranking officers. Images released this Saturday show Palestinian bulldozers tearing down part of the fence on the border with Gaza while Gazans celebrate, since Israel keeps all exits from the strip closed, except one, through which Egypt allows some inhabitants to pass – for For example, those who need medical assistance outside Gaza.
Several rockets hit Tel Aviv and other points in central Israel on Saturday afternoon, according to the Haaretz newspaper. A building in Israel's main city has collapsed after being hit by the projectile and two people have suffered injuries.
The Israeli Army has confirmed that Palestinian militants have also tried to infiltrate Israel by sea but dozens have been killed, without offering further details. As usual, Israel's anti-missile system has been activated to detect short- and long-range rockets from the strip, which have hit numerous towns and caused destruction. The Army has also claimed to have killed hundreds of Palestinian militiamen in towns and communities around the strip, where they had arrived during their surprise assault.
The Israeli military's chief spokesman, Daniel Hagari, has officially confirmed that Palestinian militias took Israelis hostage inside Gaza and has also said that soldiers died in the fighting, although he has not offered figures. According to Gaza sources, cited by the EFE Agency, the number of kidnapped people currently held captive inside the enclave is more than fifty.
In addition, Hagari has reported that in the towns of Ofakim and Beeri there are civilians who remain captive as of this morning, according to the AP news agency.
Hamas' "serious mistake"
Hamas military commander Mohamed Deif has considered the attacks and infiltration of militants in Israel as "the day of the great revolution." One of the goals of the attack, according to Deif, is to liberate the Al Aqsa Mosque complex in Jerusalem, which has seen an increase in Jewish visitors in recent weeks due to the Jewish holidays.
"I call on Palestinians throughout the West Bank to launch an unrestricted attack. Go out to all the streets. "I call on Muslims everywhere to launch an attack," he said in a statement. Hamas has named its operation "Al Aqsa Storm," according to Deif, the commander of the Al Qasam Brigades, Hamas's armed wing.
From Iran, an advisor to Supreme Leader Ali Khamenei has stated that Tehran supports the operation of the Islamist group, which receives the support of the Islamic Republic in its fight against Israel. "We support this operation and we trust that the Resistance Front also supports it," said Rahim Safavi, advisor to Iran's highest authority, according to the ISNA agency.
If Iran and others have praised the Hamas operation, Israeli Defense Minister Yoav Gallant has warned that "Hamas made a serious mistake this morning and launched a war against the State of Israel."
"Army troops are fighting the enemy everywhere," he declared early Saturday, and late Saturday, they continued to do so. On Saturday afternoon, dozens of Palestinian militiamen continue in various parts of Israeli territory and even control some areas around Gaza and in towns in the south of the country.
From the beginning, the Israeli Army has closed roads in several border towns with Gaza, agricultural areas and the train line that connects Sderot with Ashkelon.
Mobilization of Israeli reservists
The Chief of the Army Staff "is evaluating the situation and approves plans for the continuation of the Army's activity," while the Minister of Defense, Yoav Gallant, has approved the recruitment of reserve soldiers in the face of the emergency.
In recent months, the issue of reservists has sparked controversy in Israel due to the threat of many of them to refuse military service in protest of the Netanyahu Government's judicial reform, which has generated criticism among sectors that support it. They see it as a risk to the country's security.
Israeli security forces have reinforced their presence in the West Bank, where tension usually remains high and today there have been violent clashes and altercations with Palestinians, who have been called by Hamas to join the fight against Israel in this territory as well. Four Palestinians have died, including a minor, in different parts of the occupied West Bank, according to the Palestinian Ministry of Health.
For its part, Egypt, which usually mediates between Palestinian groups in Gaza and Israel, has announced that it is "carrying out intense contacts at all levels to contain the current crisis," as stated by Foreign Ministry spokesman Ahmed Abu Zeid. In a statement, he added that he said that the contacts of the Egyptian Foreign Minister, Sameh Shokri, "are focused on influential international parties to ensure unified and consistent efforts, avoid further tension and instability in the area and prevent the situation from going out of control. control".
It is feared that other groups and militias opposed to Israel will join the offensive by Hamas, which has called on all its allies in the region and has stated that this is a fight "of all Arabs and Muslims."
The UN blue helmets deployed in southern Lebanon, precisely to monitor the ceasefire between Israel and the Shiite armed group Hezbollah, have increased their alert level.
Source: www.eldiario.es