In China, Macron urges Xi Jinping to bring Russia 'to the negotiating table'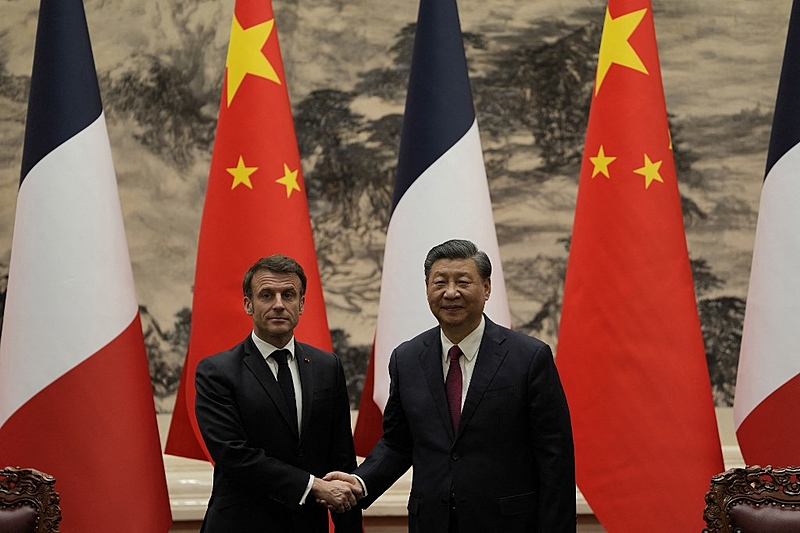 French President Emmanuel Macron on Thursday urged China to intercede with Russia to end the war in Ukraine. Macron and European Commission President Ursula von der Leyen are in Beijing for a state visit.
"I know I can count on you to bring Russia back to reason and everyone at the negotiating table," said the French president. "A peace that respects internationally recognized borders and avoids any form of escalation. And I believe it is an important issue for China as well, as much as for France and for Europe. This peace, this stability, is what we are trying to achieve."
Xi, for his part, said during a joint press conference with Macron that China "stands ready to ask the international community, together with France, to maintain rationality and restraint, and avoid taking measures that will further aggravate the crisis or make it out of control".
Ursula von der Leyen arrives at People's Palace in Beijing to join Emmanuel Macron and Xi Jinping pic.twitter.com/MBwl9Q2lga

— RT (@RT_com) April 6, 2023
The Chinese president visited Moscow in March, where he met Russian President Vladimir Putin and defended a "rational way out of the Ukrainian crisis".
Macron visits China with a delegation of more than 60 businessmen and representatives of companies such as Airbus, Electricite de France and L'Oreal. He should stay in the country until Saturday (8).
Originally published in Brazil de Fato
Join our WhatsApp group, click this link
Join our Telegram channel, click this link
Source: https://www.diariodocentrodomundo.com.br/na-china-macron-pede-que-xi-jinping-traga-russia-para-a-mesa-de-negociacoes/