In a climate of tension, China receives the 1st visit from a head of US diplomacy since 2018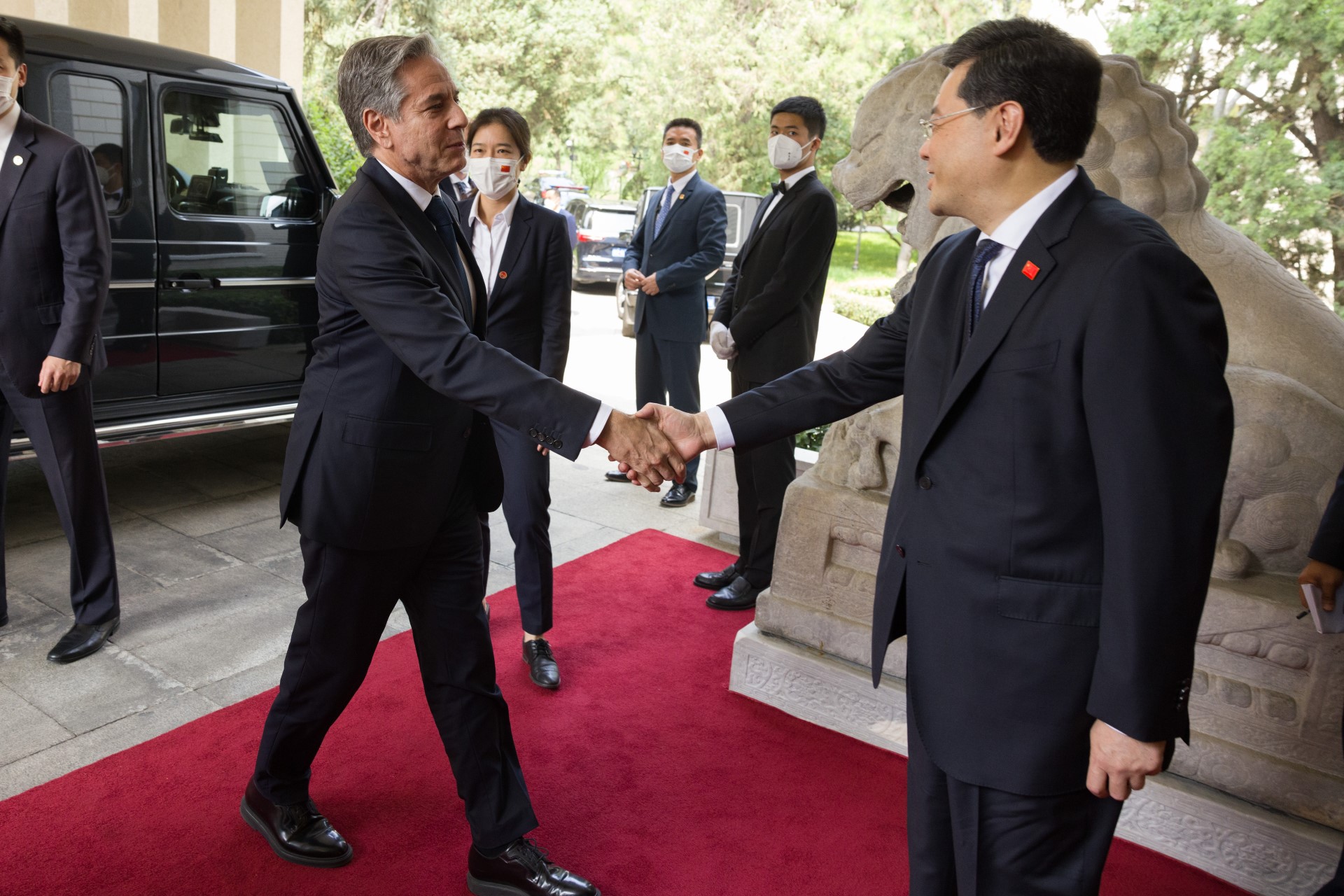 Published in RFI:
US Secretary of State Antony Blinken began a two-day trip to China this Sunday (18) to ease bilateral tensions between the two countries. This is the first visit by a US diplomatic chief to Chinese territory in nearly five years.
Blinken met Chinese Foreign Minister Qin Gang at a palace in Beijing's former Diaoyutai Gardens. The two walked down a red carpet and shook hands in front of their respective country's flags without comment.
Blinken's visit was originally scheduled for February. But the trip was canceled after Washington said it detected a suspected Chinese spy balloon over US soil, raising tensions between the two countries.
Neither power expects major advances in thorny issues, but the objective is to enter into a diplomatic thaw and maintain dialogue to manage the bilateral relationship "responsibly", according to the State Department.
Before leaving, Blinken was optimistic, stating that the purpose of the trip is "to open direct lines of communication so that our two countries can manage the relationship responsibly, which includes facing some challenges and mistakes and avoiding miscalculations ".
Today, I met with People's Republic of China State Councilor and Foreign Minister Qin Gang in Beijing and discussed how we can responsibly manage the relationship between our two countries through open channels of communication. pic.twitter.com/dPkd0aWQ5J

— Secretary Antony Blinken (@SecBlinken) June 18, 2023
"The priority is to reinforce communication between these two geopolitical powers", points out the professor of economics and international relations at the French business school HEC, Jérémy Ghez. "This means that the two great international powers continue to want to dialogue. Which is extremely important, as history has shown us that when there are geopolitical tensions between two powers that do not speak to each other, the risk of misunderstanding and misinterpretation is enormous, and can have dramatic consequences", details the expert, in an interview with RFI.
New meeting between Biden and Xi soon?
US President Joe Biden has said he looks forward to meeting Chinese leader Xi Jinping after their extensive meeting in Bali in November on the sidelines of the G20 summit. "I hope that in the coming months I will meet Xi again and we can talk about the legitimate differences we have, but also how there are areas where we can understand each other," added the White House chief.
The two leaders may meet at the next G20 summit, in September, in New Delhi. Xi was also invited to travel to San Francisco in November for the Asia-Pacific Economic Cooperation (APEC) Forum.
Among the main points of contention between the two countries are trade and the question of the autonomous democratic island of Taiwan, which Beijing considers part of its territory.
China last year held major maneuvers around Taiwan that were seen as a rehearsal for an invasion after then-Speaker of the US House of Representatives Nancy Pelosi visited the island in August. Taiwanese President Tsai Ing-wen's visit to the United States also prompted Beijing to hold three days of military exercises in April.
"Give up dealing with China in a position of strength", urges Beijing
Ahead of Blinken's visit, Chinese foreign ministry spokesman Wang Wenbin said the United States should "respect China's main concerns" and collaborate with Beijing. "The United States must give up the illusion of dealing with China 'from a position of strength.' China and the United States must develop their relations on the basis of mutual respect and equality, respecting their differences," he insisted.
Blinken is the highest-ranking US official to visit China since his predecessor Mike Pompeo, who later spearheaded former President Donald Trump's confrontational policy with Beijing, did so in October 2018. The Biden administration has maintained the hard line and went even further than the previous government on some issues, for example the imposition of export controls to limit the purchase and manufacture of high-end chips in China.
But in other areas, like the fight against climate change, Biden has sought to cooperate with China.
Source: https://www.diariodocentrodomundo.com.br/em-clima-de-tensao-china-recebe-1a-visita-de-um-chefe-da-diplomacia-dos-eua-desde-2018/