France faces third night of protests over teenager's death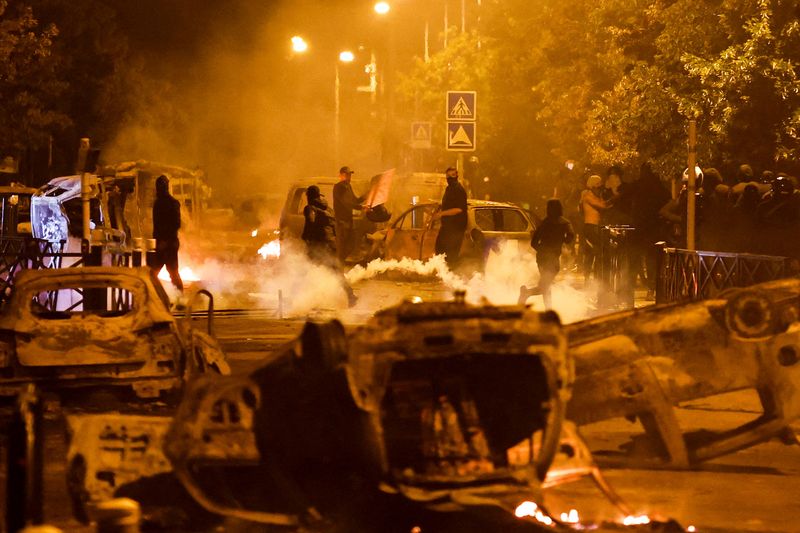 The wave of protests against racism and police violence continues this Thursday (29), for the third consecutive night, in France. The demonstrations began after a policeman shot and killed a 17-year-old teenager on the morning of Tuesday (27).
Despite the reinforcement of 40,000 agents, demonstrators took to the streets in different regions of France. An official balance showed that 176 people had been arrested by midnight.
This afternoon, around 6,200 people took part in a demonstration organized by Naël's family. The march ended with a confrontation between police and demonstrators.
The young man was stopped by two police officers for allegedly breaking traffic laws. An initial police version claimed that the officer shot the teenager after he drove the car towards the officers. This statement, however, was contradicted after footage showed the agents standing next to the car, which was parked, pointing a gun at the driver.
The court ordered the preventive detention of the 38-year-old police officer for intentional homicide.
In Nanterre, a Parisian suburb, protesters set fire to cars, blocked streets and threw projectiles at police.
During the night, police bases and other public buildings, including schools, were burned. At least 170 security agents were injured trying to contain the riot.
See the videos:
SHOCKING Videos! The press is drowning out but at this very moment France, a NATO country, is ON FIRE!

Protests began on Tuesday calling for justice for Nahel M, a 17-year-old youth killed by police. Evolved and reached more than 40 cities tonight, the country is… pic.twitter.com/Gk4Ut4TXY5

— Thiago dos Reis 🇺🇸 (@ThiagoResiste) June 30, 2023
Public transport has been suspended across France as riots and looting sweep across the country. pic.twitter.com/rTLaiErYWb

— Tuca (Arthur) (@tucabr54) June 29, 2023
🚨🇬🇧URGENT – A police officer allegedly fired live ammunition at rioters in #Bordeaux. (witnesses) pic.twitter.com/SHDQygsIFs

— AlertesInfos (@AlertesInfos) June 29, 2023
Join our WhatsApp group, clicking on this link
Join our Telegram channel, click this link
Source: https://www.diariodocentrodomundo.com.br/franca-enfrenta-terceira-noite-de-protestos-por-morte-de-adolescente/