"Disloyal are those who do not respect the majorities of the party"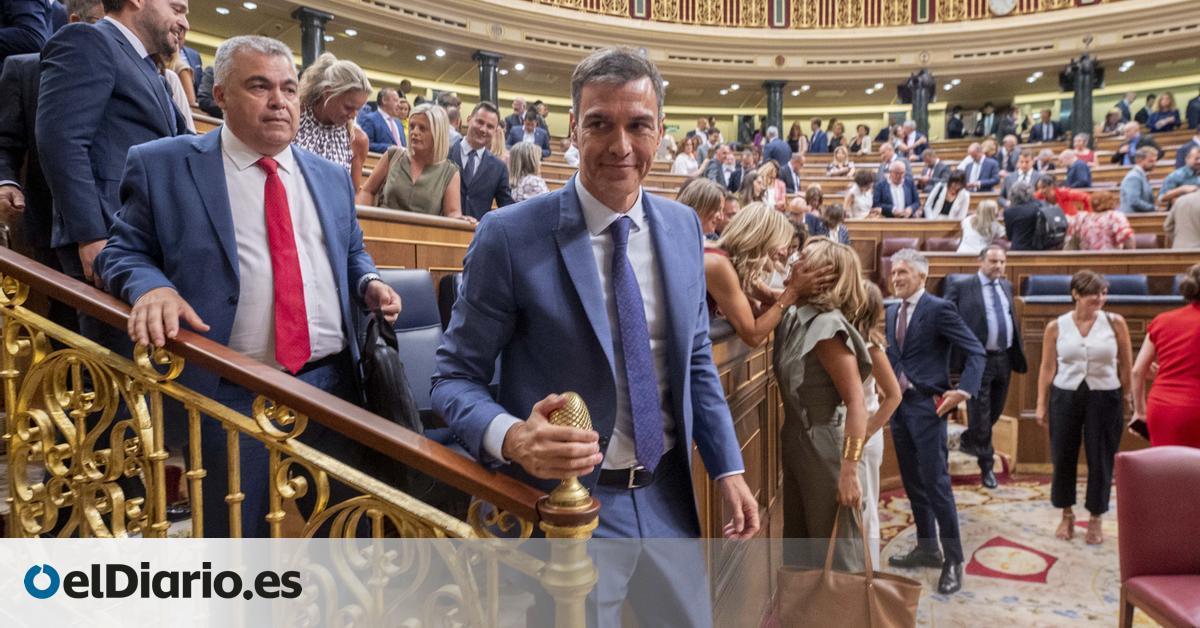 Years ago it stopped being news that the relationship between Felipe González or Alfonso Guerra with the leadership of the party led by Pedro Sánchez is not exactly one of personal or political harmony. However, and more due to Ferraz Street's own efforts than to the prudence of her elders, the norm until now was to avoid bringing this latent fracture to an explicit staging. To this end, the PSOE made an effort on several occasions to clear up any hint of doubt about the place they reserved for the recognition of the former president of the Government, who was a guest protagonist at the 40th Congress of the party in Valencia, in which he participated, and whose first electoral victory in 1982 was commemorated with pageantry late last year.
Felipe and Guerra enthusiastically join the army against the amnesty
Further
But something seems to have broken again this Wednesday. Anything else. During the presentation of the book 'The Rose and the Thorns', in which Felipe González and Alfonso Guerra met again publicly, both former leaders took the expression of their disaffection with the current course of their party one step further. And they openly and with strong words criticized the leadership of their general secretary. "I have not been disloyal. I have not been a dissident. The one who has been disloyal has been the other," Guerra said in reference to Sánchez.
"Disloyal are those who do not respect the majorities of the party, in 2016 there was a decision by the militants that was endorsed in the 40th Congress and that is the will and word of the PSOE. We respect what former leaders say but it is not the decision of the PSOE." The reaction of the party leadership to the offensive of its historic leaders did not come from anyone's mouth this Thursday. It was number 3 and secretary of organization, Santos Cerdán, who came out in defense of his general secretary in the halls of Congress. "Yesterday there was a presentation of a War book… I'm sure it will be more successful than the harangues it is fueling," he added.
Cerdán was the most emphatic when it came to reacting to criticism from González and Guerra that, in a very general way, is received within the party with a mixture of rejection and detachment. The day after the famous presentation of the book, no one hid their discomfort at what was said at the Madrid Ateneo against the socialist party itself, although it is still difficult to raise one's voice in public against figures such as the historic Sevillian politicians.
"I always respect our founding fathers even if I don't agree with them," the Asturian deputy and former number 2 of the party, Adriana Lastra, simply answered. Without wanting to go into depth, the Minister of Culture, Miquel Iceta, was somewhat more explicit, when asked what he thought of the words of Guerra and González, he answered: "Old."
The former secretary of organization, José Luis Ábalos, asked both of them to reflect on the use that the right has been making for years of each of their public interventions. "You have to think about the framework in which things are said and who it benefits, regardless of whether or not one may be right."
The socialist deputy and former vice president, Carmen Calvo, also disfigured Alfonso Guerra's sexist comments about Yolanda Díaz. "We have to look at her opinions about a woman who participates in political life." In the morning, the former vice president who is now on tour to sell his book and to educate the left, said on Antena 3 about some words from the second vice president regarding the territorial fit of Catalonia and the opinions expressed by Felipe González: " The vice president criticizing lack of political and legal rigor? She? She will have given her time between one hair salon and another, she will have had a little time to study."
Source: www.eldiario.es