Bregman and Del Caño in Mendoza, in support of Lautaro Jimenez and Noelia Barbeito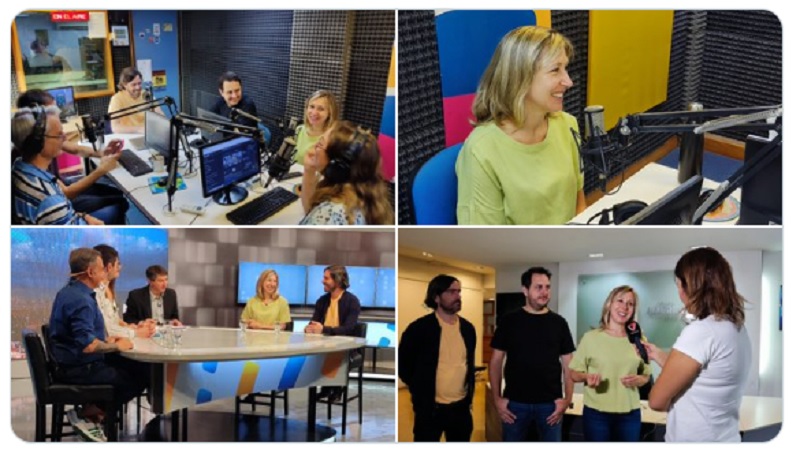 Within the framework of the visit to different provinces that the presidential formula proposed by the PTS has been carrying out to the rest of the forces of the Left Unity Front, this Monday Myriam Bregman and Nicolás del Caño arrived in Mendoza to support the candidacies of Lautaro Jiménez and Noelia Barbeito for the provincial elections on June 11.
"With Nicolás del Caño we are touring the country. In Mendoza we came to accompany the candidacies of Lautaro Jiménez and Noelia Barbeito. They are two great fighters in the province," said Bregman, who also referred to the fight that the PTS has been giving in the early departmental elections in San Rafel, Lavalle, Tunyán and Maipú, where Josefina Benegas, Esteban Rodríguez, Vanesa Guajardo and Virginia Pescarmona respectively lead the lists.
The tour began very early in the morning, in the program hello mendoza of Canal 7where the pre-candidate for president assured that "The PTS in the Unity Left Front is a force that is built from below, with workers and workers. We have a great challenge, because they want us to choose between right-wing or ultra-right variables."
The visit to the main media in the province continued with an interview for the news of Canal Acequia and a live interview on the Citizen Newswhere Nicolás del Caño stressed that both Lautaro and Noelia "have participated and accompanied the struggles of the province, such as the defense of water with 7722, the strike of the winery workers."
Then they were interviewed by the newspapers The Andesin an extensive interview and MDZ, together with the National and University radio stations. Provincial media outlets Memo, Aconcagua Post and Mendoza Today also echoed the visit.
💬 @myriambregman in @RadioU96_5:

"The last-minute alliances have to do with the discredit that weighs on the two majority coalitions. The fresh memory of the failure of Together for Change, added to the failure of the Frente de Todos, causes the internal ones to burn." pic.twitter.com/ADRDTWu8YZ

— Front of Left Unity (@Fte_Izquierda) April 10, 2023
#Mendoza | 🔴 Live, @myriambregman, @NicolasdelCano y @LautaroJimenezB in @Lv8Liberator

📻 Listen here: https://t.co/zMzpa6Ppw6 pic.twitter.com/1VTulOO720

— Front of Left Unity (@Fte_Izquierda) April 10, 2023
📷#Elections2023|@myriambregman: "A people that does not fight for their demands has nothing to gain"

The candidate for President of the Nation for the @FdeIzquierda He assured that "the exit is to the left."
Link👉https://t.co/lbvUMarGQm pic.twitter.com/LKkNz69bQl

– National Libertador (@Lv8Libertador) April 10, 2023
Source: www.laizquierdadiario.com