Berlin police investigate Roger Waters for 'Nazi' outfit at concert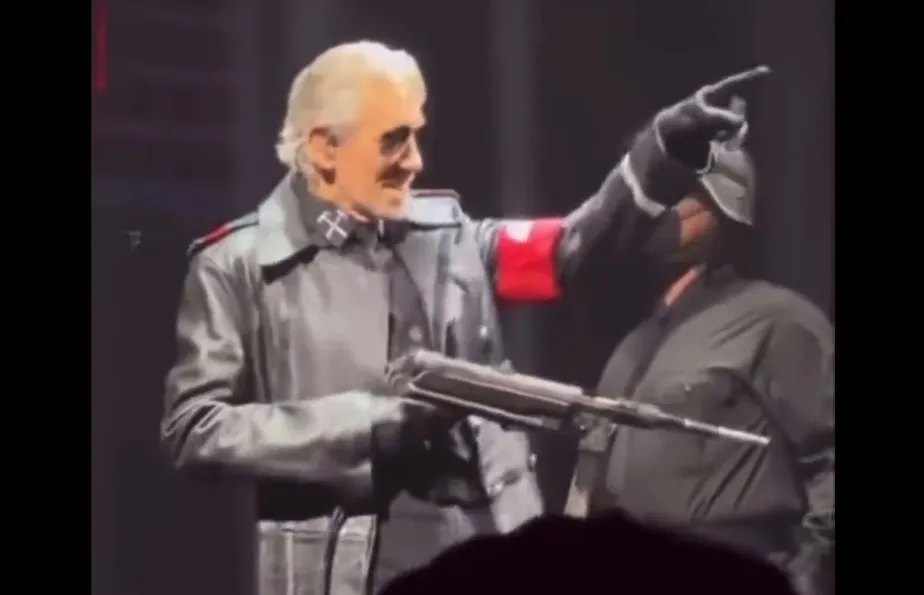 German police said on Friday (26/05) that they opened an investigation into musician Roger Waters, former member and one of the founders of the band Pink Floyd, after he wore a Nazi-style uniform on stage at a concert in Berlin.
Footage from the show on May 17 shows the singer and bassist wearing a long coat with a red band around his arm, pointing an imitation machine gun at the audience.
The costume included a swastika-like emblem made of two crossed hammers – iconography that also appeared on the costumes in the film. The Wall from 1982, starring Bob Geldof.
Nazi symbols, flags and uniforms are banned in Germany, but there are exceptions for display in educational and artistic contexts. Waters was under investigation on suspicion of "inciting public hatred", police said.
The legal concept of "incitement to public hatred" is normally applied to cases related to Holocaust denial in Germany, and makes it illegal to attack the dignity of "national, racial, religious groups or a group defined by their ethnic origins".
"We are investigating on suspicion of inciting public hatred, because the clothes worn on stage could be used to glorify or justify the Nazi regime, thereby disturbing public peace," said police spokesman Martin Halweg. "The clothes look like the uniform of a military officer. [organização paramilitar nazista] SS."
The opening of the investigation was celebrated by some Jewish organizations, such as the American Stop Antisemitism.
Great news! Berlin police have launched a criminal investigation into Roger Waters following his concert in which he dressed like a Nazi SS officer holding a gun and denigrated the murder of Anne Frank.

Shockingly @AMCTheatres is promoting Waters currently. pic.twitter.com/6AlIHMmbR2

— StopAntisemitism (@StopAntisemites) May 25, 2023
Waters says he has been the target of bad faith attacks
The 79-year-old Briton posted a note on his social networks in which he claims that his performance in Berlin attracted "bad faith attacks from those who want to tarnish my reputation and silence me because they disagree with my political views and moral principles".
The musician claimed that the elements of his show being questioned are "clearly a manifestation in opposition to fascism, injustice and bigotry in all their forms", and attempts to represent them as anything other than that are "false and politically motivated".
He mentioned that the depiction of an unhinged fascist demagogue has been part of his shows since the album The Wall, from 1980, and that he spent his entire life speaking out against authoritarianism and oppression. Waters had already used the iconography in previous concerts in Germany without legal problems in the 2010s.
"When I was a child after the war, Anne Frank's name was often mentioned in our home, she became a permanent reminder of what happens when fascism is not fought. My parents fought the Nazis in World War II, and my father paid the ultimate price," Waters wrote.
— Roger Waters ✊ (@rogerwaters) May 26, 2023
Some social media users also came to his defence, saying the Berlin performance was a recreation of satirical scenes from the album's film. The Walla critique of fascism.
"He is clearly representing Pink from the movie The Wall (1982), played by Bob Geldof, who falls into a fantasy of a drugged fascist in a film that CONDEMNS fascism. Absurd," podcast host Joseph Attard wrote on Twitter.
contested tour
Waters is a well-known activist in defense of the Palestinian people and has been accused of anti-Semitic views. He has used an inflatable pig marked with the Star of David in some of his shows.
The singer is a member of the Palestinian-led Boycott, Divestment and Sanctions Movement, which targets Israel over its occupation of territories where Palestinians seek to form a state.
Authorities in German cities, including Munich, Frankfurt and Cologne, unsuccessfully tried to cancel Waters' shows after Jewish organizations, including the Central Council of Jews, accused him of anti-Semitism.
At the Berlin show, Waters also projected the names of several murdered people onto a screen, including Anne Frank, the Jewish teenager killed in a concentration camp, and Palestinian-American journalist Shireen Abu Akleh, prompting criticism that he would be relativizing the Holocaust.
Uwe Becker, anti-Semitic commissioner for the German state of Hessen, told the newspaper Frankfurter Rundschau that Waters was promoting "hatred and incitement against Israel" with his concerts.
The last show of their German tour will take place in Frankfurt on Sunday, and protesters plan to stage protests in front of the venue.
At the end of April, Waters obtained in court an attempt to ban one of his performances in the city. At the time, the local Justice understood that, despite some aspects of his show being in "bad taste", the presentation was protected for reasons of artistic freedom.
The Frankfurt Court also understood that the concert "did not glorify or relativize Nazi crimes or could be identified with Nazi racist ideology" and that the concert should be seen as a "work of art".
Originally Posted by Deutsche Welle
Join our WhatsApp group, clicking on this link
Join our Telegram channel, click this link
Source: https://www.diariodocentrodomundo.com.br/policia-de-berlim-investiga-roger-waters-por-roupa-em-show/