"Before there was no internet or Google"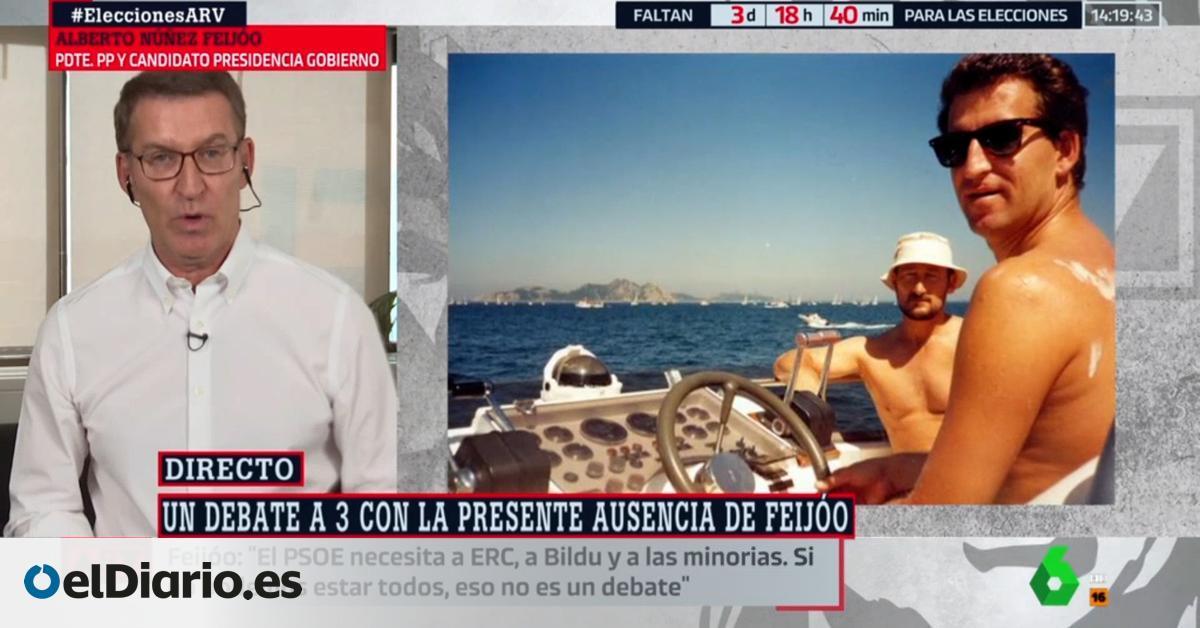 "At that time I had no accusation for it. Now it is easier to know things because there is internet and Google. Until I met him, this man had no cause for drug trafficking." This is how the PP candidate on 23J, Alberto Núñez Feijóo, tried to clear up the questions during an interview in 'Al Rojo Vivo' (La Sexta) about his friendship with Marcial Dorado, convicted of various crimes related to smuggling, money laundering and drug trafficking. A friendship that was reflected in many photographs of trips and vacations in common between who already appeared in journalistic information and legal proceedings for his activities and a public official of the Xunta de Galicia in the Government of Manuel Fraga.
Feijóo's close relationship with the drug trafficker Marcial Dorado breaks into the campaign
Further
The irruption of the photos of Feijóo with Dorado in the final stretch of the campaign has not changed the strategy that the PP candidate has tried to use since they came to public opinion, a decade ago now. The newspaper El País published the images in 2013, a year after his second electoral victory in the community, and three years before the polls were called again.
In fact, Feijóo has said this Wednesday that he has been pending "his entire career" on this matter, when the photos were made public in 2013 with him already in charge of the Xunta. "I have given all the explanations of what has happened and those photos from 30 years ago in the Galician Parliament, you will understand that it is very tiresome," he reproached the presenter, Antonio García Ferreras.
The person he faced during those years of intense parliamentary debates about his relations with the drug trafficker was Yolanda Díaz. The current vice president of the Government and candidate for Sumar was then a spokesperson for the Galician opposition. This Wednesday, also on La Sexta, Díaz has been very harsh with the PP candidate. "She hasn't explained that relationship to me or to the mothers who fought against drugs and continue to demand to know the truth," she said in 'Al Rojo Vivo'.
"The truth we do not know. What is true is that when in Galicia a decade of young people were dying from drugs, the mothers who fought for drugs today continue to demand to know the relationship. I was young, I was studying and I knew who Marcial Dorado was", Díaz concluded.
There was no Google, but there were newspapers
Feijóo has spent the last 10 years trying to minimize the meaning of those photographs. A decade ago he fell into various contradictions, and had to qualify some statements he made at first, when he said, for example, that he had no personal relationship with Dorado. Then he recognized that she had traveled with him on many occasions.
As the National Court later proved, during those years of friendship Dorado was laundering illegal money in millions of dollars. He ended up sentenced to 13 years for cocaine trafficking, and the yachts and mansions that housed Feijóo are today seized by the Justice.
But Feijóo, as he said this Wednesday in La Sexta, did not know anything about his friend. And that the photographs of both are dated to the mid-90s, and Dorado's problems with the Justice go back to the 80s, as stated in information published by media such as 'La Voz de Galicia', the most widely read in the autonomous community.
"Did you know it was 'narco'?", they have asked him about Dorado. "Obviously not. At that time he had no accusation for it, "he replied. "Now it is easier to know things because there is the Internet and Google. Until I met him, this man had no cause for 'narco', he added.
It is not the first time that Feijóo resorts to the excuse of ignorance to not answer about his friendship with Dorado. He already did it in 2018, during an interview on 'Saved'.
In one of the cross-examinations, Jordi Évole shows his disbelief and recalls that Dorado had been linked to smuggling or drug trafficking in 66 news items in 'La Voz de Galicia', in 18 in 'El País', 20 in 'Abc' and 19 in 'La Vanguardia'.
Feijóo replies: "Yes, but if I knew this, what would I earn? The truth sometimes may not be understood in its full breadth but that is the truth. And if you tell me "you are naive", for these purposes, do not have the slightest doubt. Which I have learned, too. Now unfortunately when one is invited, unfortunately I ask 'who is this?' and there are times that I don't go".
A decade that seems like 30 years
"I've spent my entire political life with this," he said. "It is the fifth election" in which these images are taken, he continued. But it is not true: neither in 2009 nor in 2012 could they be used, because they were not known. Feijóo has maintained that he later achieved two subsequent absolute majorities (2016 and 2020).
"Back with this matter, there they are. I have been living with this for 30 years, I am not going to worry or worry in the future, "he added, despite the fact that they were only made public 10 years ago.
"The Galicians know well what happened, they know Galicia and they gave me their majority confidence," he has settled. In 2020, in an interview with elDiario.es, he said: "As far as I know, Marcial Dorado has not taken any vote from me."
––––––––––––––
Our voice is needed more than ever
Without an independent press, they will not be able to resist democratic rights and freedoms and that is why elDiario.es has become a very uncomfortable medium, which some would like to keep quiet about. We are one of the few reference newspapers that remains free, that does not whitewash the ultras or is captured by the right. You, who read us regularly, know it well. Can you imagine what journalism would be like in Spain if elDiario.es did not exist? What would public debate be like without our voice? Can you imagine what Spain we would have?
If you're worried about what might happen in this country, support us. Today we need you more than ever. Become a member, become a member, of elDiario.es
Source: www.eldiario.es