Another contribution from Milei to sinking salaries: he ratified his statements against the peso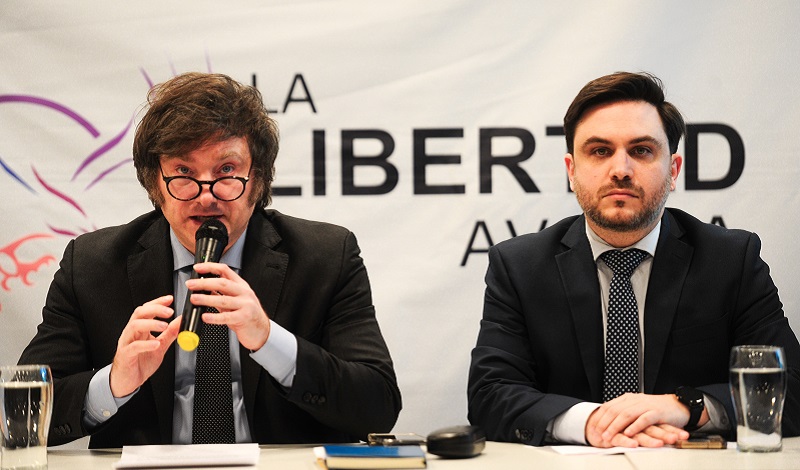 The president denounced the right-wing LLA candidate for his statements against the pesos on the same day that the blue exceeded $1000. While encouraging dollarization, Milei attempted to detach himself from the ongoing crisis. But both he and Massa and Bullrich are betting on the continuity of an economic scheme that can only bring greater blows to the standard of living of the popular majorities. All in order to comply with the IMF.
The president of the nation, Alberto Fernández, denounced the presidential candidate of La Libertad Avanza for "instilling public fear." He did so after the libertarian's statements against the peso, encouraging the disarmament of fixed terms, in the middle of the exchange rate run. The complaint also reaches the candidate for Head of Government of Buenos Aires, Ramiro Marra already Agustin Romo.
This decision by Fernández motivated a press conference by Milie: "Whoever stops those responsible for the bullfights has to look in the mirror," he stated, putting the focus of responsibility on the government. The right-wing candidate once again confirmed his statements, encouraging currency runs. He also defended his dollarization plan in an economy with negative reserves, which only the spraying of salaries and pensions will increase.
This Wednesday the blue or "illegal" dollar remained almost unchanged and closed at $1010, after the surge carried out on Tuesday, when it reached a record nominal price of $1045. The government ordered a raid operation in caves in the city of Buenos Aires to stop the devaluation maneuvers. In addition, the National Securities Commission (CNV) limited the purchase of financial dollars for clients located abroad. They are regulatory measures that attempt to control the strong speculation that drives the increases in "liqui cash" and MEP dollars, in this advanced cycle of pre-electoral portfolio dollarization.
You may be interested: Massa, Milei and Bullrich throw the ball at each other for the rise of the dollar but they are united to sink the salary
Developing.
Economy / National Economy / Devaluation / Sergio Massa / Inflation / Javier Milei / Dollarization / Ramiro Marra
Source: www.laizquierdadiario.com