Winegrowers and Assemblies mobilize for a dignified salary and pure water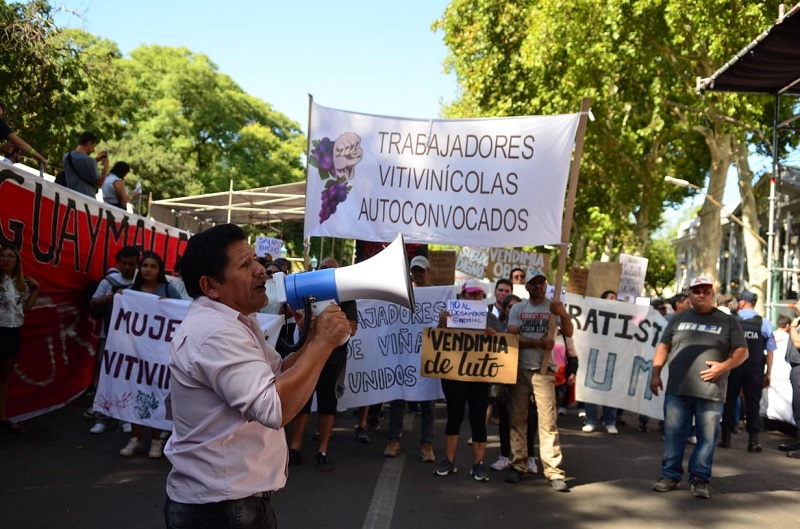 Photos: Cassandra Martinez
This weekend, the province of Mendoza lives the festivities of a new National Harvest Festival. As every year, the great winemakers and their political friends, from all the bosses' parties, live "their" party in which they try to make invisible those who really make the wine and the Harvest possible: hundreds of thousands of workers in the vineyards and wineries, along with contractors, who have been fighting for a salary that allows them to make ends meet while big businessmen and landowners break export records.
This Saturday morning, as part of the Carousel de la Vendimia, thousands of Mendoza men and women mobilized in the already traditional counter carousela day of struggle imposed by the fight for water against polluting mega-mining.
While politicians and businessmen maintained the coviar breakfast In the luxurious Hyatt Hotel, Assemblies for Water from the entire province, together with wine workers and workers, mobilized to make their struggle and demands visible. They did it together with other social and political organizations such as the Left Front. Lautaro Jiménez, a teacher and leader of the PTS, assured that "Mendoza will always defend the commons and confront extractivist governments."
The Assemblies for Water mobilized to reject the extractivist advance that Peronists and radicals want to impose with the approval in the Legislature of the Cerro Amarillo project in the south of the province. The mining project, they denounce, violates a hundred national and provincial environmental laws, putting glaciers and waterways in the area at risk. Federico Soria assured that "the Cerro Amarillo project is similar to that of San Jorge, with the same extractive technique and the same substances."
Also traveling from the south of the province to be part of the mobilization were the Mapuche communities that have been resisting racism and discrimination by the provincial government and PJ leaders like Félix who want to deny them their right to land to favor real estate speculation and oil projects. "This counter-carousel is the true expression of the men and women of Mendoza," said Gabriel Jofré, a reference to the Mendoza Mapuche communities.
Among other organizations, there was also the Mendoza Cannabis Grower Association with its fight for "No more prisoners for Cultivating".
i
Note in development…
Source: www.laizquierdadiario.com