"They are silent about the soy dollar, but when it is the workers' pockets they talk about the deficit"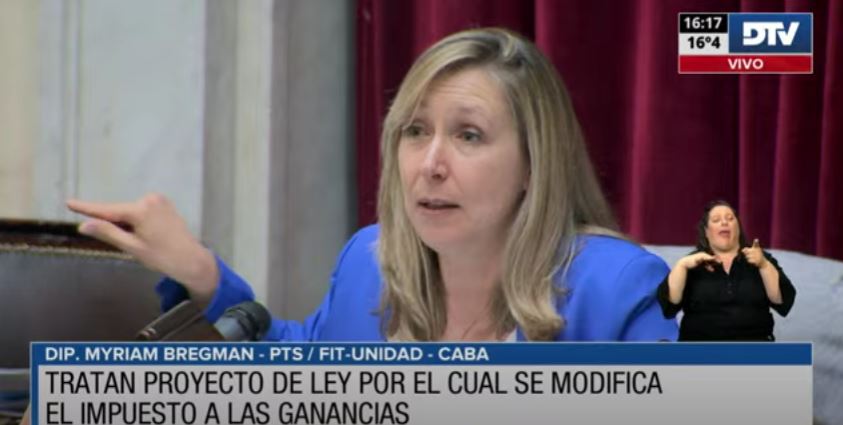 Myriam Bregman, national representative and presidential candidate for the Left Front and Unity Workers, participated in the debate in the Chamber of Deputies on the elimination of the income tax for workers. She harshly crossed the opposition of Together for Change, reluctant to remove this salary tax, but also libertarians like Milei who want a country similar to Menemism that left working people in misery. Below are the central points of her intervention:
Together for Change once again demonstrated that it can be one thing, the other or absolutely the opposite. In a very short time we saw them change their position several times, but I was amazed that a representative even said we have to connect with a suffering society, who is he going to connect with by refusing to remove a tax hated by the working class, such as the income tax? the earnings? I don't know.
Macri campaigned against the Frente de Todos governments that strictly defended this tax, saying that he was going to eliminate it, he did not eliminate it, and he expanded those people to whom it reached. Now they have an opportunity to reverse that shame and once again they refuse to vote for it, and of course they remain silent, Mr. President, in the face of the soybean dollar, in the face of all the measures, some even accompany them, such as zero withholdings for automobile companies. In that case yes: there is no problem of deficit, when it is the pocket the workers have every desire to take care of the State coffers.
We, on the other hand, are here because we have coherence, because we have principles, because we have always maintained that salary is not profit, but not only in this room repeatedly presenting projects to eliminate the fourth category, but because we have also been on the street, in the unions, in the unions, with the same principles with the same values ​​and with the same coherence: always defending that salary is not profit.
We did it in this facility a few months ago when the same minister, the same ruling government wanted to sell us a buck and start collecting profits from the judicial workers. They campaigned against us "Uy they don't want to charge the judges" well it didn't work, because our position is clear: that the judges and officials pay profits and the judicial workers don't.
It is not necessary to start by saying that this is a clearly electoral measure because of course it is electoral: a few months ago they wanted to start charging members of the Judiciary. There the salary was not profit, for judicial workers it was not profit. Everything is inexplicable and it is a great salad where they seek to get out of the failure to which those who have been governing have led us.
We are never going to share that famous theory of redistribution that said that to give to those who earn the least it was necessary to take from those who work. Since we never shared that, we always maintained that salary is not profit and that they have to mess with the rich.
Unlike the pre-opinionant deputy Javier Milei, we believe that we do have to mess with the bankers, with the cereal companies, with those who have been taking it with a shovel. He just here outlined a spillover theory that, if you take out taxes and give many concessions to those at the top, at some point it will spill over and we will all be happy singing on the prairie. It is not like that, there was already a government that maintained that it was Menemism and sank our country, and the working class came out much worse than what they entered into those Peronist governments, led by Carlos Menem and Cavallo, another idol of the pre-opinionating deputy.
Developing
Source: www.laizquierdadiario.com