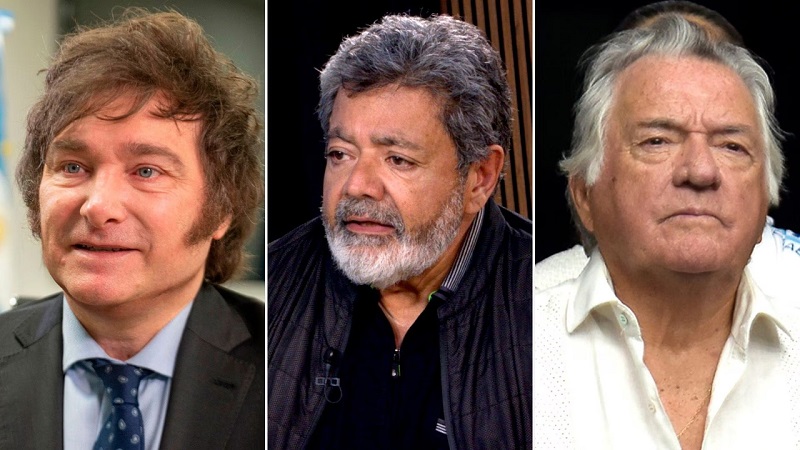 Those who continue to support Milei's project by explicit support, action or omission. Editorial of "El Círculo Rojo", a program from La Izquierda Diario that is broadcast on Thursdays from 10 pm to 12 midnight on Radio Con Vos, 89.9.
There is a month and a half left for the general elections and a discussion is taking place that has been recurring at times in recent years, but it is still a bit strange. The Argentine electoral system (with primaries, generals and runoff), at the end of the run, causes a certain mirage because the eventual winners (let's say of a runoff) most of the time reap votes not because of their own great support, but because of rejection of the other . The primaries (with all the distortions they have because we know that this system is a sloping field) get a little closer to what people really want to vote for, and for the generals, an option between what remains and the second round begins " so that he doesn't win."

View this post on Instagram
Well, what happens in this election is that they seek to present the October generals as if they were a ballot. And those who are on the left and the left itself are being called upon to practically give up presenting their candidates, their proposals and their ideas because there is a great danger. The subtext of all this is: if they don't do this, they may be responsible for what happens in the future due to eventual triumphs of either Javier Milei or Patricia Bullrich. That is to say, the modest choice of the FITU (hopefully it improves in October) would bear the responsibility for what happens in Argentina from December onwards. This refers us, once again, to those who are responsible for the growth of the right, not only because of the policy they have applied in recent times (I will add something later), but also because of what they are doing (or not doing) now. .
Let's see: a few weeks ago Sergio Berni, Axel Kicillof's Minister of Security, stated in the program Hard to tame by C5N that "many mayors of ours, and of the opposition as well, abusing the lack of capacity that Milei had, especially in the province of Buenos Aires told him 'I'll put the councilors on you and I'll take care of the tickets for you ". Drink mate with chocolate, Cristina Kirchner would say.
Last night (Wednesday) the one who confirmed this information was Juan Grabois: in conversation with Alejandro Fantino he said that "Milei put together the lists with all the people from Massa. I don't know if she gave him a hand or not, I know that the people were people from Massa's party ". This for the August 13 elections, people who put together the lists and took care of the ballot.
During these days, the meeting between Gerardo Martínez, general secretary of the UOCRA (Construction) and Javier Milei was also known. Let us remember that Martínez was not only supported by Kirchnerism in general, but that at some point he was Cristina's "favorite", in particular, at the times when the former president was at odds with Hugo Moyano. When the meeting was leaked, Martínez said that "it was a coincidence and it was not secret. I like to talk to everyone". Martínez met "by chance" with the candidate who got the most votes in the PASO. And it is seen that Milei was also "by chance" very interested in the "cessation fund" that is implemented among the workers and construction workers and that the libertarian candidate would like to generalize to the whole of the labor movement. What is this?: that the worker basically pays his own compensation.
Another who winked strongly at Milei was the gastronomic Luis Barrionuevo: "Every day I sympathize more with (Javier) Milei," he said. And he even compared the current situation with that legendary inmate between Carlos Menem and Antonio Cafiero, who ended up consecrating the man from La Rioja: "I'm still fresh when we beat Cafiero with Menen, who had almost all the governors and mayors. Today with more modern systems , more technical and with the networks, it is undoubtedly that people are fed up," said Barrionuevo. For an emblematic trade unionist of Menemism to support Javier Milei would not be something very new; What must be highlighted is that this character —until two months ago— was raised by "Wado" de Pedro (the candidate that was not of "pure" Kirchnerism) as one of his most prominent union endorsers (he shared acts and everything). One hand washes the other and both wash Milei's face.
Another who said that if he had to choose between Bullrich or Milei in an inmate, he would choose Milei was Omar Perotti, governor of Santa Fe (one of the three most important provinces). Perotti made an agreement at the time with Cristinismo (against "Goat" Rossi) in Santa Fe. I'm sorry, but these allies are the ones who are going to the "aid of the victor."
To all this, I add some more information that has to do with Sergio Massa's campaign. Now they say that the Peronist governors (who were concerned about making their local elections separate from the national one) are going to start moving for the campaign driven by Juan Manzur, let's say, but so far they haven't lifted a finger. But, the absence of Cristina or Máximo Kirchner is also striking, not to say that they are practically erased from the campaign. Why am I saying all this? Not because I am particularly interested in what they are doing or not doing for their campaign, but because some are demanding that the left lower its flags (because there is a "fascist" danger in the making) and do something! more for Massa than his own allies do!
And speaking of responsibilities, the economy and inflation continue to be in first place: as a result of the devaluation on Monday immediately after PASO, prices last month rose above double digits (this was measured by Ecolatina for the AMBA and also by an index prepared by the government of Córdoba).
As a global data, a study by the Center for Research and Training of the Argentine Republic (CIFRA), linked to the CTA de los Trabajadores, ensures that the transfer of income from the hands of the working class to the business class grew during these years. Under the Cambiemos and Frente de Todos governments, around USD 101 billion passed from the pockets of the working class to those of big business. Of that total, USD 70,000 million were transferred under the management of Alberto Fernández, Cristina Kirchner and Sergio Massa. This policy of generalized impoverishment is also at the base of today's political results.
In short, all this was part of the "lesser evils" that play in fact as a great battering ram for the greater evil.
Politics / Sergio Massa / Cristina Fernández de Kirchner / Gerardo Martinez / Luis Barrionuevo / Javier Milei
Source: www.laizquierdadiario.com