the far-right Jair Bolsonaro published a video supporting Javier Milei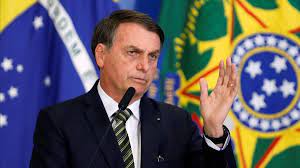 Hours after the end of the electoral campaign towards the PASO in Argentina, a video was released that the former president of Brazil, Jair Bolsonaro, sent to the candidate Javier Milei, giving him his support.
NOW: Jair Bolsonaro sent a video to Javier Milei expressing his full support for this Sunday's elections. pic.twitter.com/wSkm5678yE

— Augustine Romo (@agustinromm) August 10, 2023
"We have many things in common," Bolsonaro said in a video posted from a car. "We defend the family, private property, the free market, freedom of expression, the legitimate right to defense." And he closed: "I wish you good luck there in Argentina. I will visit him as soon as possible, God willing."
Likewise, Eduardo Bolsonaro, Jair's son and current deputy for San Pablo, also expressed his support. "This Sunday there will be elections in Argentina (primaries). This one in the video is the Argentine economist Javier Milei, outsider, candidate for president there. He reminds a lot of Bolsonaro. Both fight for freedom against a contaminated establishment," he said in his post.
The news did not surprise. Not only because among far-rightists it was a song of support, but also because Bolsonaro and Milei had already held a video call in February to talk about the future of Latin America and the need to "join forces to fight against socialism on the continent." "We agreed that it is fundamental to fight against socialism on the continent based on the values ​​of God, country, family and freedom," the economist explained at the time.
Likewise, Javier Milei, in the opposite direction, had already been part of the ultra-rightists who had supported Bolsonaro when he tried to get re-elected in Brazil, when he lost to Lula.
Here in Argentina, only the Left Front of Myriam Bregman and Nicolás del Caño is an alternative to confront the right. The Peronist government, with its adjustment plans, has only allowed its advance. This Sunday give strength to the combative left.
Source: www.laizquierdadiario.com