The debate about the debate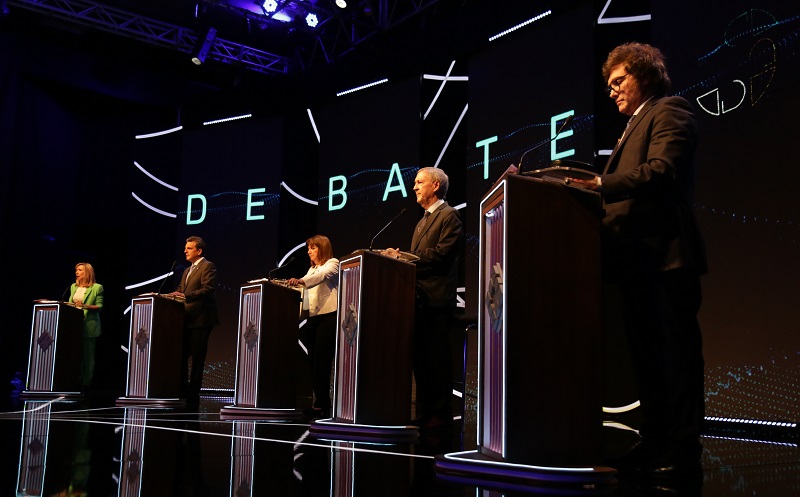 The political dispute that generated the debate of candidates for the presidency. Editorial of "El Círculo Rojo", a program on La Izquierda Diario that broadcasts on Thursdays from 10 p.m. to midnight on Radio Con Vos, 89.9.
The first part of the presidential candidate debate that took place last Sunday in Santiago del Estero was already over-analyzed.
It is interesting to observe the results because there was everything: Javier Milei's supporters came out to show the results of surveys from the more extreme right-wing media to "demonstrate" that they had won the debate (among other things due to the action of the farms). trolls who operate those surveys); The media at the Government's end celebrated that Sergio Massa came out more or less unemployed in a context conducive to any pro-government candidate directly sinking; There were those who even went so far as to say that Patricia Bullrich—who had the worst performance—was very sharp (that militant journalism is admirable); Juan Schiaretti contributed many post-debate memes for talking only about Córdoba (one detail here: there is another Córdoba that has nothing to do with the paradise that the governor presented). And everyone—those who are more related to Macriism, Kirchnerism, Mileism and those of us who are more related to the left—agreed to highlight the good and solid intervention of Myriam Bregman of the Left Front.
Will this get votes? Well, there is still the second part of the debate that will take place next Sunday at the Faculty of Law in the City in Buenos Aires. And, furthermore, in the bibliography analyzing the debates throughout history there is a wide range of positions: from those who say that nothing changes to others who assure that the ammeter can move (it depends on when they are carried out, how much sustain the "effect" towards election day etc.). Personally, I believe that like all political events it depends on the general framework: in a more or less defined election, with some level of stability or "normality" (although that in Argentine parameters is very relative) it is very difficult for a debate to change the trends or influence a lot. Now, in a situation of acute crisis like the current one, of dizzying changes in the political scenario, of significant decline of the great coalitions or accelerated rise of others; any event can play a role. I mean, not just a debate, but also other facts: for example, if a key official of the province who is the center of gravity of the ruling party is discovered walking around Marbella spending fortunes. It may or may not be confirmed, but I think the scenario is more conducive for the debate to have some impact.
Myriam Bregman's good performance was not only demonstrated by those who positively claimed her, but also by the attacks she began to receive. Logically, on behalf of Milei and her supporters because she was hurt by the "cuddly kitten of economic power" etc. But I want to focus on a story that began to circulate among the "progressive" sector of adherents of the ruling party that began by saying: "Myriam was very good, I agree with many things she raised, but she has no possibilities, etc." and then he escalated to affirm that things like "be careful with Myriam because she could be the difference that allows her to win the right etc."
Let's see, let's start again: Peronism lost six million votes between 2019 and 2023 (six million votes!) Why? I have some hypotheses: perhaps it is because the official policy (which strictly complies with the IMF's mandates) caused a triggered inflation that at the same time pulverized salaries (and income: AUH, retirements, pensions). Perhaps the fact that there are more than 40% poor and 60% boys and girls has something to do with it. Perhaps labor informality and precariousness have advanced. Perhaps Milei's rise has something to do with the fact that—according to what both Juan Grabois and Sergio Berni said—they encouraged him from Peronism, they put together his lists and took care of his ballots. And some additional issues that have to do with this Government: such as Fabiola Yañez's little party in Olivos (Alejandro Horowivz gives it a lot of importance in his book) or now a similar event: Martín Insaurralde's millionaire walk ("In life you have to elect" (remember?) and the scandal in the legislature of the province of Buenos Aires.

Well, the 30% of the votes that Milei got essentially comes from this whole combo. Her eventual victory in the first or second round will be the responsibility of those who outlined these policies and those who carried out these practices, and not precisely Myriam Bregman.
But, I also add a question: how do they know that the votes that Myriam can obtain are "naturally" theirs? Why can't some portion be disputed with Milei (or others)? Obviously I'm not talking about Milei's "hard" voters, but it is demonstrated by studies carried out by researchers who sympathize with Kirchnerism, that there are at least a third of "disputable" voters who do not share Milei's ideas or program. Why did they vote for him? Because they were fed up with the two main coalitions and wanted something else. Why didn't they vote left? Maybe because they saturated the media with Milei (when they believed they could only use it to turn the stage to the right and then discard it) while they did not give the left even 1% of that space. Because I remind you of one thing: when the emergence of the "Milei phenomenon" occurred in 2021 with 17% of the votes in the City of Buenos Aires; In parallel, the "Vilca phenomenon" took place in Jujuy, the waste collector who today is a deputy and got 25% and beat Peronism. Of course, some were more interested in one "phenomenon" advancing and not the other. Let's see, the media doesn't explain everything, but without the media, nothing is understood about Milei.
Bregman's or the left's proposal is that the anger be channeled through the left, they have the right and the duty to fight that battle. Those who want to be self-indulgent with their Government, with their policy and hold the left responsible for the emergence of a phenomenon that is the product of the results of their policy, are not only deceiving the people, but are lying to themselves.
This does not mean that the advance of the extreme right does not challenge the left (I wrote something about that last Sunday in Panama magazine), now this should not push it to fight "less" politically, but more. And much less does it mean taking charge of other people's responsibilities that led us here.

See this post on Instagram
Politics / #PresidentialDebate / The Red Circle / Elections 2023
Source: www.laizquierdadiario.com