Palestinian massacre. Israeli airstrike on UN school kills at least 50 in Gaza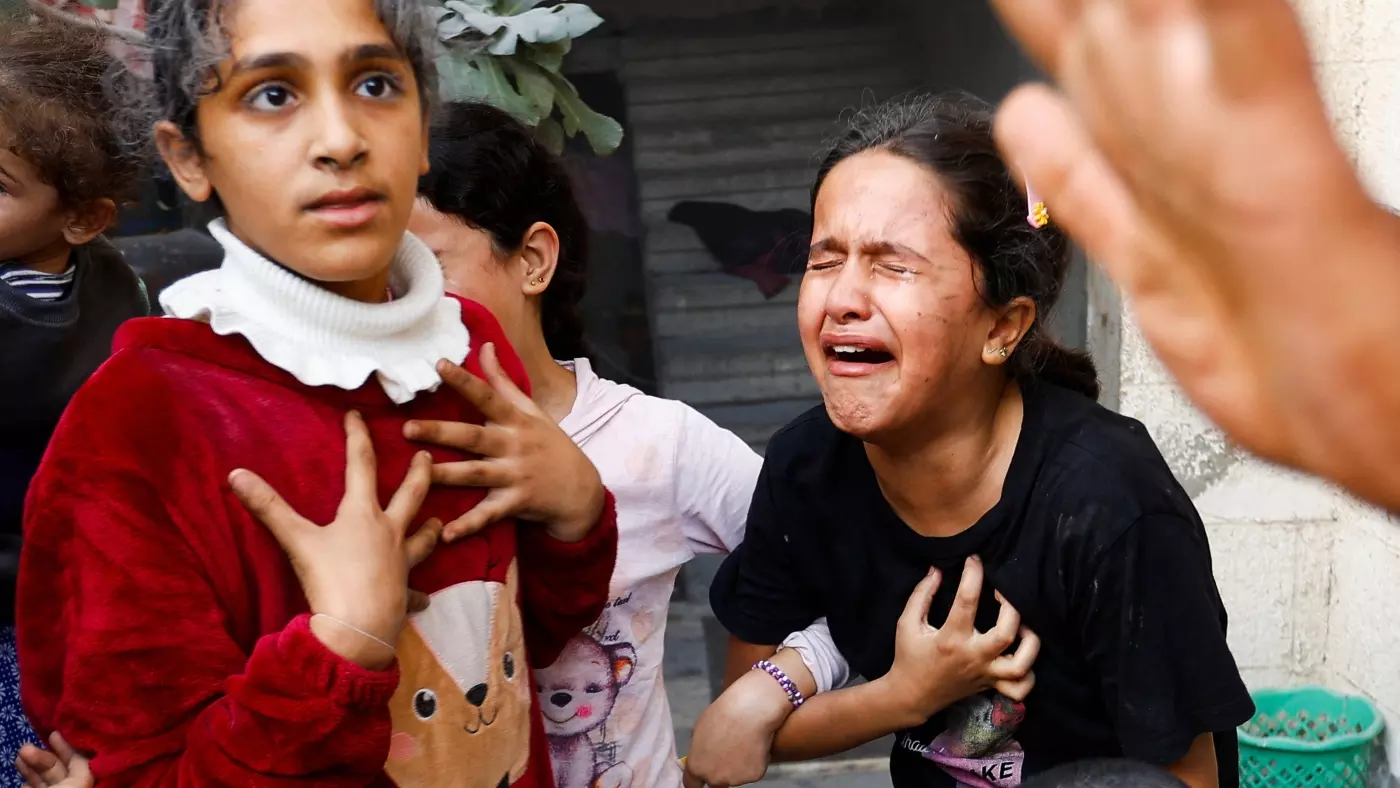 An Israeli airstrike on a United Nations-run school in northern Gaza killed "at least 50 people," according to a health official, in another day of devastating Israeli attacks on Palestinians.
Graphic images broadcast by Al Jazeera on Saturday showed dozens of lifeless bodies following the attack on the al-Fakhoura school, run by the UN Palestine Refugee Agency (Unrwa). The site was used by hundreds of Palestinians as a shelter from bombs.
The school, located in the Jabalia refugee camp, had already been attacked earlier this month and was previously targeted by Israeli forces during attacks in 2009 and 2014.
Another Israeli attack on a building in the camp killed 32 people from the same family, the same official told AFP.
The Health Ministry released a list of 32 members of the Abu Habal family who died in the attack, 19 of whom were children.
Elsewhere in northern Gaza, at least 63 Palestinians died upon arriving at the Indonesian Hospital at dawn on Saturday, a medical source told Al Jazeera.
The attack on the Jabalia camp followed a series of deadly attacks carried out by the Israeli army north of the enclave, including Beit Lahia, Beit Hanoun and Gaza City.
Israel's military also launched devastating attacks in southern Gaza, which has been under attack for weeks despite repeated Israeli orders for a million Palestinians in the north to flee there.
At least 26 people were killed in an Israeli airstrike on a residential neighborhood of Khan Younis during the early hours of Saturday. Among those killed were children.
In the afternoon, the army attacked a house west of Khan Younis, killing 15 people, health officials at Gaza's Nasser Hospital said.
Elsewhere in the south, an Israeli airstrike on a house in Deir al-Balah killed six Palestinians, according to health officials.
The Palestinian death toll in Israel's war on Gaza over the past six weeks has surpassed 12,000, the vast majority of whom are women and children.
It came after Hamas' surprise attack on southern Israel on October 7, which left 1,200 Israelis dead. Some 240 people were also taken captive to Gaza.
Patients forced to leave Al Shifa in wheelchairs
In the northern part of Gaza City, most of the patients at al-Shifa Hospital – the largest medical complex in the territory – were expelled by the Israeli army.
Dr. Munir al-Borsh, director general of the Palestinian Health Ministry, told Al Jazeera that people inside were forced to raise white flags as they walked in a line with Israeli tanks and soldiers on either side.
"Many of the patients were placed in wheelchairs or beds with wheels. Relatives were forced to carry their injured children or their own parents," Borsh said. "These are horrific and unprecedented scenes."
By midday, 120 patients, including premature babies, were still in the hospital.
Five doctors and several nurses also remained to facilitate the evacuation of the remaining wounded, awaiting help from the UN and the International Committee of the Red Cross.
Borsh was among those expelled and had walked at least two kilometers. He said that he was heading to the Indonesian hospital to continue his work.
In a statement on Saturday morning, the Israeli military denied ordering the evacuation. Instead, he stated that the hospital director asked for a "safe axis" to allow those taking refuge in the center to escape.
Doctors and health officials at al-Shifa strongly denied the Israeli version of events.
Ismail al-Thawabta, spokesman for the Palestinian media office in Gaza, said people inside were forced out at gunpoint.
He added that many of those fleeing were at imminent risk of death because they "needed quick medical attention."
Fuente: Middle East Eye.
Source: www.laizquierdadiario.com