"Nobody talks about peace, only me", says Lula to El País about the Russia-Ukraine war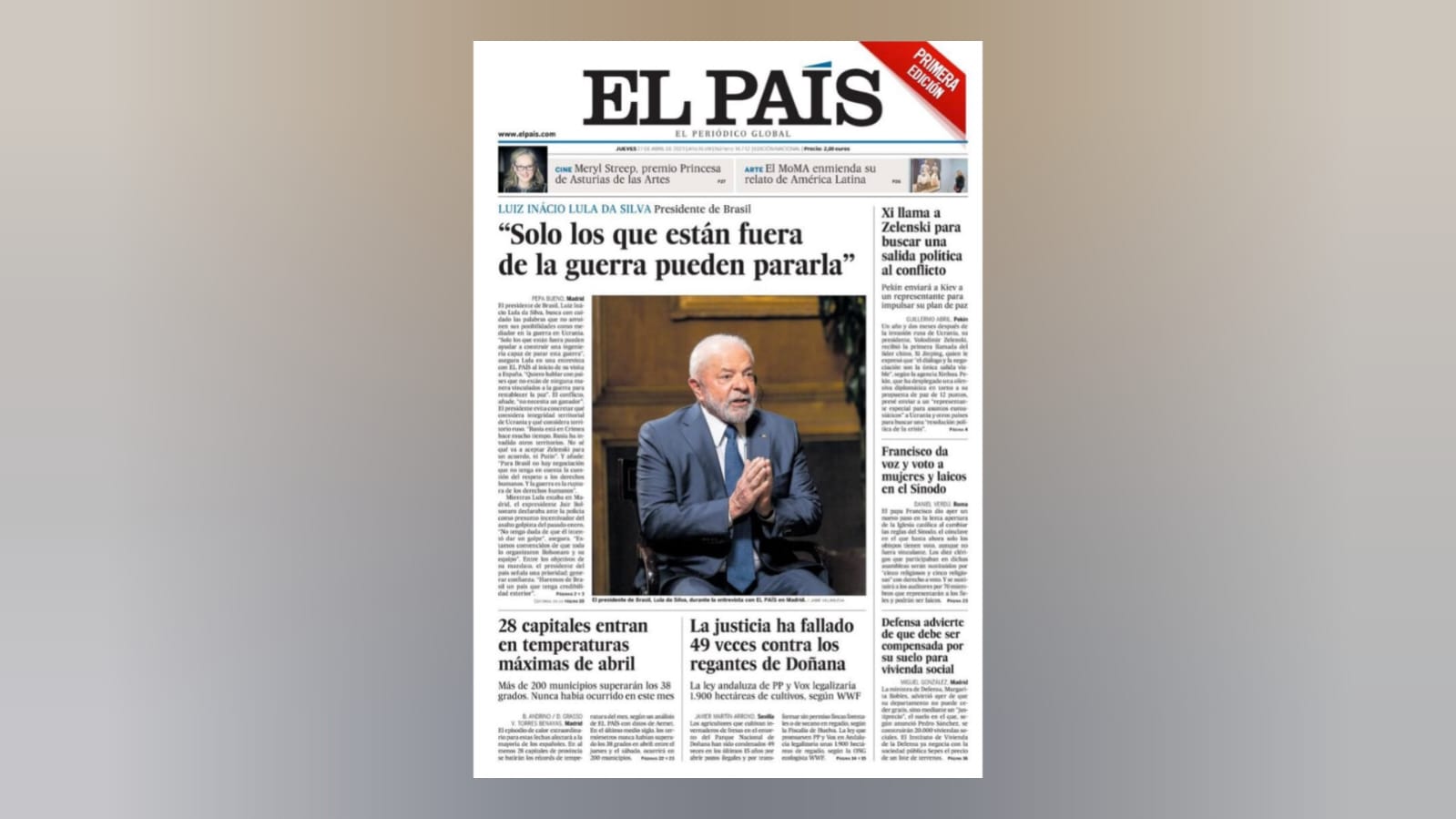 In an interview given to the Spanish newspaper El País, Brazilian President Luiz Inácio Lula da Silva (PT) declared that only he talks about peace in the conflict between Russia and Ukraine.
Watch excerpts from the interview:
The country: President, you are arriving on a continent that is watching in astonishment a war in which there are no possibilities for pacification. Therefore, any initiative that talks about its end generates a lot of expectation. You lead an international initiative in pursuit of peace. He condemned the invasion, but also criticized the shipment of weapons, and Spain sends weapons to Ukraine. When a country is invaded and the victim asks for help, what should other countries do, fold their arms or help the victim?
Lula: The first thing to understand is that this war should not have started. It started because there was no capacity for dialogue between world leaders for a long time. Brazil condemns because Russia does not have the right to invade Ukrainian territory. The Russians are wrong, but either you fuel the war or you try to end it.
It's more interesting for me to talk about ending it, but nobody talks about peace but me. I went to speak with Biden, with Scholz, with Xi Jinping, with Macron. It is necessary to come together to put an end to this conflict, but this can only be done if two negotiate at a table: that is what I stand for.
Europe has a mediating role and should adopt a kind of middle ground. Europe got involved very quickly. That's why it's important to look for leaders who want to talk about peace. We must unite all these countries. Next week I will speak with Macron and with other presidents to try to find that peace.
El País: It is obvious that we must try to stop this war by all means, but in the meantime, do we leave the Ukrainians alone without supporting them while Putin bombs them?
When [o chanceler da] Germany visited Brazil, he asked us to send missiles from tanks bought from Germany to war. I told Scholz I wasn't going to sell them because if a missile is launched and Russia finds out that Brazil sold it, Brazil enters the war.
When you enter, you cannot talk about peace. I want to speak with countries that are in no way connected with the war to restore peace. I believe that, if we succeed, we will be doing humanity a good service, because if not, the war will never end, because Putin believes he is right, and Zelensky, invaded, has the right to defend himself. So who will end the war?
I am concerned that this war is linked to electoral political interests. This has happened other times in the world and I don't think it's fair that there's a war without anyone building peace. I will try to do this.
Join our WhatsApp group, clicking on this link
Join our Telegram channel, click this link
Source: https://www.diariodocentrodomundo.com.br/ninguem-fala-de-paz-so-eu-diz-lula-ao-el-pais-sobre-a-guerra-russia-e-ucrania/