massive cut in big cities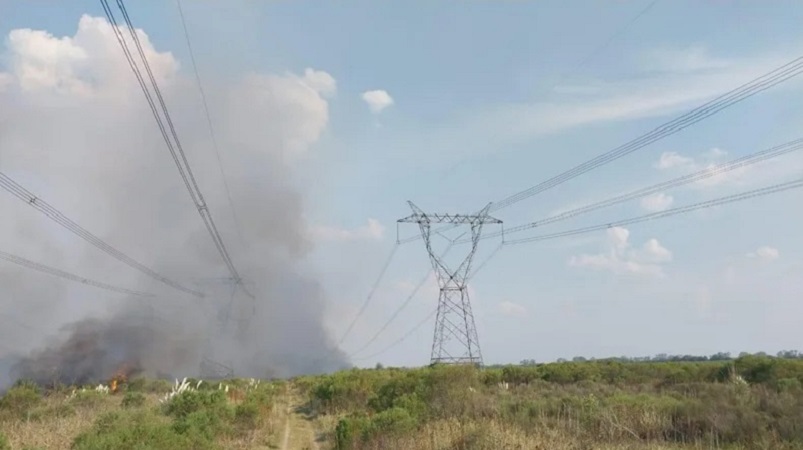 A large part of the metropolitan area of ​​Buenos Aires (AMBA) was left without electricity, after the Atucha I nuclear power plant came out of operation. Blackouts were also reported in Rosario, Córdoba and Mendoza, San Luis, Tucumán, Salta and Jujuy.
On social networks, they confirmed that the Roca train service is completely interrupted due to lack of electricity supply. The subway also presents delays in most of its lines, line H is out of operation.
A pasture fire some 8 kilometers from General Rodríguez, under three 500 kW transmission lines was the trigger for the problem and, since it was not isolated, affected a large part of the network. The Atucha I nuclear power plant, located in Campana, was affected and went out of service.
On the Cammesa page, the company that manages the national electricity market, shows an abrupt drop in energy demand at 4:00 p.m., when the thermometer marked 35° C. At that time, the system's demand was equivalent to 26,570 MW. , in less than half an hour 10,000 MW of power fell, according to official sources.
#blackout Half the country without light. The fantasy Argentina that Alberto Fernández described in his speech to the Legislative Assembly is his own self-constructed reality.

— Nicolas del Caño (@NicolasdelCano) March 1, 2023
Big blackout in several provinces and in the AMBA. It is time to discuss privatizations, the need to nationalize the service, with control of workers and users, and to think of a plan for the benefit of the population. That the companies return what they fled and stole.

— Myriam Bregman (@myriambregman) March 1, 2023
Half the country without electricity and on top of that they put the rates on you.

— Nicolas del Caño (@NicolasdelCano) March 1, 2023
As a result of the lack of energy, one of the most affected areas is transportation, and at the Constitución station you can see the crowd of thousands returning from work both due to power cuts and the interruption of some subway lines and trains.
From Trenes Argentinos they pointed out that the Roca, Sarmiento, Miter and Belgrano Sur lines are suffering delays and cancellations, while the San Martín for now only delays.
According to Santiago Yanotti, Undersecretary of Electric Power, the operation of the nuclear power plants "is not suddenly restored, so we will have to wait."
From the government of the City of Buenos Aires, through a statement they informed that due to the power cuts, more than 100 intersections with traffic lights stopped working.
Source: www.laizquierdadiario.com