March of the Third Malón de la Paz in the City of Buenos Aires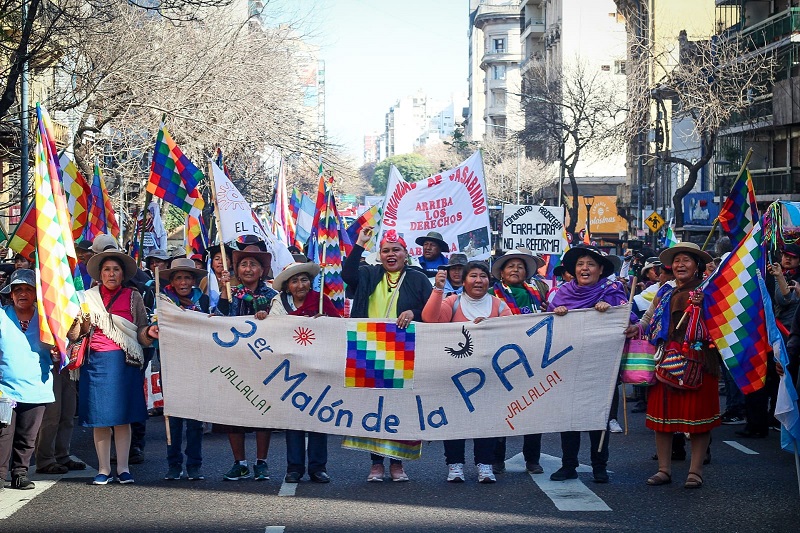 The Third Raid of the indigenous communities of Jujuy arrived in Buenos Aires. The resistance of these communities to the anti-rights reform of Morales and the PJ does not stop. They demand recognition of their ancestral territories, access to water, and an end to the advance of companies on their lands. They protest against undemocratic and extractivist legislation in Jujuy.
A significant number of organizations support the mobilization. Among them are the PTS Left Front, CTA, CCC, FOL, MST, Corriente Aníbal Verón, Popular Front Darío Santillán, Marabunta, Movement for Latin American Unity and Social Change, Barrios de Pie, CeProDH, National Peasant Federation, Organization Federation Base, among others.
The Third Raid for Peace reached the streets of Buenos Aires. Against the Reform of Morales and the PJ. pic.twitter.com/Jc74GyRhtY

– The Daily Left (@izquierdadiario) August 1, 2023
From the PTS in the Left Unity Front we support the struggle of the indigenous communities that are part of the Third Malón in Jujuy, protagonists of the popular uprising in Jujuy against the Reform of the Constitution of the UCR and the PJ. We publish a statement signed by the main referents and candidates at the national level and in Jujuy: Myriam Bregman, Alejandro Vilca, Nicolás del Caño, Natalia Morales, Raúl Godoy and Gastón Remy.
Accompanying the mobilization and demanding the recognition of community property with all its rights to the indigenous communities of the province of Jujuy and the rest of the country, the national deputies of the PTS, Myriam Bregman, Nicolás del Caño and Alejandro Vilca, the ceramic worker Raúl Godoy and Natalia Morales -ex-constituent-, Andrea D'Atri, pre-candidate for Buenos Aires legislator for the PTS-FIT Unit and Patricio del Corro pre-candidate for national deputy for the same force.
As has been seen in all these decades, neither the UCR, Cambiemos, nor the PJ and its coalitions responded to this historic demand. Worse still, while the survey of lands and delivery of titles progresses at a snail's pace, extractivism and the businesses of landowners and businessmen in the territories are promoted as State policy.
The mobilization of the indigenous communities runs through the center of Buenos Aires. From the National Congress to the Obelisk. There the Reform of the Jujuy Constitution promoted by the Government of Gerardo Morales and accompanied by the PJ is denounced. A reform that enables the looting of lithium and agribusiness as a State policy in indigenous territories. Alberto Fernández, Cristina Kirchner, Sergio Massa, Gerardo Morales, Patricia Bullrich and even Javier Milei, among others, endorse this model.
Source: www.laizquierdadiario.com