Lula and Macron propose ending sanctions against Venezuela in exchange for free elections in 2024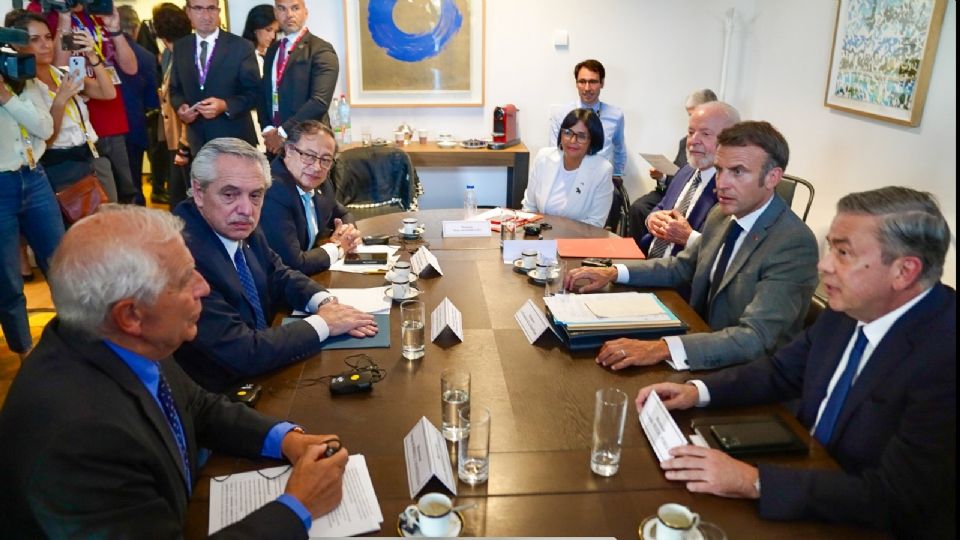 After a meeting between Lula and representatives of the Venezuelan government and opposition, the presidents of Brazil, France, Colombia and Argentina made a joint request this Tuesday, the 18th, for free elections in the country in 2024 and suggested the lifting of sanctions in return. The leaders met with both parties during the 3rd summit between the Community of Latin American and Caribbean States (Celac) and the European Union (EU).
Lula, Emmanuel Macron, Gustavo Petro and Alberto Fernández, along with Josep Borrell, High Representative of the European Union for Foreign Affairs, called on the government and opposition to resume ongoing negotiations in Mexico and defended international supervision of next year's elections.
According to the joint statement, "they called for a process of political negotiation that leads to the organization of fair, transparent and inclusive elections for all, allowing the participation of all those who wish, in accordance with international law and treaties, with international supervision." In addition, the statement highlighted the need to lift all sanctions as part of this process.
The leaders met with Gerardo Blyde, a top Venezuelan opposition negotiator, and Delcy Rodríguez, vice president and high-level representative of the Venezuelan government at the summit. The purpose of the meeting, according to the Brazilian government, was to promote dialogue with a view to next year's presidential elections.
The meeting, organized by France, lasted an hour and a half. Macron described it as "a very long meeting" and said it was a continuation of the meeting held in November last year in Paris between the opposition and the Venezuelan government.
The heads of state and the High Representative agreed that the relaunch of relations between the EU and CELAC offers an opportunity to work together to resolve the Venezuelan situation. They proposed that the participants continue the dialogue, within the framework of the established initiatives, to make a new assessment at the Paris Peace Forum on November 11, 2023.
Josep Borrell stated that the discussion focused on how to promote inclusive and free elections that can be recognized by the international community. He again offered to send an EU election observation mission to Venezuela, provided the country follows the recommendations made by Brussels envoys after the last elections.
Last week, Jorge Rodríguez, the government's main negotiator and president of the Venezuelan parliament, ruled out sending an EU electoral delegation to the 2024 elections.
The EU sent an observation mission to Venezuela at the end of 2021 for regional and municipal elections, the first since 2006. The mission highlighted the advances, but also criticized the arbitrary disqualification of candidates.
At the end of June, the Maduro dictatorship made María Corina Machado, one of the favorite pre-candidates, ineligible for 15 years. She joined two other key opposition leaders, Juan Guaidó and Henrique Capriles, who had previously been barred from running in the elections.
Join our WhatsApp group, click this link
Join our Telegram channel, click this link
Source: https://www.diariodocentrodomundo.com.br/lula-e-macron-propoem-fim-das-sancoes-contra-a-venezuela-em-troca-de-eleicoes-livres-em-2024/