Israel says there will be no electricity, water or fuel for Gazans until hostages are freed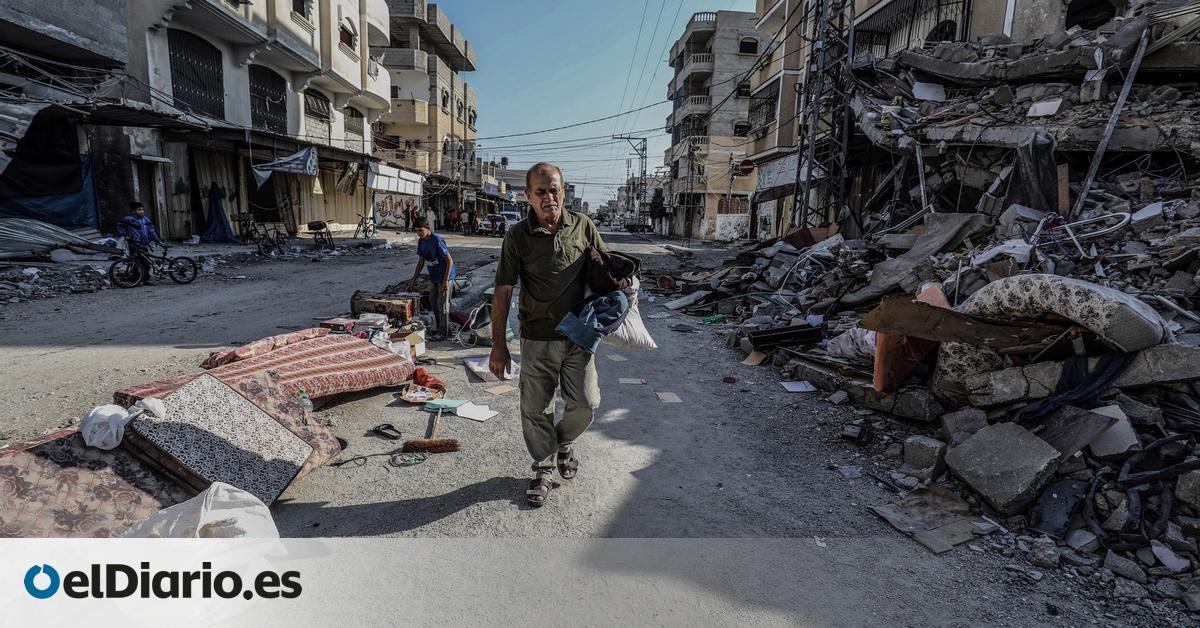 As concerns grow over the deteriorating humanitarian situation in Gaza, Israeli Energy Minister Israel Katz has said the tight blockade imposed on the densely populated enclave following the Hamas attack will not be lifted until the release of all the hostages who were kidnapped by the Palestinian militias, which are estimated at more than a hundred – civilians and military.
"No electrical switch will be turned on, no water pipe will be opened and no fuel truck will enter," Katz wrote this Thursday on Hamas and Islamic Jihad maintain their control within the Palestinian enclave, where around 2.3 million people live – half of whom are children – and which has been bombed without pause by the Israeli Army in the last five days.
Since Monday, Israel has implemented a strategy of total closure of the Strip to prevent the entry of food, fuel or electricity. "We are fighting against human animals and we act accordingly," said Israeli Defense Minister Yoav Gallant, justifying the measure.
This Wednesday, the only power plant in Gaza, which had been operating intermittently for days, it was turned off after running out of fuel, so the Palestinian territory became dependent on generators. Without electricity, water cannot be pumped into houses, recalls the Reuters agency, which reports that at night there is almost total darkness punctuated by flares and flashes of light from phones used as flashlights.
As Gaza loses power, hospitals do too. "Without electricity, hospitals risk becoming morgues," Fabrizio Carboni, regional director for the Near and Middle East of the International Committee of the Red Cross (ICRC), said in a statement.
The UN has expressed its "dismay" at the "total blockade" of Gaza and has urged the international community to "mobilize immediate humanitarian support" for Palestinian civilians "trapped" in the Strip, which is on the verge of running out of food, fuel, water, electricity and other critical supplies, the World Food Program (WFP) has warned. The United Nations has demanded access for humanitarian personnel, as well as medical equipment. The Norwegian Refugee Council called on Thursday for humanitarian corridors and pauses to be immediately established to allow the safe passage of humanitarian workers and aid supplies to Gaza. "Humanitarian workers cannot do their jobs while bombs are falling everywhere," said Jan Egeland, the organization's secretary general.
The humanitarian situation in Gaza, subject to 16 years of blockade, was already devastating before this escalation, with more than half of the population having difficulty feeding their families, recalls the WFP.
On the Israeli side, many families remain concerned about the whereabouts of their loved ones. The International Committee of the Red Cross has reported that it is in contact with Hamas and authorities regarding the taking of hostages – among whom there are some foreigners – and has called for the immediate release of all those held. The Israeli authorities have so far managed to identify 97 hostages, while they continue to search for dead and missing people and still collect bodies. among rubble of nearby Gaza communities that were assaulted by Palestinian militias last Saturday, in a brutal attack that caught Israel by surprise, which declared war on the Gaza militias.
Since then, armed confrontations have taken place in twenty points in Israeli territory, and there continues to be an exchange of fire by air, with rockets from the Strip and intense Israeli bombings throughout the enclave, while the possibility of a major offensive continues to float in the air. land. According to Gaza authorities, the incessant attacks in recent days have caused enormous destruction and destroyed residential buildings.
The casualty count on the Israeli side after the Hamas attack this weekend is 1,300 dead, according to local media, and more than 3,200 injured. At the same time, Israeli airstrikes have claimed at least 1,400 lives – including more than 400 children – and left 6,200 injured in Gaza.
The UN said late Wednesday that the number of people displaced by the bombings had soared 30% in 24 hours, to 338,934 people, more than two-thirds of whom are taking refuge in schools run by UNRWA, the UN agency. UN working with Palestine refugees, which has already lost 12 workers in Gaza since Saturday.
This Thursday, Syrian state television reported that Israeli aircraft had carried out two simultaneous attacks against the main airports in Damascus and northern Aleppo, the first major attack on Syrian territory since the outbreak of the war last Saturday. Israeli actions in Syria are usually directed against targets of the Lebanese Shiite group Hezbollah and Iranian militias.
Condemns attacks against civilians
Independent UN experts have condemned this Thursday in a statement the attacks against civilians, have called for a truce and have asked the international community to "address the root causes of the violence", including the "56-year-old occupation and the annexation that Israel pursues."
"We strongly condemn the horrific crimes committed by Hamas, the deliberate and widespread murder and hostage-taking of innocent civilians, including the elderly and children. These actions constitute egregious violations of international law and international crimes, for which they must be urgently held accountable," they state in the note. "We also strongly condemn Israel's indiscriminate military attacks against the already exhausted Palestinian people of Gaza," who have been living under an "illegal" blockade for 16 years and have already gone through five major brutal wars.
"This amounts to collective punishment," they say. "There is no justification for violence that indiscriminately attacks innocent civilians, whether by Hamas or Israeli forces. "This is absolutely prohibited by international law and amounts to a war crime."
UN experts echo the words of the Israeli Defense Minister and maintain that "this appalling language dehumanizes the Palestinian people" and condemn the withholding of essential supplies such as food, water, electricity and medicine. "Such actions will precipitate a serious humanitarian crisis in Gaza, where its population is now at inescapable risk of starvation. "Intentional starvation is a crime against humanity."
Visita de Blinken
US Secretary of State Antony Blinken landed in Tel Aviv this Thursday as part of a tour of the Middle East to show Washington's support for Israel, after a first plane loaded with US ammunition arrived in Israel on Wednesday night. .
Blinken has been received by the Israeli Foreign Minister, Eli Cohen, and has appeared at a press conference with the Israeli Prime Minister, Benjamin Netanyahu.
"The message I bring to Israel is that you may be strong enough to defend yourself, but as long as the United States exists, you will never have to. We will always be there by your side," Blinken said. Netanyahu stated in the same media appearance that the Secretary of State's visit is "another tangible example of the US's unequivocal support for Israel."
According to the Palestine Liberation Organization (PLO), the head of American diplomacy will meet tomorrow, Friday, in Amman with the president of the Palestinian National Authority (PNA), Mahmoud Abbas.
Netanyahu promised this Wednesday, in his words, "to completely destroy and kill Hamas, the ISIS of Gaza," assuring that "it will vanish from the Earth, it will no longer exist." Netanyahu reached an agreement this Wednesday with Benny Gantz, leader of the National Unity party, to form a unity government.
With agency information
Source: www.eldiario.es