Forceful national strike of the UOM. In Villa Constitución the strike is total in Acindar and the workshops of the sectional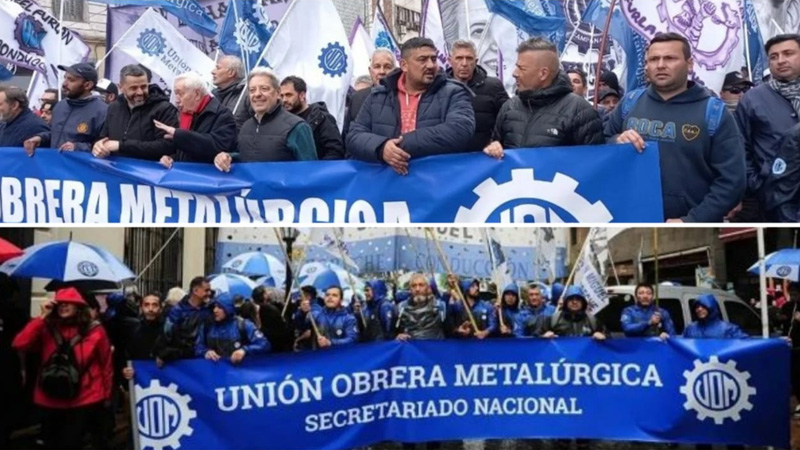 The discontent and anger of the metallurgists already overwhelms the union leaders. The wage arrears, added to the increase in precariousness and the multiplicity of tasks, makes metallurgical workers willing to fight to reverse the situation.
In line with what Alberto Fernández promised when he won the elections that he was going to fill the refrigerator, Abel Furlán dethroned Caló with the promise that the reality of metallurgists was going to change. He has been in management for a year and a half, and the situation not only did not improve but also worsened. Industrial workers being the worst paid in the country.
Background of this discontent was shown in the fight carried out by the outsourced workers in Acindar, blocking the entrance and managing to completely stop the entire plant.
Today the workers went out to mobilize and demonstrate this discontent to the employers but also to the union leaders who always say that people do not want to do anything.
In the Villa Constitución section, compliance with the strike was 100%. All the big companies like Acindar, Tenaris and Laminados Industriales as well as the workshops are closed.
Unfortunately, not all the sectionals are willing to listen to the voice of the bases, a clear example is San Nicolás, where Naldo Brunelli has been leading for 50 years, Furlán's second in command, Caló's and Lorenzo Miguel's partner throughout his career. This union leader is also a businessman and partner of the Roccas since the privatization of Siderar. Today he runs the largest steel company in the country.
It is necessary to deepen this path in perspective to achieve unity among workers, outsourced, plant, workshop, etc., to fight for all our rights. It is necessary that sectoral and general assemblies be held where the bases can express themselves to discuss and vote on a plan of struggle at the height of the crisis.
Source: www.laizquierdadiario.com