Elections. Nicolás del Caño was in Varela and spoke with workers and youth about the proposals of the left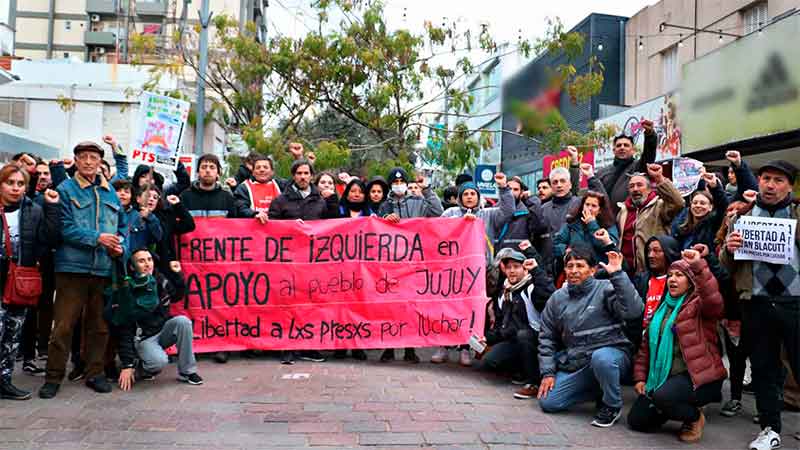 This Saturday afternoon, Nicolás del Caño toured the downtown pedestrian area of ​​Varela along with the main local figures from the list headed by the PTS at the FIT-U. The corner of Monteagudo and Boccuzzi was the meeting point for the militants and supporters who came to the activity. The traffic of people was very large, people toured the premises and took advantage of the hours of sun that the afternoon offered as a small incentive to the low temperatures that have plagued the suburbs for days. In the midst of this movement, railway and health workers, teachers, university and tertiary students, young people and precarious workers began to distribute flyers, to talk with the people who passed by telling about the campaign's proposals, while several people approached to take their selfie with Del Caño. Elvira Giménez, mother of Brian Mechi Cantero, a young man who lost his life as a result of job insecurity, was present, adding his support.
Nicolás del Caño with workers and students in the Varela pedestrian street
In conclusion about the conversations with the neighbors, Del Caño stated: "The neighbors told me about their anger over the price increases. This week it was learned that food rose 106% in the last year, impacting the lower-income sectors more strongly. Massa celebrates that inflation is slowing down, but the impact of the adjustment that goes hand in hand with the IMF is very great". That is why "the people of Jujuy who rose up against the Morales reform and for the increase in wages set the example to follow."
The teacher candidate for councilor Sebastián Muzyka, together with Nicolás del Caño
Sebastián Muzyka, pre-candidate for councilor and teacher of the Brown group, expressed: "I have to see from the classrooms the impact of the economic crisis and the adjustment that the Frente de Todos implemented. In Varela, as in the entire suburb, workers have to constantly look for odd jobs because you cannot live with just one job." Héctor "Ricky" Santa Cruz, a railway worker from the Naranja group, added: "The infrastructure conditions of our neighborhoods are critical. It is unacceptable that thousands of people do not have access to basic services such as drinking water, sewers, asphalt, and that neighborhoods are covered by water and mud on stormy days. We need a public works plan managed by the workers to put an end to this situation".
The candidate Héctor "Ricky" Santa Cruz, a railway worker together with Nicolás del Caño
Anabella Barrios, a UNLA student and member of the Pan y Rosas group, pre-candidate for Councilor, highlighted the activity that "The consequences of the adjustment are suffered mainly by women, most of the households that are below the poverty line are supported by women, and thousands more cannot find work. This impact also affects us in an "invisible" way, since they are feminized areas, a product of cuts in the budgets for health, housing and education. With Myriam Bregman's candidacy for president, and hundreds of fighters across the country, we want to debate this reality."
Source: www.laizquierdadiario.com