does not grant visas and asks for the resignation of its general secretary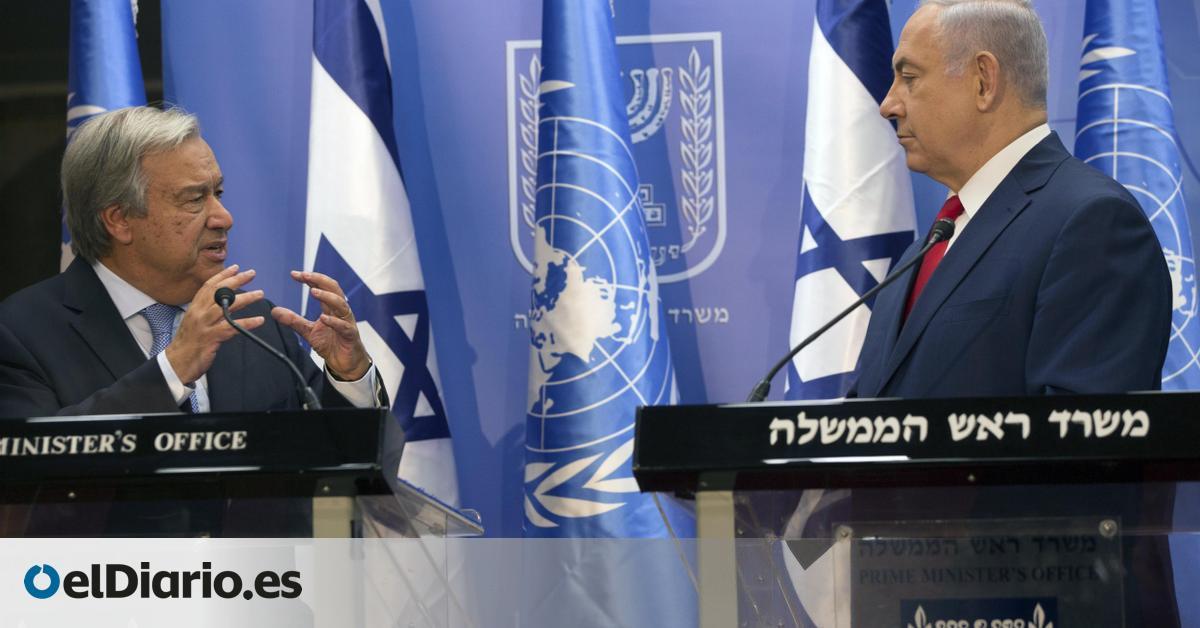 Israel's offensive against the UN. Tel Aviv denies a visa to the UN humanitarian affairs chief, Martin Griffiths, following statements by UN Secretary General António Guterres. Israeli media reports that Israel's ambassador to the UN, Gilad Erdan, stated on army radio: "Due to his comments, we will refuse to issue visas to UN representatives. We have already denied a visa to the Under-Secretary-General for Humanitarian Affairs, Martin Griffiths. "The time has come to teach them a lesson."
Israel has also asked UN Secretary General Guterres to resign after he said that Hamas' "terrible attacks" against Israel on October 7 cannot justify the "collective punishment of the Palestinian people," and spoke of "the clear violations of international humanitarian law that we are witnessing in Gaza."
Guterres had declared that "nothing can justify the deliberate killing, wounding and abduction of civilians, or the firing of rockets at civilian targets. "All hostages must be treated humanely and released immediately and unconditionally."
The Secretary-General of the United Nations called on the UN Security Council on Tuesday for an immediate ceasefire to end the "epic suffering" in the Gaza Strip after Israeli airstrikes killed more than 700 people in a single day and hospitals will begin to close due to lack of fuel.
António Guterres stated that the bombings and blockade of Gaza represent a "collective punishment of the Palestinian people" and violate international law, comments that sparked a strong reaction from Israel. "To alleviate the epic suffering, make the delivery of aid easier and safer, and facilitate the release of the hostages, I reiterate my call for an immediate humanitarian ceasefire," the UN secretary general said.
Hours later, in a statement without questions at the entrance to the Security Council, the UN Secretary General referred to what happened on Wednesday and stated that there have been "misinterpretations" of his words "as if he were justifying the acts of terrorism by Hamas": "At the beginning of my speech yesterday, I said clearly, and I quote: "I have unequivocally condemned the horrendous and unprecedented acts of terrorism perpetrated by Hamas in Israel on October 7." Guterres also stated that yesterday he spoke of "the grievances against the Palestinian people," but added that these "cannot justify the atrocious attacks by Hamas."
Guterres said that the October 7 attacks by Hamas were "horrific," but that they also have their roots. "The Palestinian people have been subjected to a suffocating occupation for 56 years. "They have seen their land endlessly devoured by settlements and ravaged by violence; its suffocated economy; its population displaced and its homes demolished. "Their hopes for a political solution to their plight have been fading."
Israel's envoy to the UN, Gilad Erdan, responded to Guterres calling for his resignation: "His comments (…) constitute a justification of terrorism and murder. "It is sad that a person with such views is the head of an organization that emerged after the Holocaust." Israeli Foreign Minister Eli Cohen canceled a planned meeting with Guterres.
Airstrikes killed at least 704 people on Tuesday, according to the Hamas-run Health Ministry, bringing the total death toll in Gaza after 18 days of bombing to 5,791, including 2,360 children.
Twenty aid trucks expected to enter the besieged territory on Tuesday were unable to cross into Gaza from Egypt amid disputes between Israel, Egypt, the United States and the UN over procedures for inspecting shipments. The Palestinian Red Crescent later confirmed that eight trucks with water, food and medicine had arrived in Gaza.
Asked by reporters in Washington whether aid was reaching Gaza, US President Joe Biden responded: "Not fast enough."
Three hospitals could no longer function because they had run out of fuel to generate electricity, Palestinian Health Minister Mai al-Kaila declared at a press conference. She called for a safe corridor to transfer the seriously injured and sick to Egyptian hospitals.
Late on Tuesday, an Israeli military spokesman stated that the fuel supplies would not be included in any aid shipments to the territory. "The fuel will not enter Gaza, as Hamas uses it for its operational needs," declared Admiral Daniel Hagari. "If necessary, Hamas can return the fuel it stole from UNRWA [la Agencia de Naciones Unidas para los Refugiados Palestinos] and give it to the hospitals."
Early on Wednesday, Palestinian media reported that three people had been killed in an Israeli attack near the Jenin refugee camp in the West Bank. Citing the director of the Jenin government hospital, local media also said that more than 20 people had been injured in the attack.
The Israeli military said in a statement that it had carried out "anti-terrorist activities" in the area, but did not mention any casualties.
On Tuesday, Hamas fired a barrage of rockets into central Israel, setting off sirens and wounding two people with shrapnel.
In a rare intervention, former US President Barack Obama warned Benjamin Netanyahu's government that cutting off food, water and electricity could "harden Palestinian attitudes for generations" and weaken international support for Israel.
The acceleration in the death toll in Gaza suggests an escalation in airstrikes, as Israel continues to mass troops and equipment ahead of an expected ground offensive against Hamas, in response to the group's onslaught on southern Israel on October 7, which He killed more than 1,400 people and left more than 220 hostage in Gaza.
In a speech to combat troops at an army base, Netanyahu said the next phase of the conflict was approaching. "We only have one mission: crush Hamas. We will not stop until we complete it, with your help."
Israeli Defense Forces Chief of Staff Lt. Gen. Herzi Halevi said Hamas leaders already "regretted their attack" and would "continue to pay" for it. "This war has a direction: the leaders of Hamas and all those who acted under his command. They will pay the price for what they did," he told the media near the border with Gaza.
Halevi said the army was fine-tuning its planned offensive and tacitly rebuked Israeli commentators who have complained about the delay. "We are taking advantage of every minute to be even more prepared. And every minute that passes on the other side, we hit the enemy even more. Killing terrorists, destroying infrastructure, collecting more information for the next phase." Halevi said he wanted Gaza civilians to emerge "as unscathed as possible."
Israel's internal security service, Shin Bet, released recordings of six interrogations of Hamas militants captured after the group's attack in southern Israel. They were handcuffed, one was wearing a bloody T-shirt and another was gesticulating in pain.
The men said they had orders to kill young men and kidnap women, children and the elderly, and had been promised financial rewards of up to $10,000 (£8,200). Some said the plan was to clear the town and take and hold positions. The Associated Press, which viewed the recordings, said it could not independently verify them and that the captured men may have acted under duress.
On Monday, Hamas released a video showing the handover of hostages Yocheved Lifshitz, 85, and Nurit Yitzhak, 79. Lifshitz shook hands with one of the Hamas gunmen. At a news conference in Tel Aviv, he described his ordeal as hellish, but also said some kidnappers had shown kindness. Israeli commentators called his comments a public relations debacle.
US Secretary of State Antony Blinken urged UN member states to use their influence to secure the release of the remaining hostages. He also asked them to prevent others from opening another front in the conflict. "Don't add fuel to the fire," he told the UN Security Council. He also called for increasing the trickle of humanitarian aid to Gaza civilians.
The Biden administration has not joined calls for a ceasefire, saying Israel still has "work to do" in pursuing Hamas leaders.
Russia declared Tuesday that it would veto a U.S.-drafted U.N. Security Council resolution upholding the "inherent right of all States" to self-defense, while calling for compliance with international law and supporting "humanitarian pauses" to allow aid in, but not a total ceasefire.
Russian ambassador to the UN Vassily Nebenzia said: "The main signal that the whole world expects from the security council is a call for a quick and unconditional ceasefire by the warring parties. This is precisely what is not in the US draft."
The foreign minister of the Palestinian Authority, led by Hamas rival Fatah, called the Security Council's inaction "inexcusable." "The massacres perpetrated deliberately, systematically and savagely by Israel, the occupying power, against the Palestinian civilian population under illegal occupation must be put to an end," declared Riyad al-Maliki.
With the Security Council blocked, the UN General Assembly, whose decisions are not binding, will also address the crisis on Thursday at the request of several countries, including Jordan and Russia.
Source: www.eldiario.es