Christian Castillo: "The mask of the progressives who today support the coup government of Peru falls off"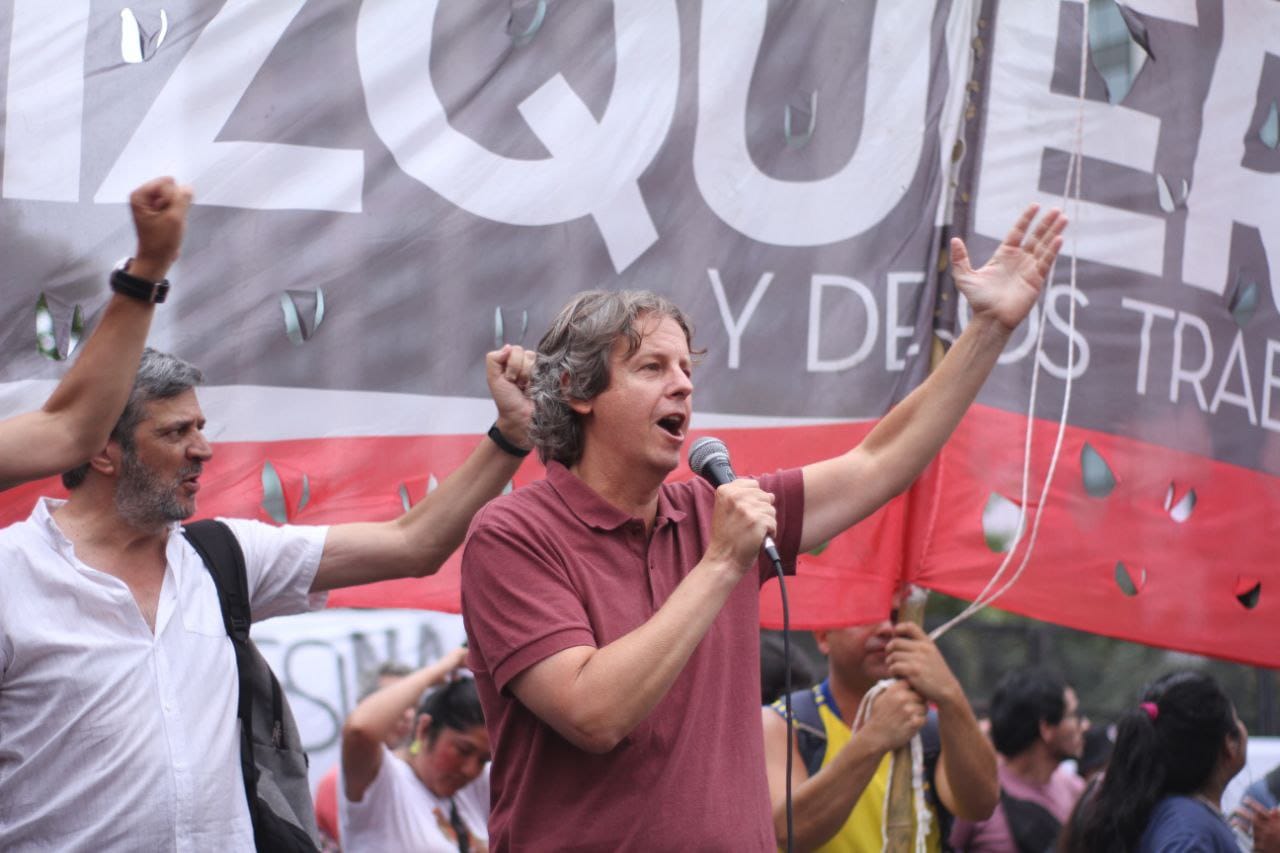 In the act of Tuesday the 24th in front of the hotel where the VII CELAC Summit was taking place, the former deputy from Buenos Aires and leader of the PTS Christian Castillo took the floor. As part of the convening organizations of the FIT-U and before the solidarity organizations and an important delegation of self-convened Peruvians, he repudiated Dina Boluarte's coup in a combative speech.
"While we are here, three airports in Peru are paralyzed, dozens of highways blocked, new marches in Lima, the student movement has come to the Capital to repudiate the dictatorial occupation of the University of San Marcos, and to join that large contingent contributed especially for the peasant families of the South, many of them originally from the working class who stopped on the 19th to face a process of struggle that ends in a general strike and overthrows the coup government of Dina and the entire regime, and imposes as A free and sovereign constituent assembly is being chanted in the streets, which can only be guaranteed by a provisional government of the workers' and peasants' organizations that are in struggle and not by those corrupt, coup-mongering congressmen, sold out to the oligarchy and big Peruvian businessmen." Christian Castillo pointed out.
View this post on Instagram
Referring to the VII CELAC Summit that was taking place at the Sheraton Hotel in the City of Buenos Aires, where the mobilization went, Christian Castillo stated: "This CELAC conference has turned its back on the struggle of the Peruvian people Lula, the great star of the summit, not only recognized the Boluarte government, but today his chancellor met with the chancellor of the coup government to organize a common meeting. against all coups, but right now, today and now, they are supporting the coup government. Alberto Fernández spoke against the fascist right in general, and did not name the really existing right that has carried out a coup and has caused 62 murders of the Peruvian people. A government that with the Fujimorist Armed Forces does not hesitate to prosecute those who mobilize and fight for terrorism."
Politics / Peru / Christian Castillo / Celac / Political crisis in Peru / Left and Workers' Front – Unity (FITU) / Dina Boluarte / Institutional coup in Peru
Source: www.laizquierdadiario.com